National outfit backs coal mine protesters
The visit of NAPM leaders comes at a time when the state government has made clear its keenness on going ahead with the project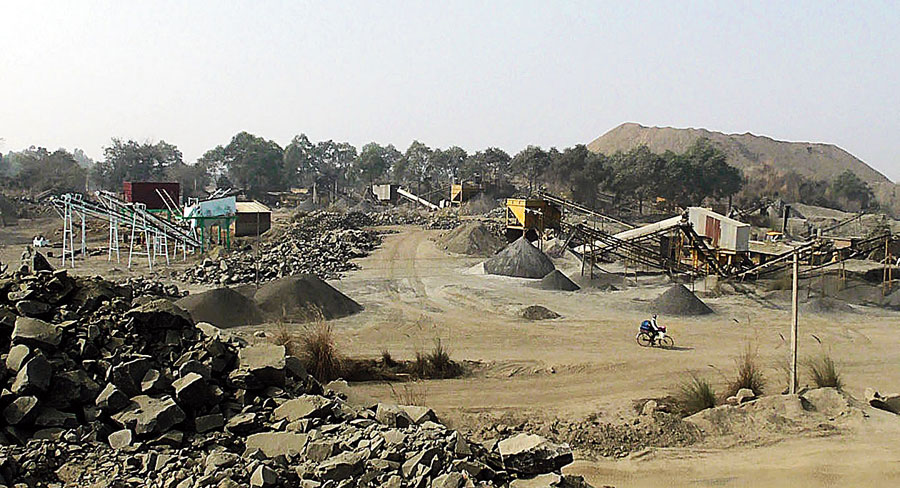 Deocha-Pachami project site.
File photo
---
Bolpur(Birbhum)
|
Published 20.03.22, 12:32 AM
|
---
Meera Sanghamitra, one of the national conveners of National Alliance of People's Movement (NAPM), and some other members of the organisation on Saturday visited areas under the proposed Deocha Pachami coal mine project and spoke to protesters in show of solidarity with local residents, many of whom are against the mining project.
NAPM is an umbrella outfit of progressive people's organisations and movements in India. It has in the past led protests on issues like anti-globalisation, anti-nuclear movement and electoral reforms. Medha Patkar of Narmada Bachao Andolon is one of the founding members.
"I am here in solidarity with the people here on their demands... We were observing the situation from documents available in public domain and came here to listen directly from the people here. NAPM has a general solidarity with people's struggle... Here the people are fighting for their livelihood and identity," said Meera after spending a few hours with residents.
"NAPM will be with the people of here but the mode of support will be discussed later in our state committee," Meera added.
Sources said the visit of NAPM leaders is significant as this is the first time such a platform of national repute is backing the protesters.
"It will help the rural people raise their voice more effectively against the coal mine," said an activist from Calcutta.
The visit of NAPM leaders comes at a time when the state government has made clear  its keenness on going ahead with the project.
The government has offered appointment letters to over 100 local people along with cheques for compensation for their plots.
A senior government official said the state government will not disturb anyone, who are against the mine, as it has its own land to kickstart the project for the first phase.
Meera spent hours with the protesters at Harinsingha village where the tribal people have been on an indefinite protest against the coalmine since February 22.
The protest under banner of 'Birbhum Jamee, Jeebon, Jeebika O Prakriti Bachao Mahasabha' (transliterated as 'a platform out to save Land, Life, Livelihood and the Environment) started after nine persons including seven Calcutta based activists like Leftist economist Prasenjit Bose were arrested after attending an anti-coalmine rally in Deocha.
The protesters want the government to scrap the coal mine project to keep their livelihood, ecology and basic rights of forests intact. They also shared their views and concerns to the NAPM team on Saturday.
"People here are overwhelmingly against the coal mine and do not want to give their land for the coalmine project. They think that there would be an adverse impact on their livelihood which is already affected by existing stone mines and crushing units. The situation here is like Jharkhand and Chhattisgarh…" said Meera who would also speak to more people on Sunday.