National Gorkhaland Committee brings statehood to fore
The NGC had also recently said that they have decided to set up a Peoples' Forum to expedite the demand of a separate home state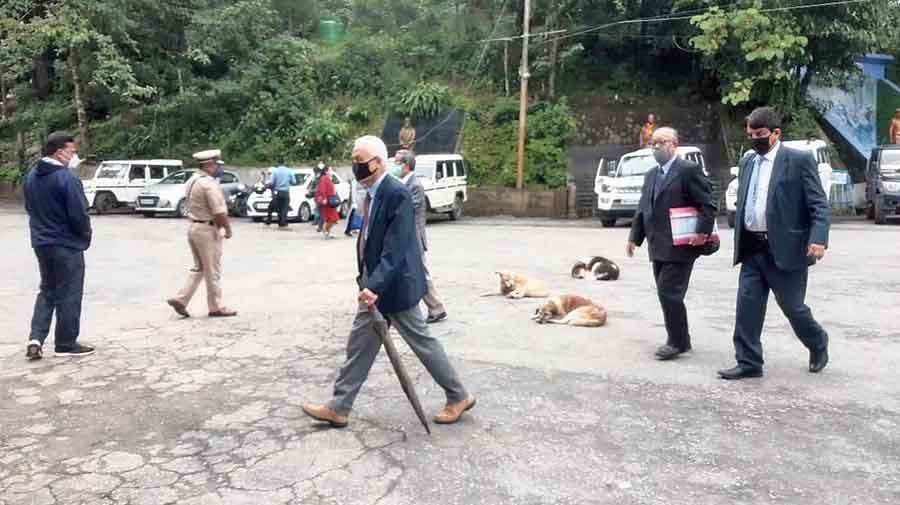 Representatives of the National Gorkhaland Committee in front of Raj Bhavan in Darjeeling on Thursday
Telegraph picture
---
Darjeeling
|
Published 25.06.21, 01:46 AM
|
---
The National Gorkhaland Committee (NGC), an apolitical body positioning itself as a "think tank" of the Indian Gorkha community, called on Bengal governor Jagdeep Dhankar in Darjeeling on Thursday and requested him to "keep in mind" that the aspiration of Darjeeling hills is either Gorkhaland or a Union territory.
Trilok Dewan, vice-chairman of the NGC and former chief secretary of Andhra Pradesh, said while the NGC welcomes the formation of North Bengal state or Union territory, an issue raised by BJP MP John Barla, hill people want a separate state or Union territory for the Gorkhas as it is about "identity" and not just development.
"We requested the governor to kindly keep in mind that our aspiration is Gorkhaland or even Union territory status. The BJP has also mentioned PPS (permanent political solution) even in their sankalp patra (manifesto) and for us the permanent solution is either Gorkhaland or Union territory," said Dewan.
"The Gorkhaland demand is important for us as the identity of Indian Gorkhas is under question and we are treated as second-class citizen and thought as citizens of Nepal," said Dewan, referring to the Indo-Nepal friendship treaty of 1950 that allows citizens of both the countries to freely travel, settle and conduct business in each others territory.
The NGC's assertion before the governor is likely bring back focus on the statehood issue, observers believe.
The governor has not issued any statement on the NGC's reminder.
The NGC had also recently said that they have decided to set up a Peoples' Forum to expedite the demand of a separate home state.
The NGC is currently reaching out to political parties "of the proposed state", eminent citizens and institutions representing stakeholders such as "tea, tourism, cultural, natural resources … and social organisations to participate in the PF (Peoples' Forum) and work together in this endeavour."
The NGC's announcement comes at a time when Gorkhaland is not much of a buzzword among political parties in the hills, including the Binay Tamang and Bimal Gurung factions of the Gorkha Janmukti Morcha. Both Tamang and Gurung are in alliance with Trinamul which opposes the statehood demand.
Gurung before Assembly polls had merely said they would support a party that supports Gorkhaland during the 2024 Lok Sabha election.
The BJP and its ally Gorkha National Liberation Front (GNLF) are talking about a permanent political solution but they have not expressly stated that is Gorkhaland. The GNLF wants a constitutional body "not less than Sixth Schedule status".