Prime Minister Narendra Modi on Sunday referred to Matangini Hazra as a freedom fighter from Assam, committing the latest gaffe by a BJP leader relating to a Bengal icon.
Modi referred to "the courage of Matangini Hazra in Assam" while reeling off a list of freedom fighters during his Independence Day speech from the ramparts of the Red Fort.
"(Whether it's) respected Bapu who turned the fight for freedom into a people's movement; or revolutionaries like Netaji Subhas Chandra Bose, Bhagat Singh, Chandra Shekhar Azad, (Ram Prasad) Bismil and Ashfaqulla Khan, who sacrificed everything for freedom; Laxmibai, the Queen of Jhansi; Chennamma, the Queen of Kittur; Queen Gaidinliu; or the courage of Matangini Hazra in Assam... the country is remembering every individual," he said.
The gaffe drew protests from the Trinamul Congress and the CPM and also drew attention to the BJP's disconnect from the freedom struggle.
Hazra, often referred to as Gandhi Buri (Ma Gandhi), was a freedom fighter from Tamluk in what is now East Midnapore district. She was shot dead by the colonial police while leading a protest during the Quit India Movement, which the BJP's forebears had opposed.
Trinamul accused the Prime Minister of insulting and "mocking" Bengal while the CPM said Modi had hurt Bengalis' feelings.
"Matangini Hazra is a freedom fighter from Bengal, Mr @narendramodi! With such scant regard for our glorious history, you have insulted all of #Bengal once again," Trinamul tweeted from its official handle.
"Is @BJP4India committed to erasing our history? Mocking it as they please? SHAME."
Hazra was 72 when she led a procession of around 6,000 people, mostly women volunteers and activists, towards the Tamluk police station on September 29, 1942, in the face of police firing.
The Biplabi newspaper of the parallel "Tamluk National Government" had reported: "Even after the firing started, she (Hazra) continued to advance with the tricolour, leaving all the volunteers behind. The police shot her three times. She continued marching despite wounds to the forehead and both hands.
"As she was repeatedly shot, she kept chanting, 'Vande mataram'…. She died with the flag of the Indian National Congress held high and still flying."Many central BJP leaders had invoked Hazra in their campaign speeches ahead of the Bengal Assembly polls, especially while addressing rallies in the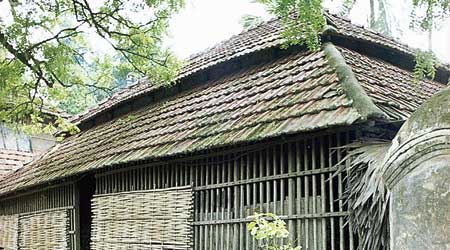 Matangini Hazra's residence at Alinan village in East Midnapore district Telegraph picture
erstwhile undivided Midnapore, now split into West Midnapore, East Midnapore and Jhargram.
However, through the campaign, BJP leaders had dropped clanger after clanger in their eagerness to appropriate Bengal's historical and cultural legacy — from describing Santiniketan as Rabindranath Tagore's birthplace to mistaking a statue to an unknown hunter for one of Birsa Munda.
A state BJP leader said he found it surprising that his party's supreme leader had made such a "careless" error about a Bengal icon like Hazra.
However, Bengal BJP chief Dilip Ghosh claimed it was a "small mistake".
"There is no need to blow it out of proportion. Those who are pained (at the faux pas) today, what have they done for Matangini Hazra?" he asked.
Trinamul state general secretary Kunal Ghosh took a dig at Suvendu Adhikari, the BJP's Nandigram MLA and leader of the Opposition in the Assembly, who used to be a self-proclaimed Gandhian till his defection ahead of the election.
"This is insult to Bengal. You (Modi) must beg apology. Hope Your LOP (leader of the Opposition) from East Midnapore will also condemn such a mistake," Ghosh tweeted.
Suvendu used to declare himself an ideological descendant of the Tamluk National Government of 1942 and its chief protagonists — all Gandhians — such as Hazra, Satish Chandra Samanta, Sushil Kumar Dhara and Ajoy Mukherjee.
A native of Contai in East Midnapore, Suvendu represented the Tamluk Lok Sabha seat between 2009 and 2016. His brother Dibyendu is the current MP from Tamluk.
Senior Trinamul leader Firhad Hakim took a swipe at the Prime Minister. "This isn't really his fault --- they have been taught by the RSS, which doesn't tell them about the real Indian culture. All they know is communal polarisation," Hakim said.
CPM central committee member Sujan Chakraborty said: "The ancestors of the people who are running the nation today made no contribution to our freedom struggle other than acting as the (British) police's informants. The more they learn from the RSS, the more goof-ups they will make."
Several state BJP leaders, speaking on the condition of anonymity, expressed deep embarrassment at Modi's gaffe.
"This blunder, that too coming from Modiji himself, is so, so shameful. Our leaders keep proving to the people that they have no knowledge of Bengal's history or culture," one of them said.
He underlined how, following the election defeat, the BJP had ignored Tagore's death anniversary a week ago after having marked the occasion in a big way last year, ahead of the Assembly polls.
"So, was all the fervent worship of Bengal's icons and all things Bengal merely a bid to somehow appropriate them ahead of the polls?" he asked.
Many state BJP leaders believe that the party's patent ignorance and lack of connect with Bengal's history and culture – highlighted by the star campaigners' serial bloopers – had contributed to the rout in the Assembly elections.