Nandigram TMC workers block road to protest police raids
Trinamul leaders claim that the cops had 'buckled' under Central pressure and carried out the raids on party supporters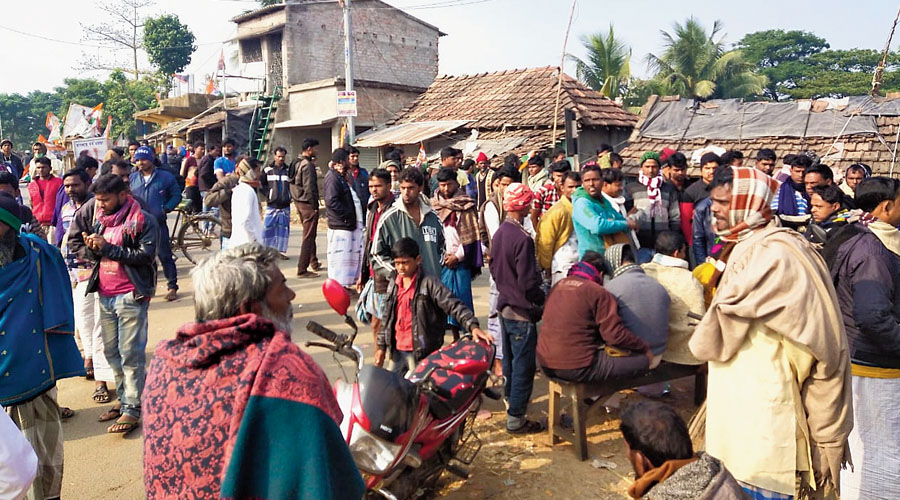 ---
---
Trinamul Congress workers staged a five-hour-long blockade of the Nandigram-Sonachura highway early on Thursday to protest against police raids on the homes of over a dozen party workers at Bhutamore in East Midnapore's Nandigram on Wednesday night.
The police raids were carried out a day after 17 ruling party workers were named in an FIR for allegedly attacking 25 BJP workers while they were on their way to join a procession led by Trinamul turncoat Suvendu Adhikari on Tuesday.
Trinamul leaders claimed that the police had "buckled" under Central pressure and carried out the raids on party supporters.
"This is a textbook case of police brutality, backed by BJP forces at the Centre. We demand justice for the affected families," said one protester, among a group of at least 100 who had blocked the highway on Thursday morning.
The protesters claimed women were "pushed around and insulted" at some of the homes which belonged to some of the accused.
"The police resorted to unnecessary tactics of force by breaking down our doors and shoving our family members around," said Ayub Shah, a Garchakraberia gram panchayat member who was named in the FIR connected to the Tuesday incident.
Trinamul leaders in Nandigram wondered what had prompted the state police "to turn against the ruling party".
"Trinamul is still in power and the police are already behaving in this manner. They can investigate and arrest but not assault innocent people," said zilla parishad chief and Trinamul leader Sheikh Sufian.
Local sources admitted, however, that most of the accused were absconding after the Bhutamore incident, and the police had made two arrests on Thursday but none of them had been named in the FIR.
BJP workers on Thursday said they would "bring Nandigram to a standstill" if the accused were not brought to justice.
"Trinamul is in a panic mode and they are expecting us to believe that this is staged incident. Our demand of arresting the accused stands firm," said state BJP vice-president Pralay Pal.
Nandigram police officer-in-charge Ajit Jha termed the allegations of police brutality as "baseless".
Soumendu plea
Soumendu Adhikari, who is the younger brother of BJP leader Suvendu Adhikari, filed a petition in Calcutta High Court on Thursday, claiming he had been removed as the administrator of the Contai municipality on invalid grounds.
"The termination was a blind act of revenge on the chief minister's part and so Soumendu da has challenged it," said a source close to Soumendu, who did not answer calls on Thursday.