Nadia siblings lose parents to Covid
80-year-old wants to live more to look after grandchildren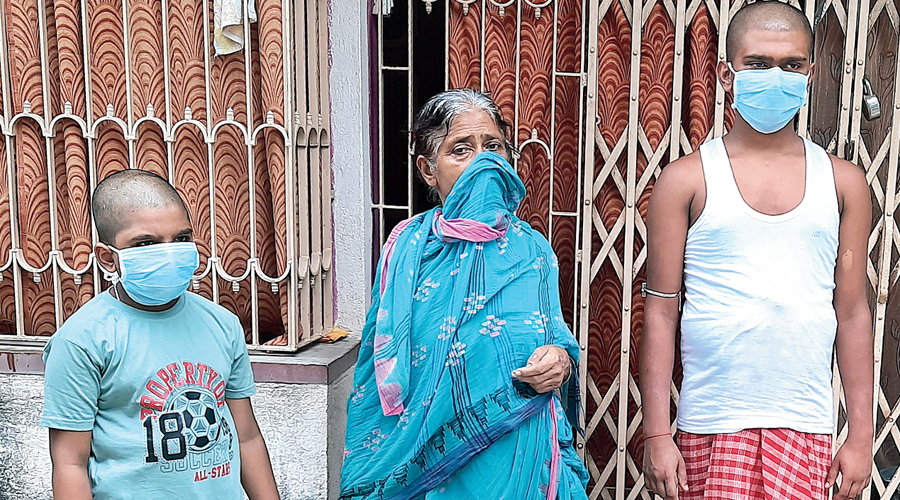 Soumit (left) and Souvik with their grandmother Sandhya Saha.
Telegraph picture
---
Aranghata (Nadia)
|
Published 11.06.21, 03:21 AM
|
---
For 80-year-old Sandhya Saha, life has thrown before her an unprecedented challenge. The octogenarian who lost her son and daughter-in-law to Covid-19 barely within two weeks of each other now wants to live longer so that she can take care of her grandchildren Souvik, 16, and Soumit, 8.
The challenge has become even more tough for Sandhya in Nadia's Aranghata as she awaits help from the district administration and wants some Good Samaritans to step forward. The uncertainty of Sandhya and her dependents will linger on for some time as the administration has no idea what to do for the children who lost parents to Covid.
On May 19, Sandhya's son Utpal, 51, a readymade-garment seller, died at a Covid hospital in Kalyani. On June 4, Utpal's wife, Kajalrani, succumbed to Covid at the same hospital. Souvik was scheduled to appear in this year's Madhyamik examination, whereas Soumit will move to Class II. Sandhya's husband is no more and she has another son who lacks financial means to take care of Souvik and Soumit.
The deaths of their parents have created a survival crisis for the young siblings, for whom neighbours have come up in support.
"I don't know how they will survive. We have almost no resources apart from the house. Neighbours are helping us. I am praying to God to keep me alive so that I can take care of them," said Sandhya and added that she had approached the local panchayat member, Rekha Ghosh, but did not receive any assurance.
"I am trying to help them personally, but I have no idea how to arrange for official benefits to ensure their (the children's) well-being," said Ghosh.
Last week, the National Commission for Protection of Child Rights (NCPRC), in an affidavit submitted to the Supreme Court, stated six-step schemes to monitor the well-being of children orphaned by the pandemic.
According to the affidavit, as of May 29, there were 1,742 children whose both parents died of the novel coronavirus.
At the same time, the women and child development ministry has issued guidelines for the rehabilitation of such orphan children. The ministry stated in a notification that if any child lost both parents to Covid with no one else to look after them, the child needed to be produced before the District Child Welfare Committee (CWC) within 24 hours.
"The CWC shall ascertain the immediate need of the child and pass appropriate orders for rehabilitation of the child, either to restore the child to caregivers or place her/him in institutional or non-institutional care, on a case-to-case basis," the notification stated.
However, even five days after the two brothers's parents died, the CWC has remained in the dark. The chairman of the Nadia District Child Welfare Committee, Tiya Biswas, said: "I have no idea. Nothing has also been communicated to me by district authorities so far."
Ranaghat subdivisional officer Rana Karmakar said: "I have heard about the incident and advised the local BDO to share details. But nothing has been reported to me so far."
Repeated calls made by this correspondent to the Ranaghat 2 BDO went unanswered.