Durga Puja committee donates hi-tech cardiac ICU ambulance
It was formally handed over to emergency medical support service provider, Apanjan, by Partha Chatterjee at a programme in Kalyani town on Tuesday afternoon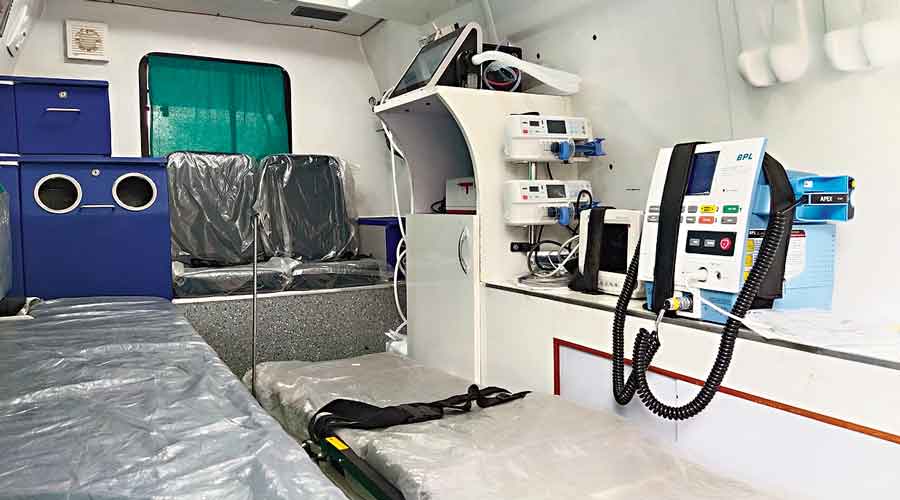 The interior of the ambulance.
Ranjit Sarkar
---
Kalyani
|
Published 01.12.21, 01:27 AM
|
---
A Durga Puja committee in Nadia's Kalyani has pooled funds to procure and donate a hi-tech cardiac ICU ambulance to a local non-profit, responding to a need for emergency medical support services in the area for the last couple of years.
The ITI Durga Utsav Committee has spent Rs 45.25 lakh to arrange the ambulance, which in medical parlance is as an "Advance Mobile Medical Life Support Van" and is fitted with equipment including a ventilator, a patient monitor, temporary pacemaker support, syringes, pumps, a biphasic defibrillator, Bi-PAP, DFiB-AED, a suction machine, a spine board, an ABG analysis machine, a biphasic defibrillator, a patient monitor, a pulse oximeter, and other systems.
The ambulance was formally handed over to emergency medical support service provider, Apanjan, by minister Partha Chatterjee at a programme in Kalyani town on Tuesday afternoon.
"I was surprised to see such life support systems in an ambulance with so many facilities, that too at such a low cost or cost to cost basis," the minister said.
Medical superintendent of the College of Medicine & JNM Hospital in Kalyani, Avijit Mukherjee, checked all machinery inside the van and termed it the "best" in the state.
"There are a number of life support ambulances in the state. But as far as I know, none of those ambulances has such a wide range of life-support systems. This can be easily termed as an ICU on wheels. Moreover, all such available ambulance services provided by private organisations and hospitals are very expensive. But I am surprised to learn that Apanjan will offer services not for profit," said Mukherjee.
Speaking to The Telegraph, ITI Durga Utsav Committee secretary Amit Kumar Biswas said: "It is like a dream come true. Our objective was to do something significant for people. We noticed that for the last two years, Apanjan members have been doing a commendable job providing support to patients. Once we began planning to buy an advanced ambulance, we decided to hand it over to Apanjan.
This turned into a reality today."
"To materialise our dreams, we decided to curtail our Puja expenses. Usually, we organise a big Puja and attract many viewers. But over the last two years, it was comparatively a low-key affair. In the last years we saved a big amount that has been used to buy this advanced ambulance," Biswas said.
Two years ago, Trinamul's Kalyani town committee played an instrumental role in forming Apanjan as an outreach programme to help elderly people in the town deal with health-related incidents, especially at night.
To operate this advanced ambulance, Apanjan has created a pool of doctors, technicians, drivers, patients and nursing personnel who will render their services on rotation.
Apanjan's chief mentor and Trinamul's Kalyani town committee president Arup Mukherjee said: "We have engaged professional staff for this advanced ambulance service. We have to pay them. So, we will charge only the amount that we need to pay them. We have drawn up a cost-to-cost charge for those who will want to avail of the ambulance. For example, we will charge around Rs 6,000 only for transporting a patient from Kalyani to Calcutta. This is a special service for the people in distress. We would have been happier if we could offer it free of cost."