BJP's 'show of strength' muted
Cops show restraint as stones, bottles fly in Howrah and Calcutta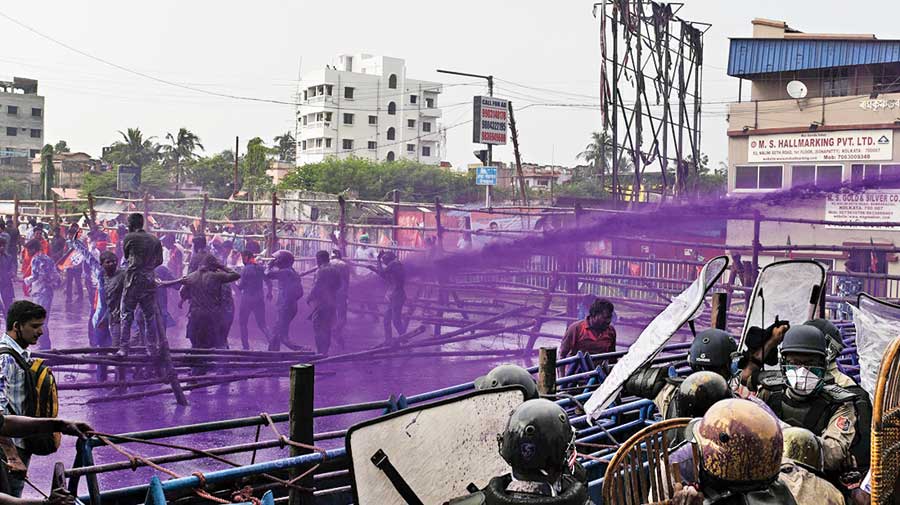 ---
|
Calcutta
|
Published 09.10.20, 01:33 AM
---
Police personnel numbering around 2,000 posted across four locations in Howrah and Calcutta took on the might of 8,000-odd BJP workers in an unprecedented show of restraint during the BJP youth wing's Nabanna Abhiyan on Thursday even as bombs and stones were hurled and tyres set on fire.
At all locations where BJP supporters tried to break the police cordon and scale barricades, not a single bullet was fired in the air despite provocation, said a senior police officer.
Rubber bullets were replaced with teargas shells and water cannons — a strategy senior officers had decided on for the Abhiyan.
Nabanna, the state administrative headquarters, was closed on Thursday for a sanitisation drive amid the Covid-19 pandemic. But top officers led by state chief secretary Alapan Bandyopadhyay were present at the control room monitoring the developments throughout the morning till late into the afternoon.
Alapan later said: "The government would like to thank the police who showed restraint in handling the demonstrators..."
He added that the state government on Wednesday had in a letter to the "concerned party" welcomed "all peaceful and democratic rallies having specific destinations where section 144 or any other law is not violated", but got no response.
In Calcutta, police had closed the second Hooghly bridge from 10.30am before setting up rows of barricades to prevent protesters from moving ahead. Later, the Howrah bridge had to be closed down after a team of BJP supporters led by Dilip Ghosh, the state party president, reached and tried to breach the barricade.
"Around 1.10pm, when we were trying to resist some supporters from breaking a cordon at Howrah Maidan, a bomb landed very near where the force had taken position," said a senior officer of Howrah police commissionerate. "A police kiosk was damaged. We were not prepared for all this."
In several places including Hastings and Burrabazar in Calcutta and Howrah Maidan police allowed supporters to break the first cordon before stopping them on the second. Lathis were used to disperse the mob at places where it turned violent after the use of water cannons and teargas shells. "All officers were instructed to display restraint. Our men chased unruly supporters with lathis only when needed," said a senior police officer.
Officers who had drawn up the blueprint said they had a two-fold strategy in place. Against every shower of bottles or stones, teargas shells were hurled. Water cannons were used only when supporters refused to pay heed to appeals and insisted on breaking barricades, police sources said.
In the evening, the Bengal government said a total of 113 people were detained in Calcutta and Howrah.
Senior officers admitted they had taken a lesson from a similar Abhiyan to Lal Bazar by the BJP on June 12, 2019, and taken precautions to ensure no excess.
From the morning onwards, processions started converging across parts of Tikipara, Howrah Maidan, Hastings and Central Avenue. A little after noon, party supporters started walking towards Nabanna.
Alapan said: "As per reports we received so far, 89 people were detained in Calcutta and 24 people were detained in Howrah in connection with the rallies. There were some instigations, a firearm was seized and several policemen were injured during the rallies."
On her way back from Jhargram, Mamata reached Nabanna around 2.20pm, but as it was closed for sanitisation, she left within five minutes. Later, she reached Bhavani Bhavan where she held a meeting with the chief secretary, home secretary, DGP and city police commissioner, among others, sources said.
"She went through video footage of the BJP workers trying to create trouble, took the details from officials and gave instructions before leaving for her residence," a senior official said.
Additional reporting by Pranesh Sarkar