Musician who beat blindness dies
Paras Gazmer left an indelible mark in Nepali music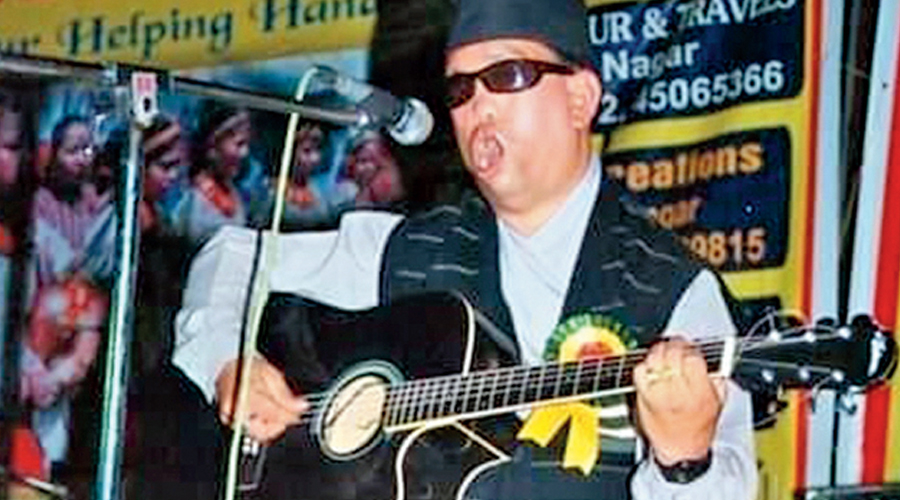 ---
Darjeeling
|
Published 16.01.21, 12:53 AM
|
---
Paras Gazmer lost his eyesight and his face was distorted at the age of one-and-a-half-years after a bout of measles but it did not stop him from belting out super hit songs like Sajha ko Gham Dhubi Sakyo (the evening sun has set).
The life journey of Gazmer set, never to rise again, in the early hours of Friday at Darjeeling district hospital but not before leaving an indelible mark in Nepali music. He was 58.
Smita Sunuwar, niece of the musician, said Gazmer had been suffering from diabetes, thyroid and high blood pressure for long. "He complained of uneasiness last evening and we rushed him to the hospital," said Smita.
Gazmer, a musician, composer, lyricist and singer, all rolled in one, had told The Telegraph in 2002: "It is the anguish of being denied the gift of vision to see the wonders of the world that find expression in my songs."
The singer who was born at Tindharia was sent to Salvation Army (blind school) in Kalimpong at the age of seven and it was there he found inspiration to take music lessons from his seniors. He never took formal training in music.
A guitar player, Gazmer took the music scene by storm with two successive albums — Sajha Ko Gham (the evening sun) in 1993 and Mero Bhagya (my destiny) — with the latter having been nominated for the best Nepali album in 1999 by the Grihalaxami Association, Darjeeling.
Even though Gazmer would sing on stage, he did not record his songs in his own voice even though he would pen and compose them.
"I've done everything in the albums but just could not sing songs which truly reflected my feelings," he rued. Gazmer, however, found solace in the fact that he could bring in another blind singer, Iswar Kafley, from Kathmandu, to sing the title song of Mero Bhagya. "Only he could have felt the pain and bring out the pathos and passion in the songs," Gazmer had earlier said.
While on stage, his singing and lyrics would invariably bring tears to the audience and most of his songs spoke of the pains of the differently-abled and society at large.
Paeans and condolences from a cross section of Nepali society scattered across the world flowed through the day.
Darjeeling MP Raju Bista, MLA Neeraj Zimba, Anit Thapa, chairman, board of administrators, Gorkhaland Territorial Administration, leaders of both faction of Gorkha Janmukti Morcha, Binay Tamang and Bimal Gurung, and host of celebrities remembered the singer.
Gazmer's funeral will be held at Darjeeling on Saturday noon.