Music, poetry and a call to adults
Lady Brabourne girls beside Park Circus women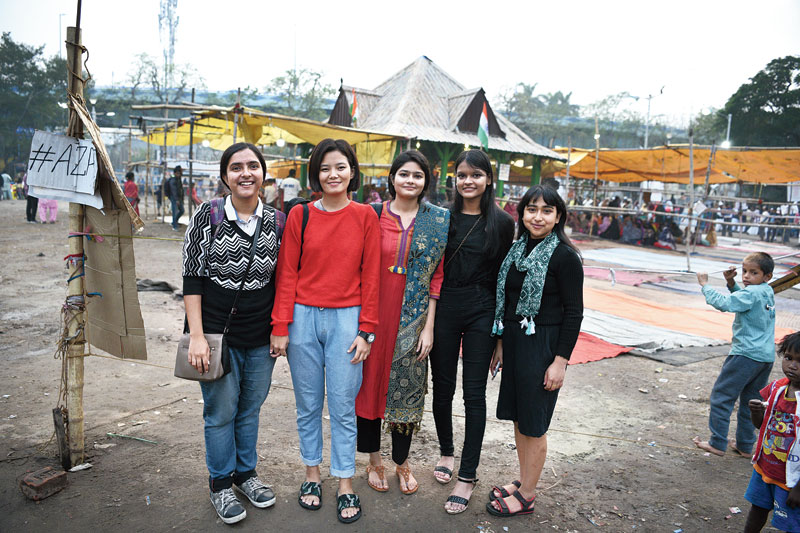 ---
Calcutta
|
Published 30.01.20, 08:09 PM
|
---
A Muslim girl recited poetry, a Christian girl played the ukulele and a Hindu girl held the microphone for her friend, while hundreds of women listened to them at Park Circus Maidan on Thursday evening.
A group of five girls from Lady Brabourne College spent more than an hour on the ground, where women began a sit-in on January 7, and questioned why adults were not forthcoming enough when students "have come to the forefront" to resist and protest.
"I don't know what has happened to the adults, no one wants to come forward. But students are coming out. Students in the country and even in our state, like in Jadavpur University, Presidency and many other institutes are leading from the front," said Nazreen Fatima, a second-year student of sociology at the Park Circus college.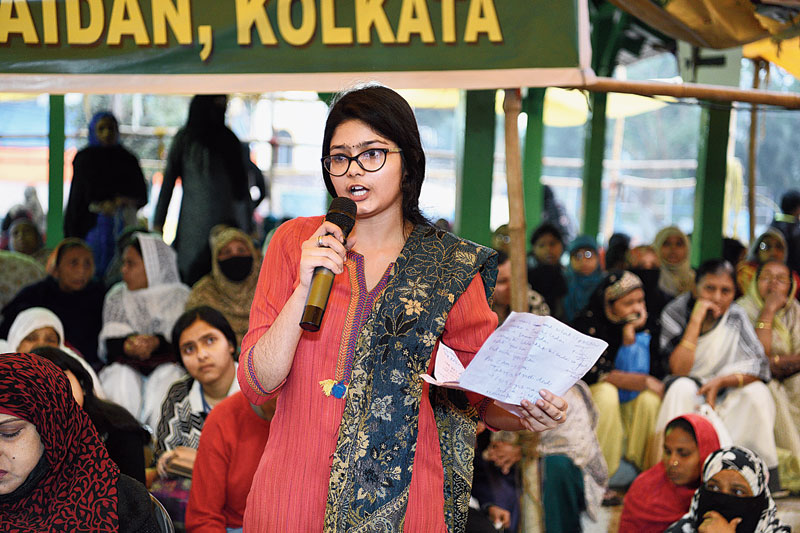 Sitting quietly behind Nazreen was Srijoni Das, a third-year student. "Yes, I am Hindu, but I am secular. Education teaches us to break boundaries and look beyond religion," she said.
For Sharon Lepcha, a third-year student who played the ukulele, coming to Park Circus Maidan was her way of showing support. "I came here to show my solidarity with the movement."
Nazreen recited a poem she had written: "Meri aawaz ki maksad/Kisi ke khilaf jana nahin hain/Meri aawaz ka maksad bas/Aapke dimag aur dil ko sacchai se rubaru karana hain (The objective of my voice is not to speak against anyone but to make you see the truth).
"Humare desh mein do kism ke insaan hain/Ek jo anpadh aur doosre/Jo padh-likhkar bhi anjaan hain (Our country has two types of people — the uneducated and the educated but unaware)," she went on. "Yeh desh janab/Ab woh desh raha hi nahin/ Jahan maine khud ko pehchana/Saalon jo apne political science ke kitabon mein padha/Woh sab kuchh aaj lagta hai begana (This country is no longer the country where I came to know myself, what I read in my political science books all these years seems unknown now)."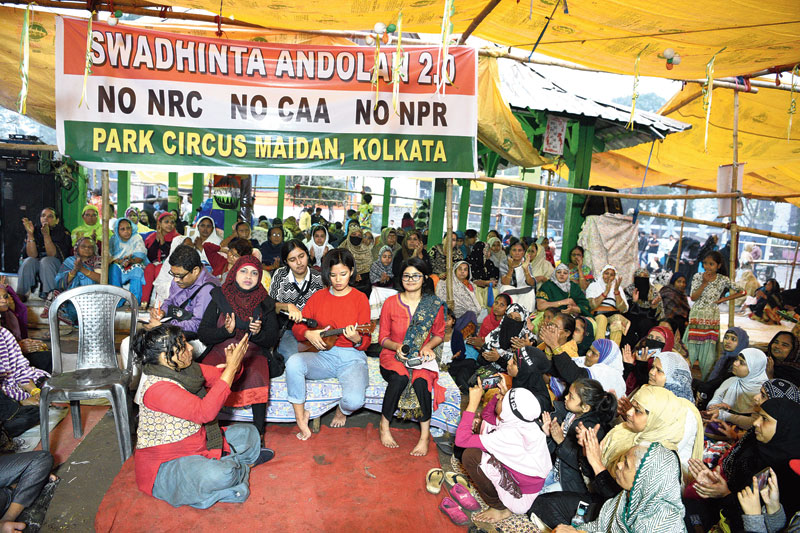 Addressing the women on a day when Gandhi was assassinated 72 years ago, Nazreen said: "It's a sacrifice that each one of you is making by setting aside all your other chores and responsibilities at home to be here and fight for the rights. But this fight is not for power, it is for society… religion is a way of life but they (government) are using it to decimate us. But whether those in power come out with lathi, guns or a sword, your weapon is the kalam (pen)."
The girls touched the hearts of many, old and young alike. Some schoolgirls, who had accompanied their mothers to the protest, wanted to take selfies with the Brabourne gang.
The college students said it was important to remind everyone of Gandhi's principle of non-violence and what better way to do so than register their protest through arts.
"Arts is a non-violent form of protest and a powerful one and today we are trying to remind people of Mahatma Gandhi and his principles through this peaceful resistance. We have used an art form to communicate with these women and establish a bond with them," said Srijoni, a third-year student of history. "We also want to show people that we are against the supporters of Nathuram Godse," added Nazreen.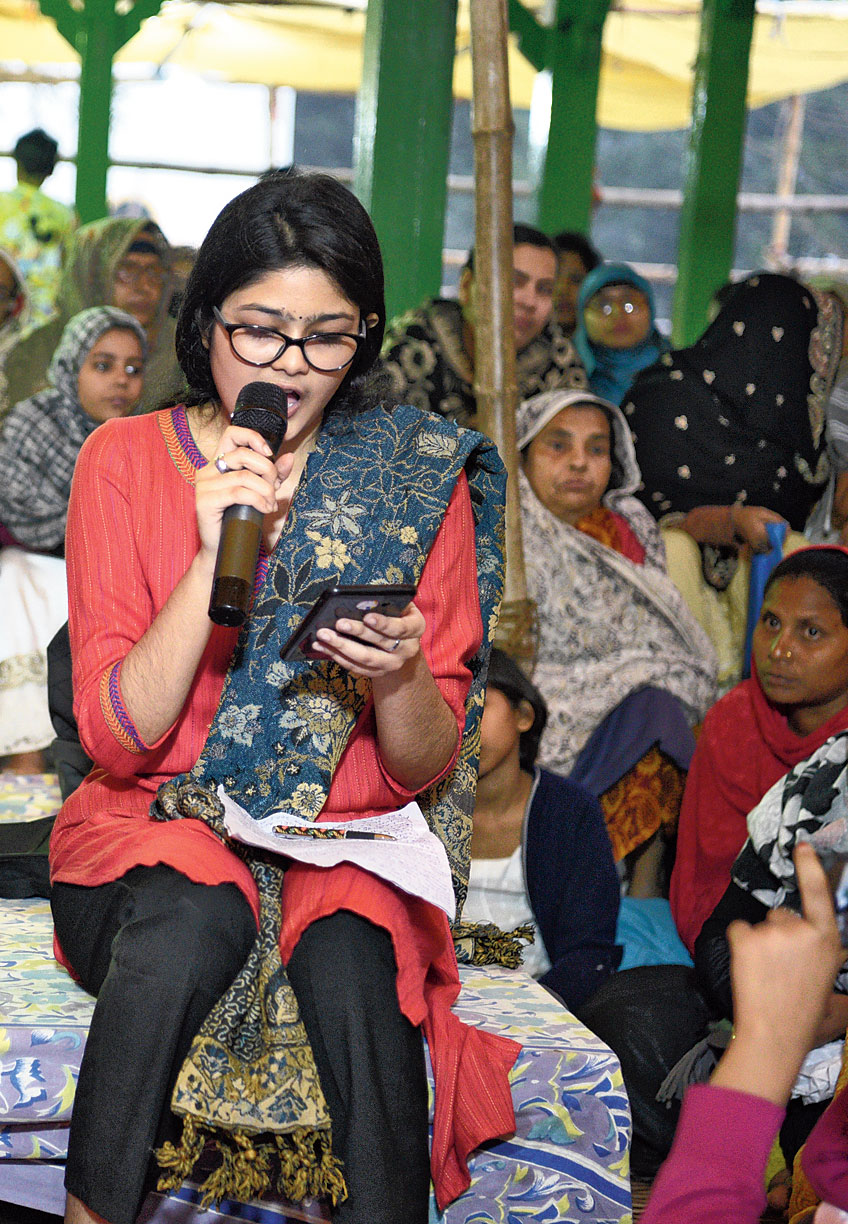 Two of the girls were first-timers at the Park Circus Maidan protest, while the rest have been dropping in regularly.
The participation of the Brabourne girls was significant because students at the college are not exposed to mainstream politics on campus. The students' body at the college is apolitical but the students' response to the CAA and NRC was political.
Srijoni said it was not just important to come and speak to the women at Park Circus Maidan but also to speak to people around us. "We have to educate people among us who don't understand that the citizenship regime is discriminatory," she said.
"The British divided us but we fought that years ago. Now after so many years, why is there a division among people on the basis of religion?" asked second-year student Sneha Bardhan who has been at the protest several times with Nazreen.