Murshidabad schoolgirls pack a mighty punch
Headmaster of Laskarpur High School starts self-defence classes to empower pupils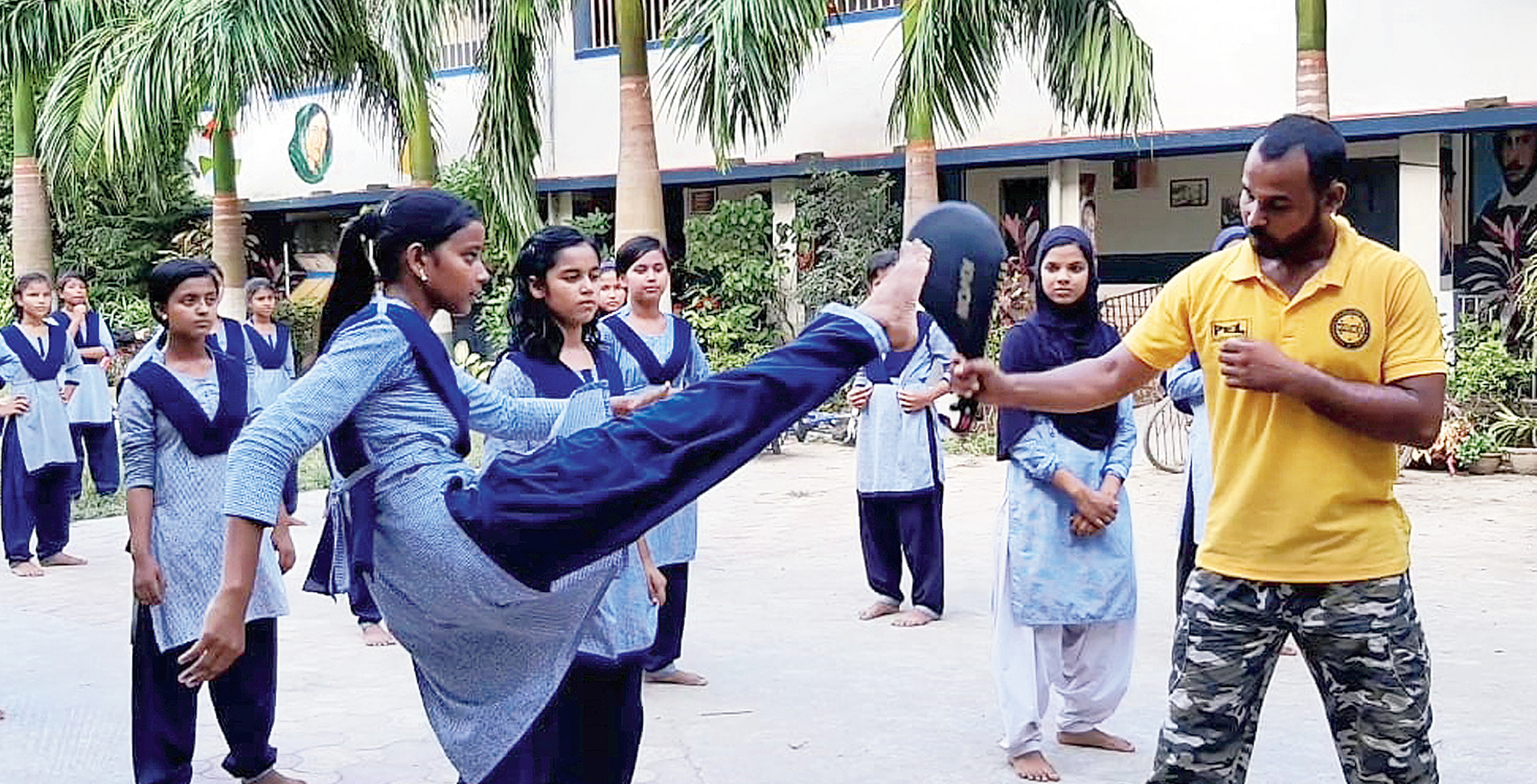 A self-defence class in progress at Laskarpur High School in Murshidabad
(Picture sourced by The Telegraph)
---
Calcutta
|
Published 18.12.19, 08:29 PM
|
---
Three hundred girls of a village school in Murshidabad take turns to stay back for an hour and a half after class to learn taekwondo — a skill the school hopes will give the girls confidence and help them protect themselves.
The self-defence classes at Laskarpur High School were started at the initiative of headmaster Mohammad Jahangir Alam, who felt girls should be prepared to protect themselves.
Most of the girls travel alone to the school, 50km from Behrampore, from neighbouring villages, either by cycle or on foot.
"Many of the girls travel alone and they need to have a basic training that will give them the confidence to face any adverse situation. The idea is to make them mentally strong," Alam said.
Self-defence classes may be common in city schools, but not so much in villages. "These are backward areas and if not in school, the girls have no other place where they can be trained," said Alam.
The classes were introduced in the beginning of last year and there has been a steady increase in the number of students enrolling.
The girls are taught how to kick and put the adversary at bay. "There is an emphasis on kicking in taekwondo and I teach the girls techniques with the help of which they can stop harassers with a kick. The moment they do that they are able to create a distance from the attacker and also take him by surprise," said trainer Daud Ebrahim, taekwondo 3rd dan black belt from South Korea and the general secretary of the Murshidabad District Taekwondo Association.
Ebrahim also trains the girls to use items of daily use such as hairclips, pens, mobile phones or even bags to protect themselves on the road. "Some of the classes are focussed only on how to use items they usually carry as protection. If they know the technique, they can act quickly," Ebrahim said.
The teachers of the school said they had noticed a change in the outlook of the girls who have become more outspoken and confident.
A 17-year-old was able to ward off a group of three boys who teased her while she was returning home from the market. "I was alone on my cycle when they passed some remarks. If it were a few months ago, I would have not looked back but now I stopped and told them that if they dared cross the limit I would show them their place. They had not expected such a response," said Shilpi Khatoon of Class X. "When I learnt about the classes I was eager to join because a girl must know how to protect herself."
Shabnam Haque, 15, said self-defence training had made her "more powerful."