Murshidabad residents block highway to protest lack of supplies
Protestors said they were compelled to take the drastic step because they were faced with 'near starvation' and 'crippling poverty'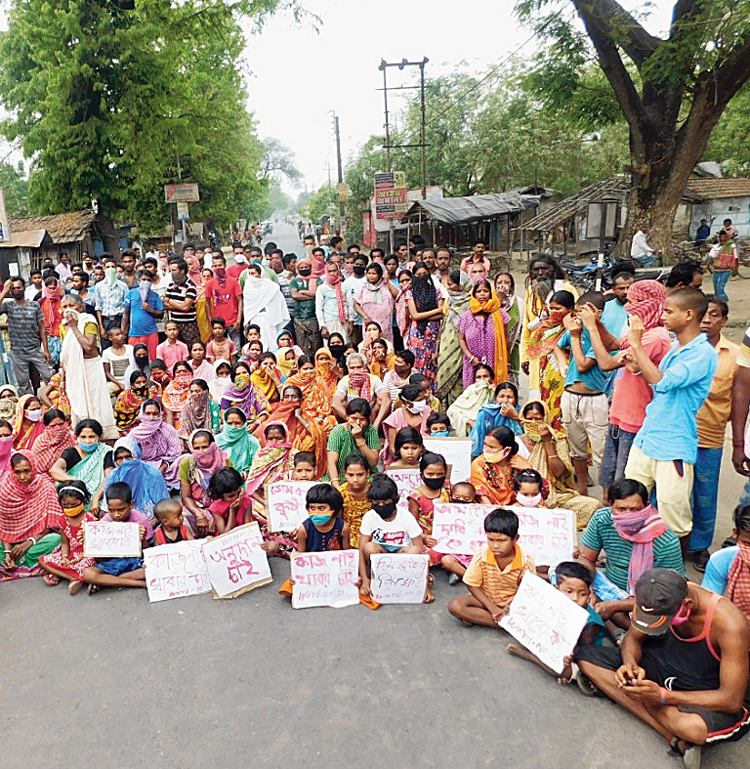 ---
Domkal(Murshidabad)
|
Published 15.04.20, 10:29 PM
|
---
The anger of people over lack of food spilled on to the streets at Domkal in Murshidabad on Wednesday.
Over 500 residents of ward 10 in Domkal blocked the Behrampore-Karimpur state highway at Kuthi on Wednesday morning to protest against allegedly insufficient supply of rations during the lockdown.
The protestors said they were compelled to take the drastic step in spite of stringent social distancing measures because they were faced with "near starvation" and "crippling poverty".
"The majority of us are wage labourers and domestic helps. We have been without work for almost a month and the last ration supply we got was over two weeks ago. It is impossible for us to survive on that," said one protestor.
"I feed a family of six. We received 3kg rice and 2kg wheat more than two weeks ago. For the past few days, my children have been crying out of hunger," he added.
Sources said members of over 100 families, including women and children, had taken part in the three-hour protest on Wednesday morning.
They had decided earlier in the week "to flout social distancing norm in order to draw the authorities' attention to their problems".
"We have no choice. We will starve otherwise, especially since the lockdown has been extended," said Hari Das, 38.
"I worked at five homes as a domestic help but they had fired me last month because of the virus scare. I am a widow supporting five children. I need the help immediately," said Shefali Das, 42.
Municipality chairman Jafikul Islam, accompanied by police, spoke to the protestors.
"The people should have told me that they were facing shortage of rations. This should not be happening. I have asked the SDO to find out immediately why this has happened," said Jafikul, who pledged 10kg of rice and 10kg of potatoes to every family present at the protest.
Following Jafikul's promise, the protesters dispersed.
"We have filed a complaint against local ration dealers and have asked the food supply department to launch an inquiry," said SDO (Domkal), Sandip Ghosh.
"Food shops are open everywhere but these people don't have the money to eat. This is unfortunate," added a district official.