Ms Priest
Moumita Chaudhuri meets some women who have chosen to become career purohits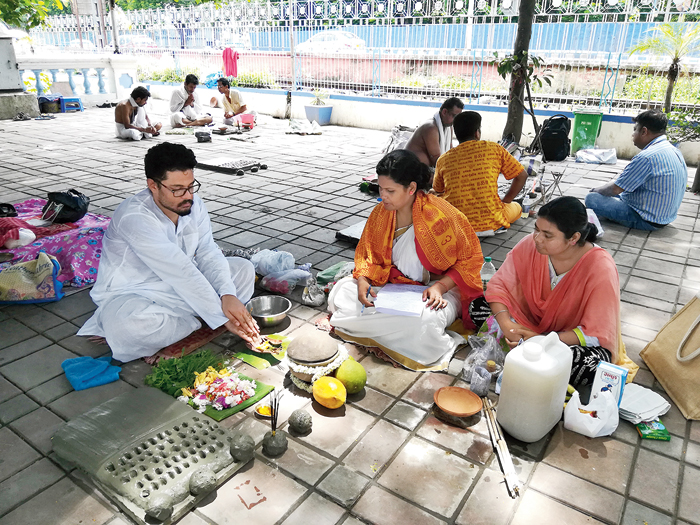 ---
---
As a child Sonali Mondal used to watch her maternal grandfather worship Radha-Krishna at home. "He would do everything instead of depending on any Brahmin purohit or priest. At some point I started to think that if he ever had to go somewhere, I would have to perform the nitya seva or daily rituals," says the 32-year-old who has recently decided to make a career of being a priest.
She says, "When I was a little girl, I would ask my grandfather why is it that I was allowed to make all the arrangements for a puja — sort the flowers, draw the alpana, cook bhog — but not preside over the core ritual. I would ask him if that was the diktat of the shastras — that women cannot chant mantras or perform the yagna." Sonali's grandfather told her there was no such restriction.
"And much later, when I was told menstruating women cannot do the puja, my grandfather asked me — 'Will you not feed your baby if you are menstruating? God is just like your baby'," recalls Sonali.
Devdutta Maji has started the NGO, Singhabahini. Its aim is to encourage and help women break professional taboos such as this. He says, "Today, you will find women professionals in all spheres of life. They are doing everything. But the gender and caste divisions remain when it comes to worshipping the divinity. I want to abolish this division too." Sonali has trained to be a priest at the training facility in central Calcutta run by Singhabahini.
The NGO is also working in Bankura, Purulia, Midnapore, Malda, Dinajpur and some other districts of Bengal. Says Maji, "We have tribals, Namasudras and other Scheduled Castes registering with us every day. They want to learn to conduct rituals." Currently, there are nine women purohits. The NGO facilitates Sanskrit lessons, teaches chanting; there are dedicated teachers for this.
Sulata Mondal lives in South Dinajpur. She had once seen a woman priest at Burdwan University. She did not know if the woman was a Brahmin or a non-Brahmin, only the image stuck in her mind. But when she wanted to pursue this as a serious career option, it was not entirely smooth sailing.
She approached the school she used to attend, and the principal agreed, but later he backed out after teachers said they were not ready to accept a woman for the job. After a series of rejections, she officiated as the priest at the Saraswati Puja at Malda College, her alma mater. "My teachers were happy," she says.
Shiuli Bauri was the officiating priest at the Sarawati Puja in her village this year — it comes under the Saltora police station in Bankura district. She says, "We are not Brahmins but we have been taught Sanskrit in school, and can read and write the language. Now with proper training, we will make good purohits." Her father, who is a farmer, supports her. Says the college dropout, "Society is made by us. It is we who allowed the Brahmins to enjoy monopoly in this field."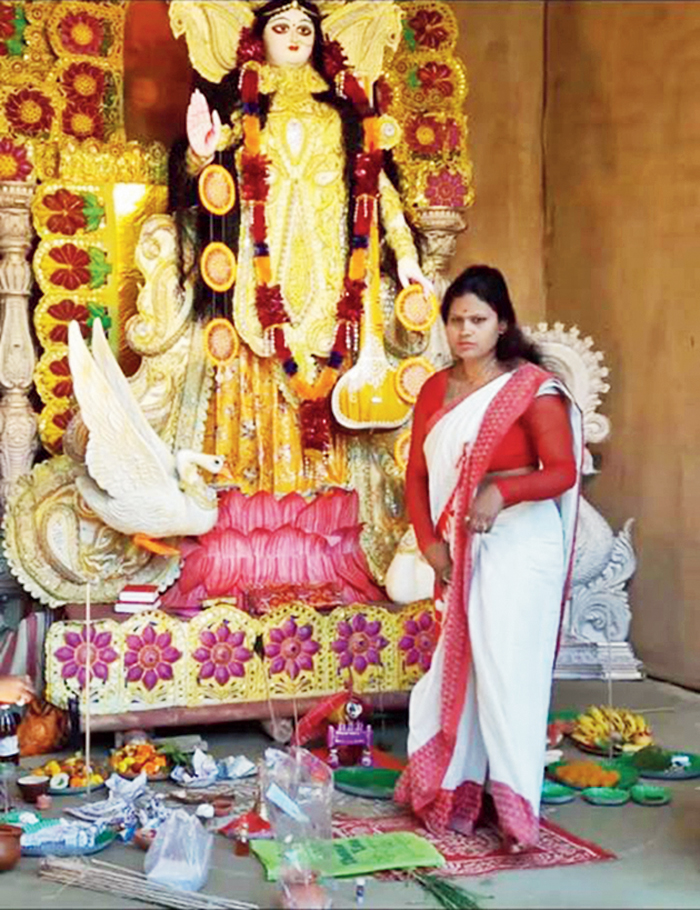 "The religious heads of the tribal community do not bar women from performing religious functions if they want to do so," says Maji. "They are far more liberated," he adds. Indeed, Ramani Kisku, a 20-year-old Santhal is aghast; after all, tribal society was not so rigid or restrictive. She has appeared for her Class X examinations and is now training with Maji.
"Ramani's father was so apprehensive in the beginning that he used to stay in the training school to monitor her activities. He went back once he was assured that she was learning good things," adds Maji. Singhabahini also teaches women martial arts for self-defence.
With the proliferation of pujas in urban and rural India, the demand for priests has increased. "Just as there are people who have reservations about non-Brahmin women priests, there is also a section of people who think otherwise," says Maji.
These women are also learning the rituals of Hindu wedding ceremonies. But at the moment they are gearing up for the Durga Puja. Says Sulata, "I am waiting to work during the upcoming Durga Puja. It will be the final victory."