More bang for jumbo crackers
Blasters to fire crackers and scare away wild herds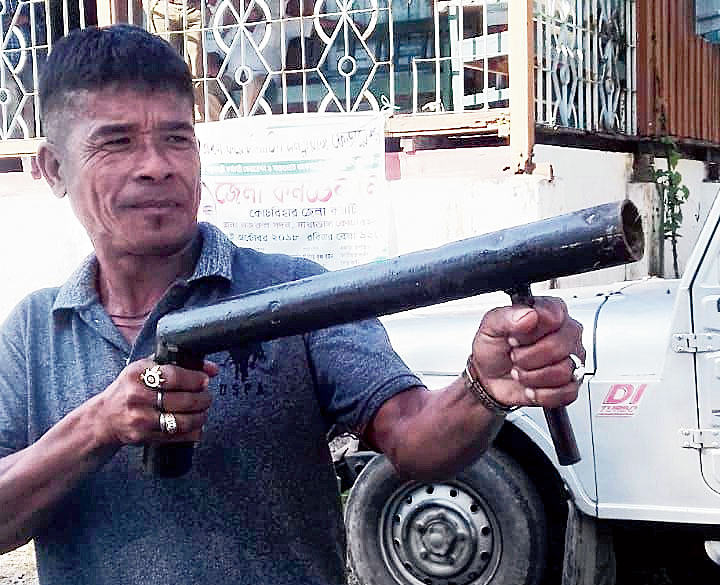 A villager shows a sound cracker blaster.
Picture by Anirban Choudhury
---
Alipurduar
|
Published 28.10.18, 07:41 PM
|
---
Jumbos fear crackers. But a cracker blaster may be better and "bang on".
The Bengal forest department has come up with a "cracker blaster", an improvised device that looks like a gun, to help staff and villagers burst crackers safely and amplify its sound to ward off wild elephants.
It is common to use sound crackers, so far tossed by hand, in villages near jungles to keep jumbos away from homes and farms.
"We have developed the device which can be used to safely burst crackers. It will increase the sound and a ball of fire will be released through a pipe fitted into it. This will help keep wild elephants away," said Kumar Vimal, divisional forest officer of Jaldapara in north Bengal.
Recently, six such blasters were distributed among villagers in Alipurduar's Madarihat block, which also covers the Jaldapara National Park.
The villagers have been trained to use the devices — putting the cracker into the pipe and igniting it while holding the blaster in the direction of elephants.
"The blaster has been found to be effective, first because of the noise and then the fireball which dies down soon, in keeping wild elephants at bay. The villagers have been asked to use it only when such elephants are close to their localities. The new sound and light would dazzle them," Vimal said.
The blaster may look like a gun but has no triggers or any other mechanism to shoot the cracker, put at the end of its muzzle.