Modiji, now behen is aurat?
BJP leaders made unsavoury comments against the women demonstrators at Shaheen Bagh and Park Circus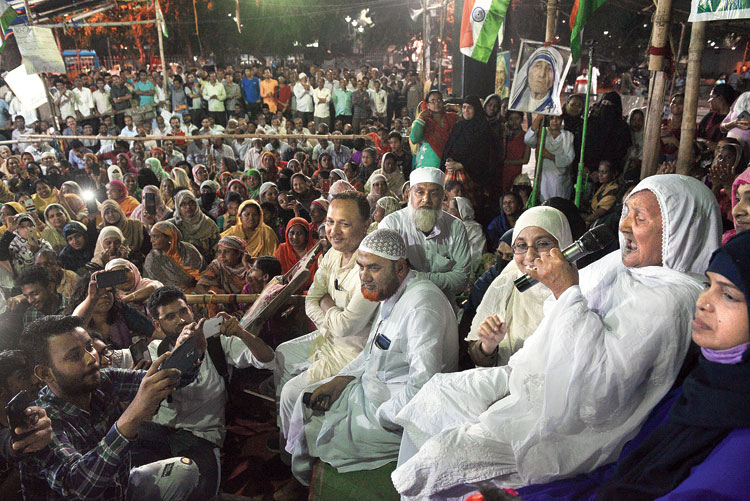 Asma Khatoon, 90, from Delhi's Shaheen Bagh, speaks at Park Circus Maidan on Wednesday evening.
Picture by Pradip Sanyal
---
Park Circus
|
Published 04.03.20, 08:42 PM
|
--- The government that had called Muslim women "mothers and sisters" while bringing a law against instant triple talaq is now branding them "women" who can "protest for biryani or money", a protester from Delhi's Shaheen Bagh said on Wednesday.
"Jab teen talaq ko ban kiya tab hum Modiji ki maayen aur beheney the. Abhi unke party ke log bol rahe hain ki hum daily 500 rupaye ke liye, biryani ke liye protest kar rahe hain (When triple talaq was banned, we were Modiji's mothers and sisters. Now, his party's people are saying we are protesting for Rs 500 a day, we are protesting for biryani)," Rizwan Khalid, 49, told those protesting the amended citizenship regime at Park Circus Maidan.
"Maayen aur beheney ab aurate ban gayi (Mothers and sisters have now become women)," she said.
The Muslim Women (Protection of Rights on Marriage) Act 2019, which criminalises (instant) triple talaq, came into force on August 1.
In multiple addresses before and after the passage of the bill — including in his Independence Day speech from Red Fort — Prime Minister Narendra Modi had spoken about giving "justice to Muslim mothers and sisters".
Since the Shaheen Bagh vigil gained steam and became the face of the nation-wide protests against the Citizenship Amendment Act, National Register of Citizens and National Population Register, BJP leaders have made unsavoury comments against the women demonstrators.
Some leaders alleged each protester was being paid Rs 500 a day.
Uttar Pradesh chief minister Adityanath had said the men were sleeping at home and shamelessly sending their women to the dharna. BJP's Bengal unit chief Dilip Ghosh had said "uneducated men and women" were protesting at Delhi's Shaheen Bagh and Calcutta's Park Circus for "money and biryani".
At Park Circus on Wednesday, Rizwan said why women like her were protesting. "Biryani ke liye nahin, bacchon ke mustaqbil ke liye baithe hain (Not for biryani, we are holding vigil for the future of our children)." The crowd responded with a loud applause.
Tuesday night's rain and winds had damaged a part of the tarpaulin roof of the temporary shelter at the protest venue. The stage was shifted towards the ground's centre.
Rizwan took the mic when the crowd was getting impatient for the most-awaited speaker of the evening, Asma Khatoon, the 90-year-old "dabang dadi" (fearless grandmother) from Shaheen Bagh.
But as Rizwan spoke for 10 to 12 minutes, she had the crowd captivated. The former student of sociology at Jamia Millia Islamia talked about the multiple fights that Muslim homemakers faced while protesting the citizenship regime.
"The first fight is with people at home. Everyone is not okay with women stepping out to demonstrate on the road and take part in marches," she said.
Rizwan paused for a moment and looked around her before continuing. "I see a lot of men here. I am sorry for saying this. Our intellect is not that open (humari zahn utni khuli nahin hai)." The women in the crowd applauded so loudly that her voice was drowned out for a few seconds.
"The second fight is against society, which calls us names for protesting. Then, there is the fight against the government." By now, the men were also clapping. One of them was Khalid Jamal Siddiqi, Rizwan's husband and a Calcuttan who is settled in Delhi for 27 years. "She has always been a good orator," Siddiqi told Metro later.
Asma Khatoon entered Park Circus around 8.05pm, amid deafening roars of "dabang dadi zindabad". Everyone wanted a glimpse of her and mobile cameras were flashed in thousands.
"They are asking for our papers. If a paper is a mark of identification, then Red Fort is my paper, Qutub Minar and Jama Masjid are my papers," she told the crowd. "We will die on the road but not go away before the black law is repealed."