'Modibhai and Didibhai are using antique binoculars' says Haripada Biswas
Forward Bloc candidate from Jagaddal assembly constituency since the 1998 byelection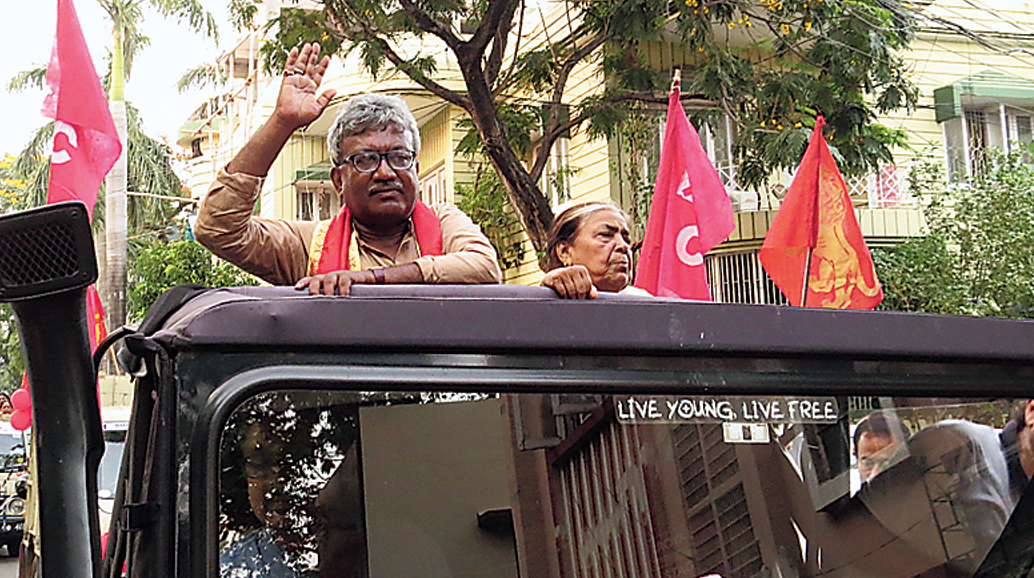 ---
Calcutta
|
Published 17.05.19, 10:36 AM
|
---
What is your background?
I grew up in Chakdah. Our family profession is agriculture. I used to carry tiffin to the fields for my father and helped him in ploughing land. I have been involved with numerous agitations. I shifted to Shyamnagar in 1984.
Since when are you in active politics?
Since Class V. I have been contesting from Jagaddal assembly constituency since the 1998 byelection. I won then and the next two terms in 2001 and 2006. I lost in 2011 and 2016. 2016 was of course like Aila. Everyone lost. This is the first time I am contesting in a Lok Sabha seat. I was my party's district secretary for years.
How are you sensing the voter pulse?
Only astrologers and psychologists can do that. I am no astrologer. But I can read a man's face. I have faced rejection in 2011 — I am bending over with hand outstretched but people are not forwarding their hand by four inches, shutting the window on seeing me, turning the other way if I offer namaskar... This time they are smiling back, shaking my hand. In places where we failed to hold even a single political meeting in the last 10 years, this time I am being garlanded, as if I am being married all over again!
This election is being projected as a BJP vs Trinamul one in Bengal. Do you agree?
Trinamul is finished. In every polling booth, 100-200 votes will break away from Trinamul. Muslim votes account for 23-24 per cent in Barasat seat. In places with 100 per cent Muslim residents, they supported Congress initially and moved away to Trinamul. Now they are disgusted with Trinamul's doings. They will never vote for BJP. Of them, those who will not vote for us will support Congress. Congress's vote share may increase (from 3.2 per cent in 2014) to 5-7 per cent.
There has been no downslide in our party's support base from what we got in 2014 (27.75 per cent). For Didi's Brigade meeting, they had put up gates right from Darjeeling. For our Brigade, we did not put up a single gate. We could not mobilise attendance. Yet you saw the gathering. It was a historic rally. Modi says Left Front cannot be spotted with a pair of binoculars. So does Didi. I say Modibhai and Didibhai are using antique binoculars, from the era of Siraj ud Daulah. They conspired to sabotage the media coverage of our rally by staging a drama that evening with the CBI.
Who then is your main rival?
We, Leftists, have many faults, which is why we suffered a setback. But there is no alternative to the Left for labourers and farmers. Ram or Rahim cannot decide an election. Manush bujhe gyachhe. Eto shree, eto shree (referring to the Mamata Banerjee government's schemes and awards)… Or moto hotoshree, kushree ar nei. Tumi chuley kali koro kyano? (Why does she colour her hair?) She and I are of the same age! It is a crime against humanity to colour one's hair. Maharani Gayatri Devi said every age has its own grace. Children will not get grandparents then. Grandparents have a certain look. It's a different matter that she never married but what would have been the harm if she had grey hair?
But this is personal attack!
Why personal attack? She does personal attacks all the time. Bhaater lorai bondho kortey bhooter lorai cholchhey. It is to destroy struggle for jobs, education, culture, life that communal politics has been started. Who will decide who eats what? Why this brouhaha over NRC (National Register of Citizens)? You give so much protection to corporates who flee with taxpayers' money. But if a man from Dhaka or Jessore, whose father-grandfather died in the freedom struggle, wants to pull a rickshaw on the streets here, he will be termed an infiltrator! What's this Partition! The whole world is my country. My slogan is duniyar majdur ek hao.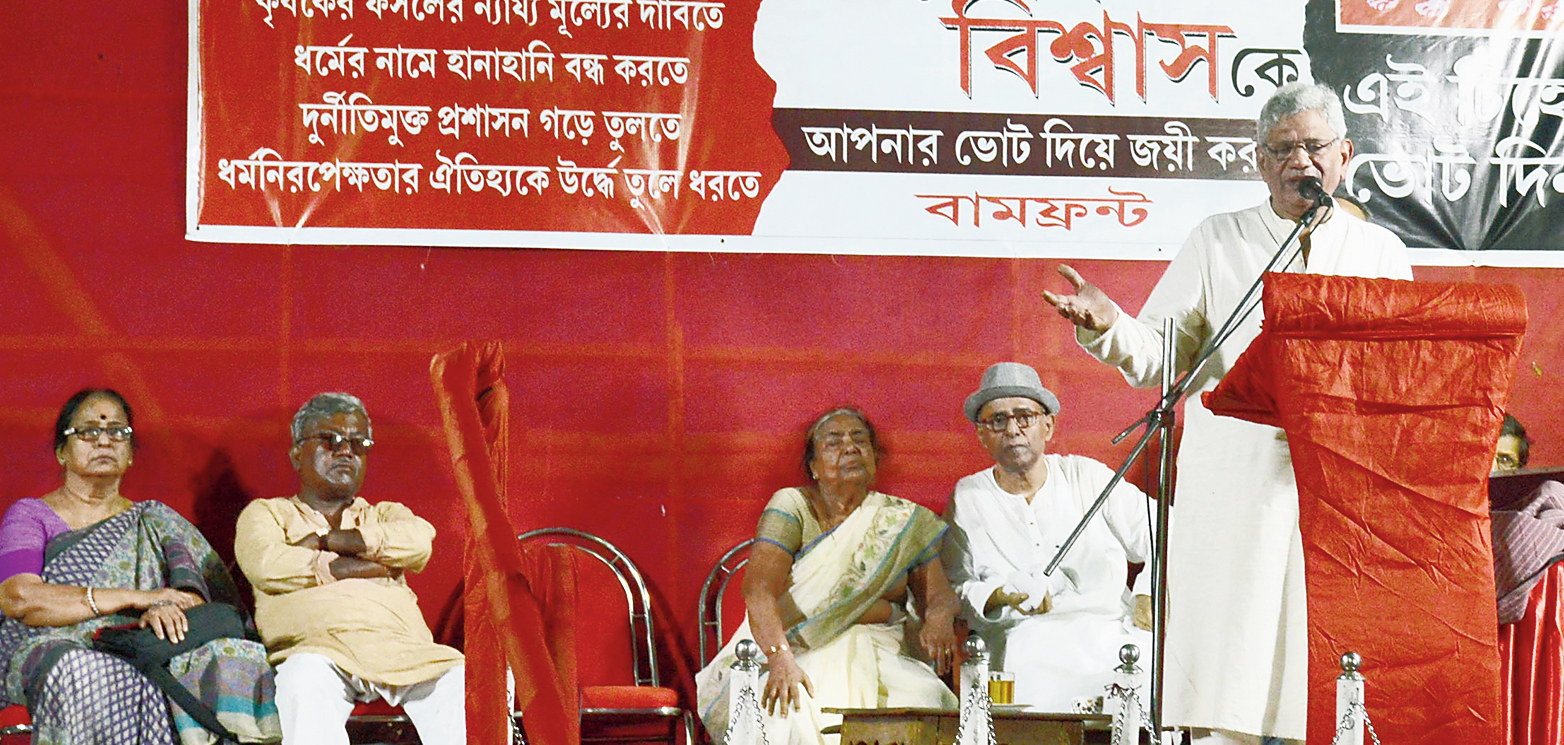 What about your opponents?
Look at the Narada money under the towel and the language she (sitting MP Kakoli Ghosh Dastidar) used to comment in the Kamduni or Park Street cases… What does one say about her? The other fellow, Mrinal Kanti (Debnath)… They (BJP) wanted to field Sabyasachi (Dutta), that didn't happen. Debnath had gone to our state party headquarters to seek a ticket. How does one give an election ticket to someone who has never worked for the party? (See Debnath's interview for response)
I heard him saying on TV that he is getting a first chance to serve the country. What was he doing all these years as a doctor?
What is your strategy in the urban areas of your constituency like Salt Lake and New Town?
New Town has just 7,000 voters. Just nine booths. I have been to Salt Lake 10 times. I have been covering 30km daily. Retired IAS, IPS officers are working for me in this election as are Matua community people. I used to be the general secretary of the community.
The chief minister is predicting all 42 seats for her party while BJP president Amit Shah is confident of winning at least 23 seats from Bengal. What is your reading?
Why 23? They can win more if they get the machines (EVM) in their control! Neither is correct. What's the point of elections then?
Your affidavit to the Election Commission mentioned that you possess a gun. Is that for personal security?
That has been deposited with the Commission. I used to be a keen hunter of hare and such creatures. Mostly with bow and arrow.
What do you do in your spare time?
I watch news or listen to Lalan Fakir's music. One hobby I have is fishing. I prefer to fish by myself in ponds, not take part in angling contests.