Mob attacks police, 4 hurt
The attack took place when the police arrived for a raid in search of villagers accused of beating the husband of a local Trinamul gram panchayat member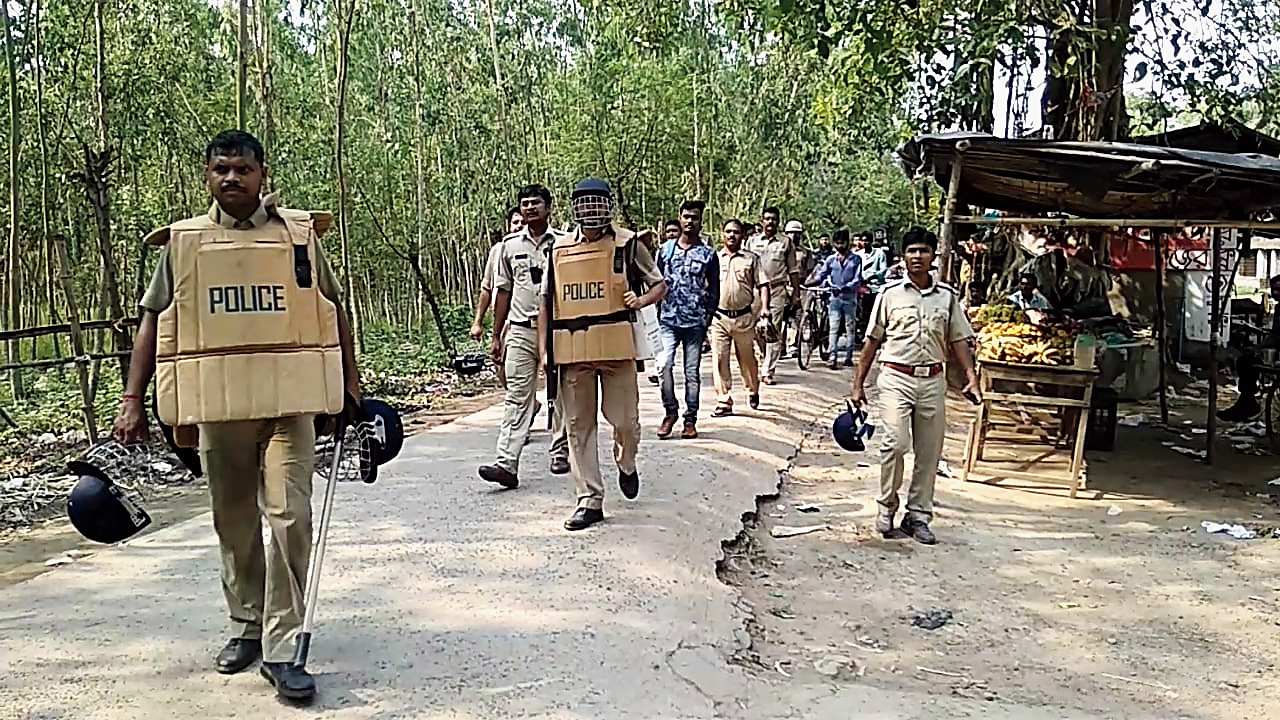 ---
---
A mob of nearly 3,000 villagers allegedly backed by the BJP attacked police at Bakcha in East Midnapore's Moyna on Monday night, leaving four men in uniform injured and five vehicles of the law enforcers damaged.
The attack took place when the police arrived for a raid in search of villagers accused of beating the husband of a local Trinamul gram panchayat member.
Sources said the trouble started on Monday morning when some villagers opposed the installation of a submersible pump by the gram panchayat, saying the model code of conduct prevented such activities.
"Those who opposed the move were BJP supporters. When Baneswar Maji, the husband of Trinamul gram panchayat member Minu Maji, asked the villagers to allow the installation of the pump because of scarcity of water, he was beaten up," said a police officer.
A contingent of about 100 policemen led by the Tamluk subdivisional police officer, Sabyasachi Sengupta, decided to raid Bakcha to arrest the accused after Baneswar lodged a complaint. When the police reached Bakcha about 9.30pm, the residents alerted those at three-four neighbouring villages and a mob of 3,000 people surrounded the force.
"The mob chased the police, hurled crude bombs and ransacked their vehicles. When the police team took refuge at a police camp set up at Bakcha, the villagers hurled bombs there, too," said an officer.
Four police personnel, including the officer-in-charge of Chandipur station, Imran Molla, suffered shrapnel injuries. They were hospitalised.
Additional superintendent of police of Tamluk, Sivaprasad Patra, sent Rapid Action Force personnel to ward off the mob with teargas.
The sources said Bakcha frequently witnessed clashes between supporters of the BJP and Trinamul.
"The village was a Trinamul bastion till last year's panchayat polls. Later, the BJP developed a strong foothold there and took control of Bakcha. As Trinamul wanted to re-establish its foothold, the area witnessed clashes in the past six months," said an official.
The BJP has denied that its supporters attacked the police. "Police arrived at the village to arrest BJP leaders so that Trinamul can recapture Bakcha. The villagers opposed the move. The BJP did not attack the police," Siddhartha Naskar, a BJP leader.
Trinamul, however, alleged that Moyna was known to be an area from where the BJP supplied illegal firearms to create tension in the district.
The sources said local BJP leader Alok Bera had been arrested along with two party workers on Tuesday morning for allegedly attacking the police.