Minister Sabina Yeasmin check on erosion in Malda district
Sources said during this year's monsoon, villages in the panchayat faced acute erosion caused by the swollen river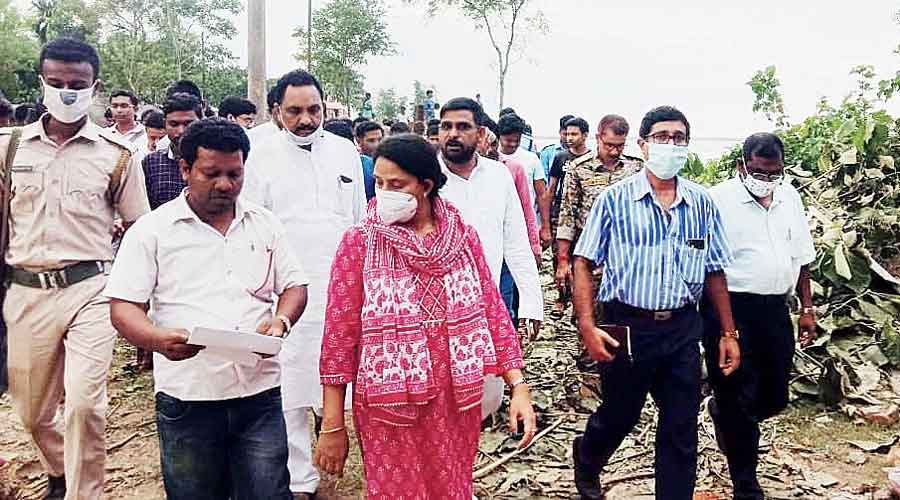 ---
Malda
|
Published 14.09.21, 03:26 AM
|
---
Sabina Yeasmin, the minister of state for irrigation, waterways and north Bengal development, on Monday lashed out at the Farakka Barrage Project Authority (FBPA) for its failure to commence anti-erosion works along the Ganga ahead of the monsoon.
Yeasmin on Monday visited Birnagar 1 panchayat under Kaliachak 3 block of Malda district to take stock of the situation, a day after the Ganga had swallowed around 250 houses at various villages.
Sources said during this year's monsoon, villages in the panchayat faced acute erosion caused by the swollen river. "Around 700 families have become homeless as the river has gobbled their houses and also vast patches of agricultural land," said a source.
"The FBPA, a central government undertaking that maintains the barrage and is entrusted with the responsibility of carrying out anti-erosion works in Birnagar 1 and adjoining areas which are on the left bank of the Ganga, cannot shun their responsibility. We fail to understand why they did not take up anti-erosion works ahead of the monsoons," Yeasmin said.
Calls to senior FBPA officials from this newspaper went unanswered.
She was accompanied by Trinamul MLA and district party president Abdur Rahim Boxi, officials of district administration and engineers of the state irrigation department. Later in the day, Yeasmin, along with district magistrate Rajarshi Mitra and some others, visited the FBPA office in Farakka. There, they held a meeting with officials of the barrage authority on a number of issues.
"We have mentioned that hundreds of families have become homeless because of erosion. The FBPA has offered us land where these families can be rehabilitated. I have visited two such plots but those are in Murshidabad district and most of the victims are reluctant to shift from Malda," Yeasmin said.
The sources said an emergency meeting would be held here on Tuesday to discuss availability of an alternative land in Malda district which could be given to erosion victims.
Mitra, the DM, said the FBPA will resume anti-erosion work on Tuesday.
"If work is carried out on war footing, we believe at the least the high school building at Birnagar-I could be saved. The Ganga has been steadily aggressing at the building for the past few days," he said.
Back in villages of Birnagar-I panchayat, hundreds of homeless residents were seen sitting under open sky with their belongings.
"Those who had lost their homes earlier had taken accommodation at the high school and primary school buildings. But it seems both these buildings would be swallowed by the river soon. We don't know where to go and find a shelter," said Minnatulnesha, a housewife.
The administration, sources said, has sent relief materials to the affected areas. "We are also trying to find alternative temporary shelters for these families," said the DM.