Members of Kurmi community block tracks, road for ST status
Source in Eastern Railways says at least six trains had to be cancelled and another six short-terminated owing to blockades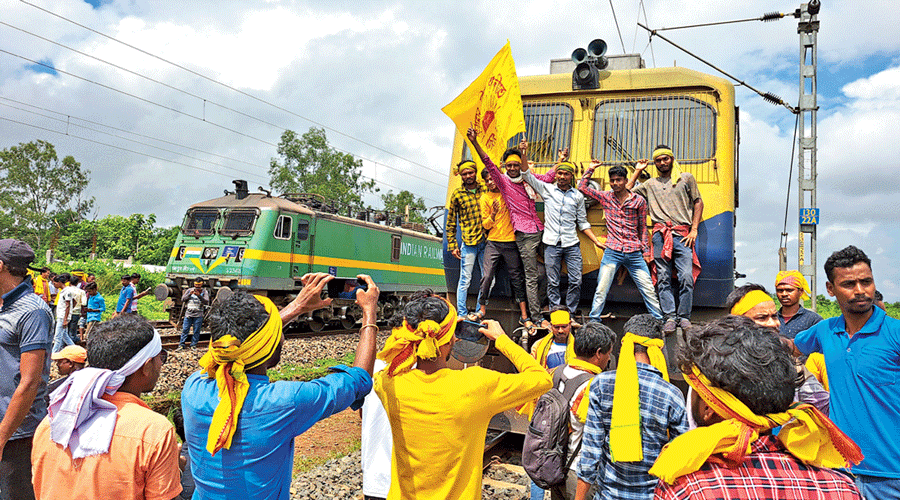 Members of the Kurmi community block railway tracks in West Midnapore on Tuesday.
Saikat Santra
---
Calcutta, Durgapur
|
Published 21.09.22, 01:59 AM
|
---
Thousands of members of the Kurmi community from at least four Bengal districts staged demonstrations in Purulia and West Midnapore on Tuesday under a joint platform of five different outfits based in the Jungle Mahal to demand the state and central governments' intervention in granting Scheduled Tribe status to the community and the inclusion of Kurmali language in the Eighth Schedule.
To press for their demands, the agitators blocked railway tracks at several places in the Jungle Mahal districts. The protesters in West Midnapore's Khemashuli laid siege to the Calcutta-Mumbai highway. Tuesday's protests echoed the demands made in the similar agitation held last year.
"At least six trains had to be cancelled and another six short-terminated owing to the blockades," said a source in Eastern Railways.
Among the trains that were cancelled were the Tata-Danapur express and the Hatia-Kharagpur express.
Apart from Bengal, the Kurmi community people from Odisha and Jharkhand also held protests.
"We were supposed to have been designated as the ST shortly after the Independence, but that has never happened. We demand that our community and language are given their due," said Bengal committee president of the organisation, Rajesh Mahata.
Sources said there were around 50 lakh Kurmi members in Bengal and their votes played a key role in at least 35 Assembly seats in four Jungle Mahal districts.
Members of the Kurmi community claimed they had been registered as Scheduled Tribe till 1931 and excluded from the list for "unknown reasons" after the Independence. They were included in the OBC list but deserved facilities of the ST community, they asserted.