Medical teachers' sit-in for pay hike, promotion in Nadia
The aggrieved doctors said they would continue the demonstration until and unless the WBUHS or the state government fulfilled their demands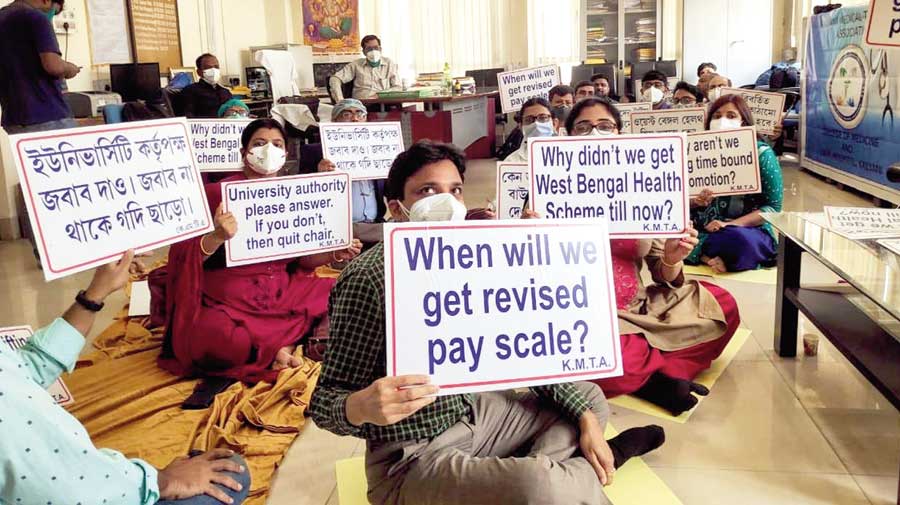 ---
Kalyani
|
Published 19.02.21, 03:02 AM
|
---
Nearly 150 teachers attached to the JNM Hospital and College of Medicine, Kalyani, staged a day-long sit-in in front of the principal's chamber on Thursday, demanding their inclusion in the West Bengal Health Scheme, implementation of a revised pay structure already in place for state government and university employees and their time-bound promotion among other demands.
The doctors held the demonstration without hampering academic activities in the college and allied medical services and submitted a memorandum to the principal under the banner of the Kalyani Medical Teachers' Association.
The memorandum was to draw the attention of the West Bengal University of Health Sciences (WBUHS) and the state government.
KMTA joint secretary Kaustav Chakraborty, who is also the head of the psychiatry department, said: "The college became operational in 2009. But since it has been brought under the control of the WBUHS, little has been done for the teaching doctor community. The most unfortunate part is that we are still being denied benefits of the West Bengal Health Scheme, which has already been provided to teachers of other medical colleges in Bengal. Facilities of the health scheme remain elusive despite our repeated appeals, even amid a pandemic."
"At the same time, WBUHS authorities did not bother to implement the revised pay benefits announced by the state government. This is sheer denial of our legitimate rights," said KMTA president Subikas Biswas, adding that the university authority also denied them career advancement scope with no timely promotions in place.
The aggrieved doctors said they would continue the demonstration until and unless the WBUHS or the state government fulfilled their demands. They also sought the intervention of chief minister Mamata Banerjee, assuring her that there would be no disruption in academic and medical services in the college and the attached JNM Hospital owing to their demonstration.
Acting principal Suman Kumar Roy said: "The grievances of the faculty doctors are quite genuine. As a faculty member, I also wholeheartedly support their demands. I have conveyed the grievances to the higher authorities and sought their immediate intervention so that the faculty staff can work here happily."
An official of the WBUHS said the issue of inclusion of the faculty in the WBHS had been considered.
"A process has started to provide the benefit but nothing has been finalised about the other demands," the official said.