Mayor Firhad Hakim outlines his plan for Calcutta
Civic body to work on 20-point programme; mayor to be accessible to citizens 24x7, digitally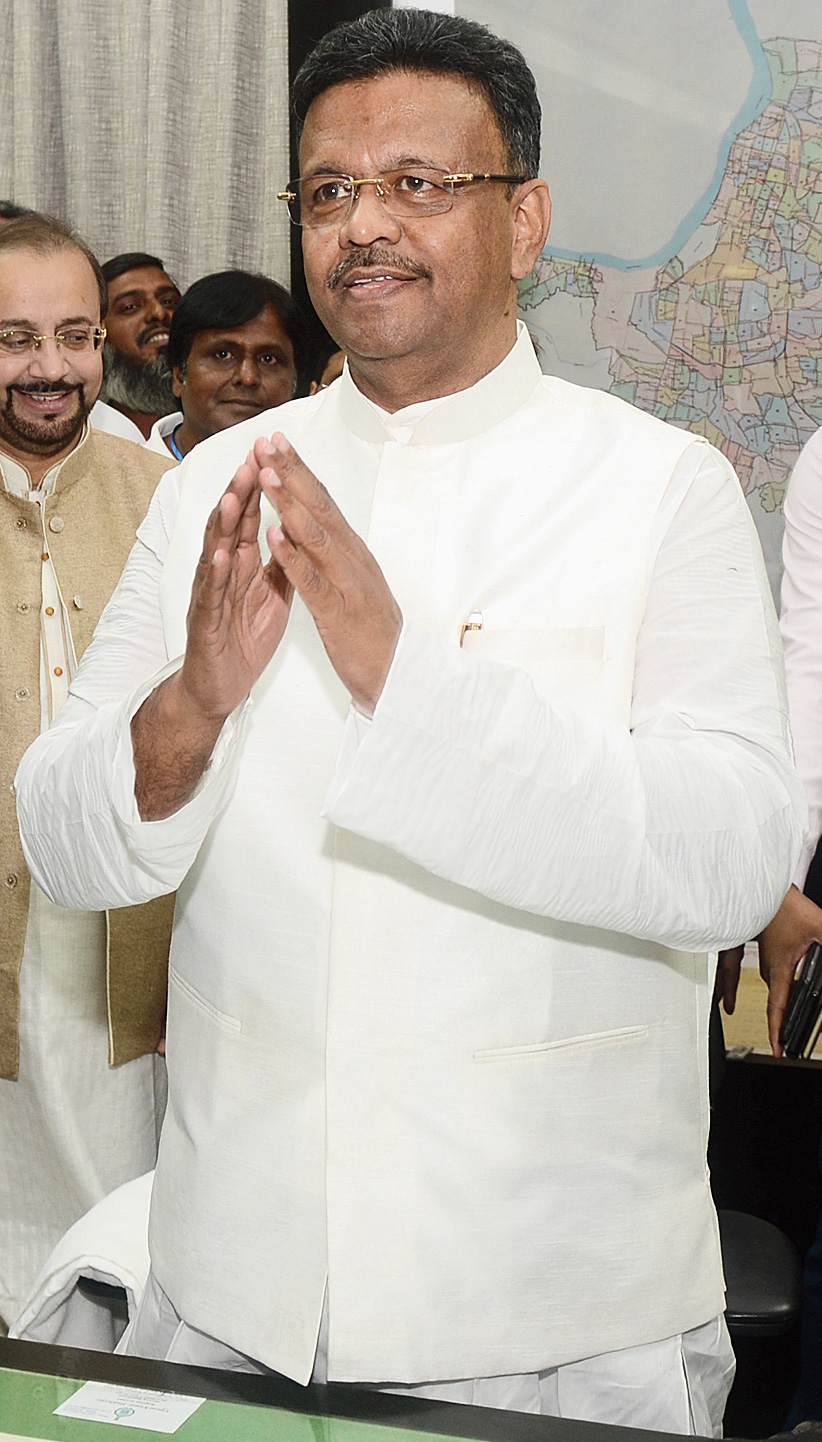 Firhad Hakim after taking over as Calcutta's mayor on Monday.
Bishwarup Dutta
---
Calcutta
|
Published 04.12.18, 09:12 PM
|
---
The new mayor of Calcutta, Firhad Hakim, has a lot of plans for the city. He said he would soon announce a 20-point programme and promised to be accessible to Calcuttans — digitally — 24X7.
Hakim spoke to Metro on Day One in office as mayor on Tuesday. Here are excerpts from the interview:
Twenty-point action plan
My priorities as Calcutta's mayor will always include making the city greener and cleaner.
I will soon announce a 20-point programme for the new board of the CMC (Calcutta Municipal Corporation) to provide citizen-friendly services. I will roll out the details soon but I can tell you that the agenda will include issues like urban forestry, smoother roads, state-of-the-art waste disposal and better management of the drainage system during the monsoon.
My priorities include ensuring uninterrupted supply of potable water to all corners of the city. I have a dream to build adequate number of toilets in the slums and develop the slums as model residential areas.
Calcutta being an old city has many heritage buildings, which need proper attention. These buildings have the potential to draw foreign tourists.
We have announced tax sops for those who are promoting greenery in their properties. Going forward, we want to make the unit area tax assessment system more citizen-friendly. At the same time we want to expand the tax base so that our revenues grow and we can deliver better civic services.
Decentralisation
The councillors may have chosen me as mayor but I am the first among equals. And I sincerely believe that we have to work as a team to make this city better. To meet that objective the responsibilities are being distributed.
Deputy mayor Atin Ghosh will retain his earlier portfolio of health and in addition, he will look after the assessment and collection department.
As of now all my council members will continue with their earlier portfolios. I have allotted the law and the planning and development departments to Baiswanor Chattopadhyay, a new council member.
I have certain plans to make optimum use of abilities and experiences of my council members and hope that decentralisation will help in proper allocation of workload and bring in efficiency.
Daily schedule
Since my councillor days (Hakim was a CMC councillor from 2000 to 2015) I have made it a habit to meet people and solve their issues every day from 10am to 11.30am at my Chetla office. Though not a councillor anymore, I continue with the practice.
I plan to reach the CMC headquarters by noon, after attending the public session in Chetla, on all six days and meet civic officials till 2pm.
At the CMC office, visitors can meet me from 2pm to 4pm. Thereafter, I will move to the Writers' Buildings to discharge my duty as urban development and municipal affairs minister.
Connect through WhatsApp
I have made my WhatsApp number, 9830037493, public so that any Calcuttan can reach me digitally to register his or her grievances related to civic services.
I promise to take personal initiative to resolve every issue that will be reported through this number.
Calcuttans can send their messages to this number any time. The messages will be monitored during my four-hour stay at the civic headquarters.