Matuas scale up protest
Police forced the demonstrators to lift the blockade and traffic was thrown out of gear in the protest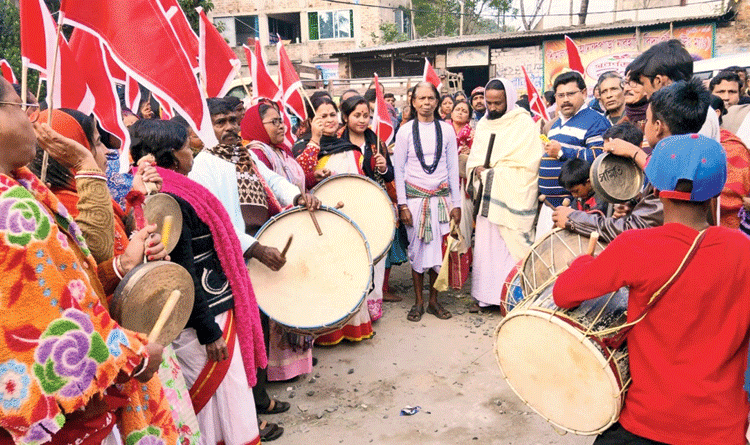 ---
---
A section of Matuas held demonstrations at different spots on the Swarupnagar-Hakimpur border road in North 24-Parganas on Sunday to protest against the Citizenship (Amendment) Act and the National Register of Citizens.
The protesters under the banner of the Trinamul-backed Sara Bharat Matua Mahasangha converged on the road at Hakimpur market and blocked the traffic.
Although police forced the demonstrators to lift the blockade, the protest continued. Traffic was thrown out of gear in the protest.
Sources said the Matua residents of the area — which is located along the Bangladesh border — were panicked over incorrect entries in their Aadhaar cards. In areas like Tentulia, Swarupnagar, Bithari, Swarupdaha and Hakimpur, several Trinamul activists were seen joining the demonstrations of the Matuas.
Ranjit Das, a senior member of the Sara Bharat Matua Mahasangha, said: "The Act has created confusion among us. The incorrect Aadhaar entries, which many villagers did not notice earlier, have made us worried about proving our identity. The central government offers citizenship through the Act on one hand and demands documents on the other hand. If they allowed us to vote, how can they offer us citizenship again?"
Satyajit Das, another member of the organisation, said: "Villagers are joining queues at banks and post offices for rectification in Aadhaar cards. They are being harassed regularly. We want an end to the harassment. Only the withdrawal of the Act can give us respite."
"Chief minister Mamata Banerjee had made the right guess. The Centre has been misleading us on the citizenship issue. How can a government that has issued a voter's identity card to a person and allowed him to vote offer him citizenship again," he asked.
The Matuas supporting Trinamul had held protests against the CAA and the NRC before also.