Martyrs' Day: Mamata gives morale boost to TMC workers for 2024 polls
She advised party members to give priority to women, youths and students as they had contributed greatly to the victory in the Assembly elections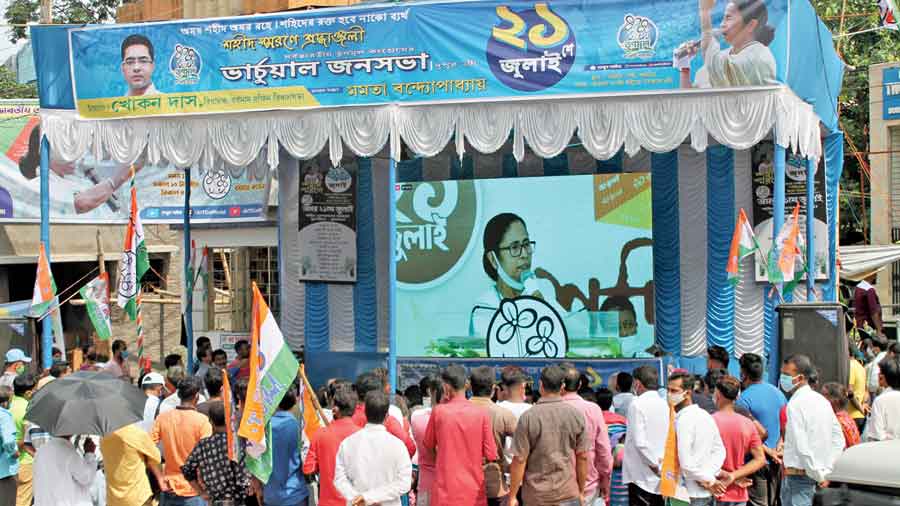 Trinamul supporters in Burdwan on Wednesday watch Mamata speak at the Martyrs' Day rally virtually.
Munshi Muklesur Rahaman
---
Bolpur(Birbhum)
|
Published 22.07.21, 01:28 AM
|
---
Chief minister Mamata Banerjee's Martyrs' Day call on Wednesday to form a front to counter the BJP in the 2024 Lok Sabha polls turned out to be a tonic for Trinamul Congress leaders and workers in Bengal districts as they felt the lack of such an exhortation was one of the reasons for the saffron camp's victory in 18 Lok Sabha seats in the state in 2019.
Mamata asked her party to prepare for the 2024 fight against the BJP and advised Trinamul workers to give priority to women, youths and students as they had contributed greatly to the victory in the Assembly polls.
"We have to make a better Trinamul (unnototoro Trinamul )... I pay my respect towards women, youths and my students who played a great role to bring us to power for the third time. We need to make ourselves better by prioritising them," Mamata said.
Trinamul insiders said before the 2019 Lok Sabha polls, Mamata had called for a greater alliance by organising a mega rally at Brigade Parade Grounds in Calcutta, but this time, she has focussed on a better organisation.
"In 2019, we were asked to go for an all-out drive in January and it was too late to counter the BJP. Now the call has come early and it will help us plan properly. Now, we can set our target for 2024. The call is stronger this time because the Assembly poll victory has given her the confidence that she can defeat Narendra Modi," said a senior Trinamul leader.
Analysing Mamata's speech, political scientist Biswanath Chakraborty said: "Mamata's early call will help Trinamul exploit the anti-Modi government sentiment on the ground on issues like vaccine shortage and Covid-19 mismanagement."
Trinamul leaders in districts like Purulia, Bankura, Jhargram and Hooghly, where the BJP had performed well in 2019 but failed to repeat the feat in the Assembly polls, said the party supremo's guidelines to improve organisational strength were being seen as a critical input.
"The Assembly polls in 2021 under the chief minister's leadership taught us a lot. We were behind in all Assembly segments but one in 2019, but this year, we won three seats in the district. Going by her advice, we will launch drives to counter the BJP on issues like hike in the prices of fuel, cooking gas and others," said Nabendu Mahali, a Trinamul spokesperson in Purulia.
Trinamul leaders also acknowledged that the defeat in the Assembly polls had broken the backbone of the BJP to a great extent and was evident in the trend of supporters and local leaders of the saffron camp switching sides.
Even on Martyrs' Day, the trend to desert the BJP and join Trinamul continued at several places in Bengal. On Wednesday, a group of BJP leaders and workers in Jhargram, Bankura and Purulia joined Trinamul.
Asked about the success of Wednesday's virtual event, Trinamul's national spokesperson Sukhendu Sekhar Roy said: "We had set a target to reach out to one crore people through our Martyrs' Day programme this year. According to our report, we have crossed the number. Apart from those present at viewing sites, an uncountable number of people watched Mamata's Banerjee's speech on social media."
Trinamul leaders in the districts said to adhere to Covid norms, they had to request a large number of people to leave venues. Birbhum Trinamul chief Anubrata Mondal said the event was held at no less than 3,800 booths in the south Bengal district.