March against 'saffron' at university
The TMCP accused VC Bidyut Chakrabarty of trying to push the agenda of the BJP and the RSS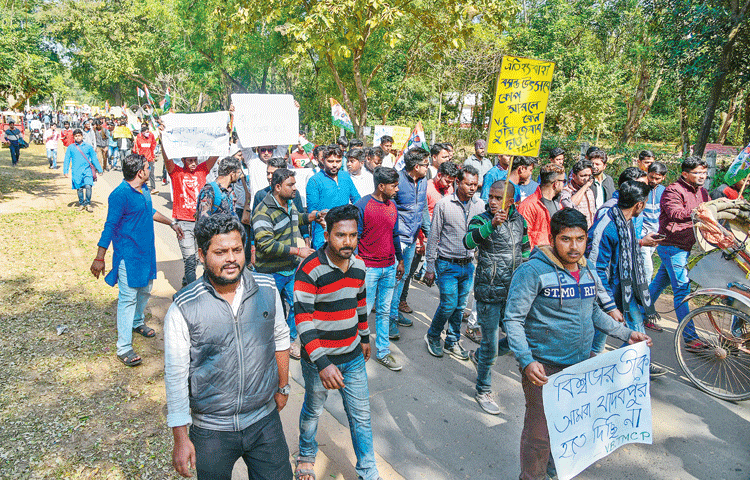 ---
---
The students' wing of the Trinamul Congress led a protest march at Visva-Bharati on Monday against the university's alleged "promotion of saffronisation of the campus".
Trinamul Chhatra Parishad sources said that in addition to protesting "BJP propaganda on campus", they were also drawing attention to the varsity authorities' alleged backing of such attempts.
The TMCP accused vice-chancellor Bidyut Chakrabarty of trying to push the agenda of the BJP and the RSS.
"Even the authorities are trying to promote the saffron agenda," a senior Trinamul leader in Birbhum said.
On Monday, over 1,000 party workers, who came from all over the district, participated in the march to highlight alleged "break with the traditions of Santiniketan" by the Visva-Bharati authorities. Student leaders and workers chanted slogans demanding the removal of the VC.
"The VC himself invited RSS and BJP-backed people to deliver a lecture to promote the BJP's narrative. We will not allow such things on this campus," said Suranjan Chatterjee, the Birbhum district president of the TMCP.
Earlier this month, Rajya Sabha member Swapan Dasgupta had faced protests on the Sriniketan campus when he went there to deliver a lecture on the Citizenship (Amendment) Act.
Trinamul leaders said that apart from the "saffronisation", the safety of students was in question because of disruptive activities by a "section of Left-wing students".