Many uses of boredom
Read more below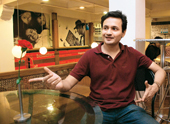 ---
---
Saikat Majumdar, who researches boredom (picture by Sayantan Ghosh)
There is more to boredom than meets the eye. Ask Saikat Majumdar, scholar and writer, who researches boredom.
Majumdar, who was born and brought up in Calcutta and now teaches English at Stanford University, researches boredom, banality and ordinariness. He is in the city now to work on his second book, an academic work, in which he is looking at ordinariness in modern fiction. The book will be published by Columbia University Press shortly.
"The ordinary creates the story of modernity," says Majumdar, who graduated with English (Honours) from St. Xaviers' College, Calcutta, in 1996. The ordinary, in the Western context, in which his current research is placed, distinguishes the modern from other ages. For what does James Joyce do? "He writes about people staring at a mark on a wall." Joyce's Ulysses, he says, is an ironic echo of the epic. "It only uses the epic to mock it." In the modern age, unlike in the age of feudalism, there can be no grandeur. Madame Bovary, he says, is a novel of boredom. The lady wanted to fill up her life with affairs of the heart because she was bored.
It is no coincidence that the genre of the novel and modernity coincide. The novel is the genre of bourgeois reality, when things are not really grand any more, and he deliberately calls his upcoming book Prose of the World, which is a phrase from Hegel. The choice implies prose is a prosaic genre as well, something banal.
It is no coincidence either that Majumdar grew up in Calcutta. Growing up in the Eighties, he grew up, like his generation, with images of boredom: of the bureaucracy, of unmoving traffic, of power cuts, of things not moving, of endless queues where people stood for hours to fill in forms. This is reflected in his novel Silverfish (HarperCollins, 2007), which deals with two worlds: one of Communist Calcutta and the other the claustrophobic world of a nineteenth century widow.
Boredom, he says, is the inability to do things. He recalls an anthropologist at Stanford who is researching contemporary Romania. One of the first things that homeless people tell him is that they are bored, says Majumdar. Boredom is one of the afflictions poverty brings. The Western world sees the less privileged countries in terms of trauma and genocide, but daily life is also unbearable in these countries because people have nothing to do. Boredom finally has to do with disempowerment.