Manoj Malaviya temporary DGP as Delhi delays list
The officer, who would be selected for the post, would have to be appointed for a period of two years even if that person's retirement is due within the period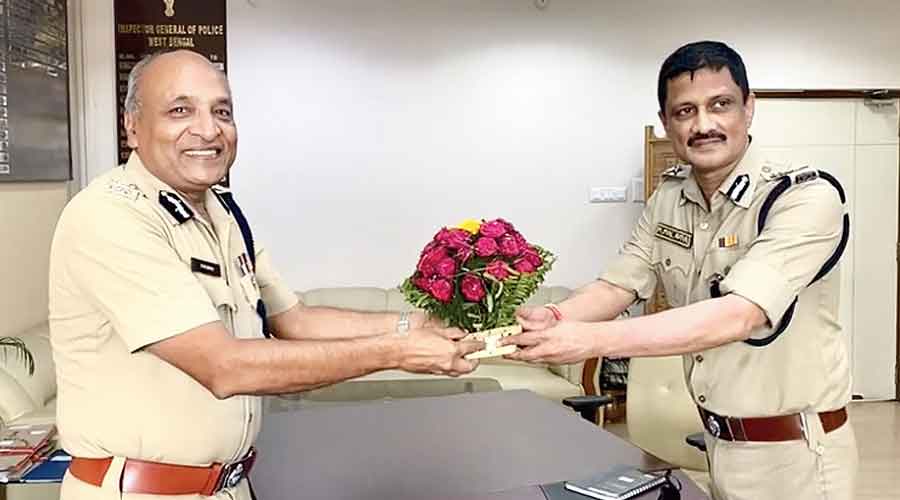 Manoj Malaviya (right) with the outgoing DGP Virendra.
Telegraph photo
---
Calcutta
|
Published 01.09.21, 01:48 AM
|
---
Manoj Malaviya, a 1986-batch IPS officer, was given the charge of director general of police (DGP) on a temporary basis after Virendra, the incumbent, retired on Tuesday.
Sources said Malaviya, who is the senior most IPS officer in Bengal, had to be given the charge temporarily as the UPSC (Union Public Service Commission) failed to send a list of three IPS officers from whom the state was to choose the DGP.
"The Bengal government had sent a list of 10-odd officers to the UPSC for its consideration for the post of DGP. But it was learnt that the UPSC was yet to hold a meeting in this regard and send back the list of three names.… In such a situation, Malaviya was given the charge on a temporary basis," said a senior government official.
According to a Supreme Court ruling, all states need to send the names of eligible officers for the post of DGP to the UPSC and then the central body forwards three names to the states. The state is allowed to choose any one officer out of the three for the post.
The officer, who would be selected for the post, would have to be appointed for a period of two years even if that person's retirement is due within the period. "We followed the Supreme Court ruling and sent names of eligible officers…. But the UPSC is yet to send three names to Nabanna," said a source.
According to sources, the state expects that the name of Malaviya would figure in the list of the UPSC given that he is the senior most IPS officer and has a good service record. "It is likely that the name of Malaviya would be on the list of the UPSC and the government will appoint him for two years after the UPSC list reaches Nabanna," said a source.
Some states were recently forced to appoint DGPs on temporary basis for a few days as the UPSC hadn't sent the list on time, the sources said.
Malaviya , who is currently DG (organisation), would continue to work in the post and hold the charge of DGP additionally.