Man with family stuck in Kedarnath slide with little food and water
Biswajit Roy said that his parents and relatives in Hooghly were worried and praying for their safe return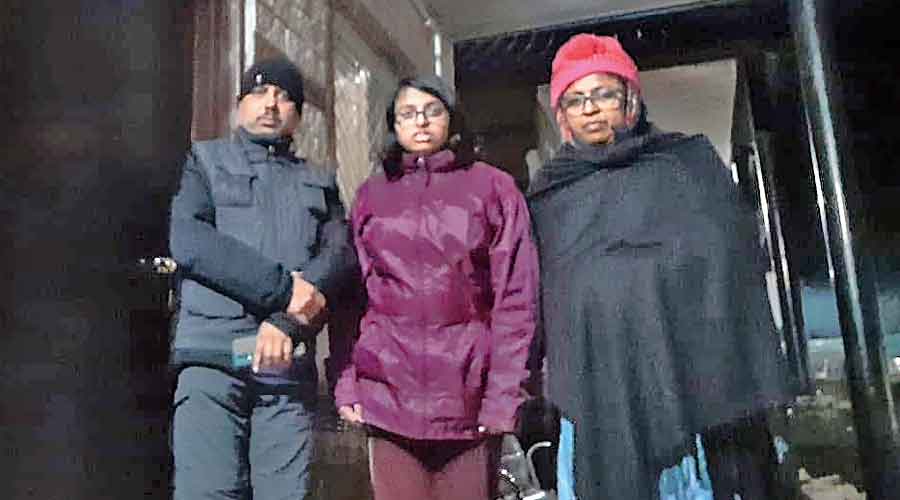 The Roys stuck in Kedarnath on Tuesday
The Telegraph
---
Calcutta
|
Published 20.10.21, 02:51 AM
|
---
A 50-year-old man, his wife and daughter, are stuck in Uttarakhand's Kedarnath since Saturday with very little  food and water following heavy rain and landslide in the northern state.
Biswajit Roy, 50, an employee of Chinsurah Municipality left his home on October 11 with his wife Chumki, 45, and 19-year-old daughter Answesha for Kedarnath and few other places in north India. When they reached Kedarnath on October 16, the weather had started turning bad.
Sources said the Uttarakhand government had issued a red alert on Monday, October 18, following the forecast of heavy rain, and stopped at least 20,000 tourists from visiting Gouri Kund and Kedarnath. However, those like the Roys who had already reached Kedarnath were stuck.
"We are staying here (at a government guest house) but desperately need food and water. We are surviving on a few packets of biscuits left with us. All shops are closed amid heavy rain," said Roy over phone from Kedarnath.
"We did not have any idea that the situation would turn so bad. We heard the road down from Kedarnath was blocked due to a landslide. It is not possible for us to get down," the worried man added.
According to him, he and his family tried to catch a chopper on Sunday and leave Kedarnath but bad weather made it risky.
He added that his parents and relatives in Hooghly were worried and praying for their safe return.
"My son and his family are stuck in Kedarnath. We are worried and anxiously waiting for their return," said septuagenarian Supriya Roy, Roy's mother.