Mamata's pledge to Matuas on Citizenship Amendment Act
CAA a BJP ploy to help infiltration, says Bengal CM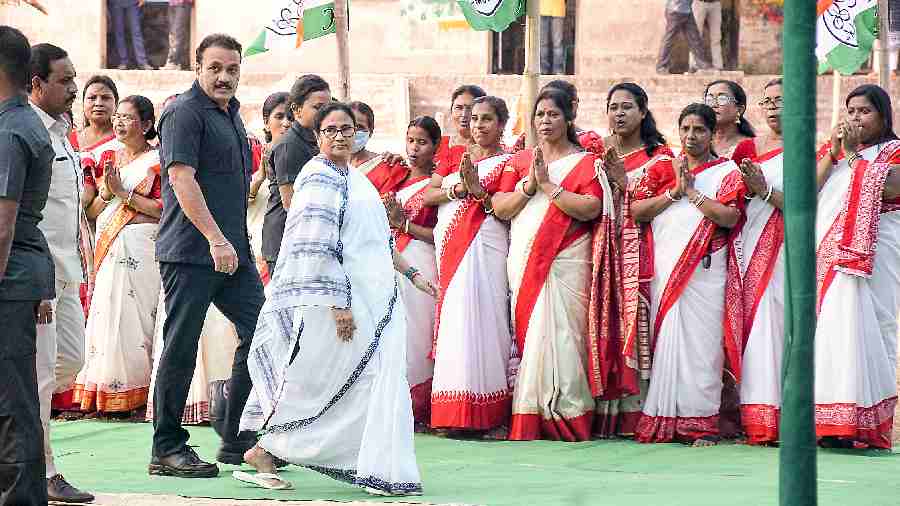 Mamata Banerjee at Krishnagar in Nadia district on Wednesday.
Pranab Debnath
---
Calcutta
|
Published 10.11.22, 03:17 AM
|
---
Chief minister Mamata Banerjee on Tuesday urged the Matua community to remain "alert" and not to be "misled" by the BJP before accusing the saffron party of exploiting the sentiments of members of the lower caste, a majority of whom had immigrated from Bangladesh, before every election.
Mamata also reiterated that her government would never allow the Centre to implement the Citizenship (Amendment) Act, a carrot that the BJP has been dangling for years to woo the community. 
"You (Matuas) are all citizens of India, you have voted in elections, you enjoy all benefits of different schemes... so, there is none to snatch away your voting rights," she said at a public rally in Krishnagar. 
The Trinamul Congress chairperson's assertion was seen as an attempt to regain the support of the Matua community that is a decisive factor in hustings in Nadia.
At the rally organised by the Nadia unit of Trinamul in the run up to panchayat polls, Mamata for the first time alleged that the BJP's agenda to implement the CAA in Bengal was a "ploy" to help "outsiders" "infiltrate" into Bengal. 
"BJP kichu lok key ekhan okhan thekey deke deke niye astey chai…Tara Banghlar kok noy. Money rakhben, tader ke banglay anuprabesh koranor jannyo tader nagorikatto diye apnar adhikar ke chhoto korebey (The BJP is planning to get some people from here and there and get them settled her. They are not people of Bengal.... Please remember that they are trying to get these people infiltrate into Bengal by giving them citizenship and robbing your rights)," she said.
"I will not let that happen till my last breath." 
The chief minister took care to explain that the BJP was "using" the CAA and the National Register of Citizens with an eye on the Gujarat elections. She was possibly referring to Prime Minister Narendra Modi's statement on Monday that by giving citizenship in Gujarat to persecuted Sikh families from abroad, it had been underlined that no matter where the Sikhs may be, India is their home.
"Whenever any poll comes, the BJP starts talking about implementing the CAA and the NRC. With upcoming Gujarat polls and Lok Sabha elections just a year-and-ahalf away, it has again started to flare up the CAA issue.... Will the BJP decide who is a citizen and who is not? Matuas are very much citizens of this country," she said.