Mamata touches on Abhishek's political upbringing
She threw a challenge at Union home minister Amit Shah to contest against her nephew in Bengal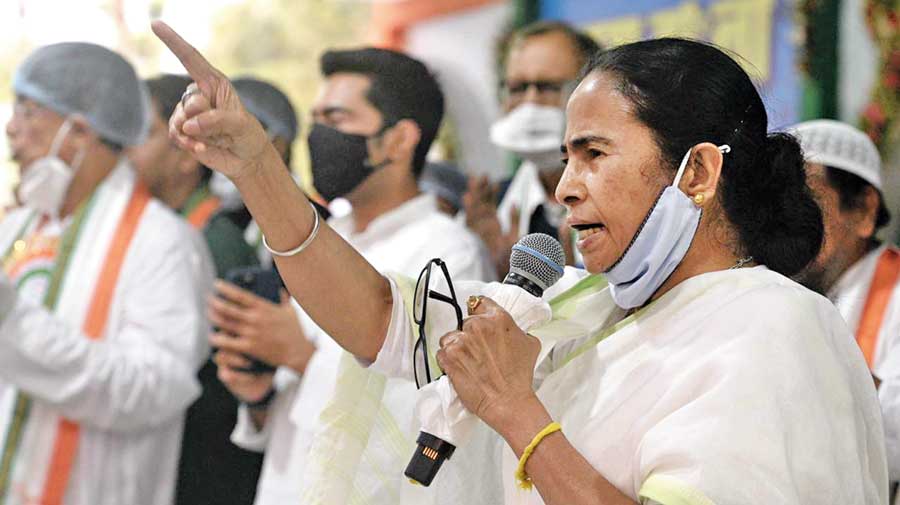 ---
|
Calcutta
|
Published 19.02.21, 02:47 AM
---
Mamata Banerjee on Thursday took head on the principal thrust of the saffron ecosystem's election campaign for Bengal as she dismissed allegations of nepotism against her over the apparent elevation of nephew Abhishek Banerjee as her heir-apparent.
At a rally in Pailan, South 24-Parganas, the Trinamul Congress chief rolled out an anecdote from his childhood to explain why her nephew had a legitimate place in politics.
"Remember, when I was beaten up in Hazra (in 1990)… shortly after he was born (in 1987). He saw my head and hands were bandaged. He used to ask why, and my mother used to tell him how his Didi (what he addresses Mamata as) got beaten up by the CPM," said Mamata.
"He used to wield a Congress flag and conduct a rally alone, in the room… barely a couple of years old then. Didi k marley kyano, jobab dao (Why did you beat up Didi, answer)," she added to loud cheers from the audience. "He used to do this from when he was an infant. Seeing that kind of interest in him…."
The Diamond Harbour MP was on the dais at the rally.
"In my family, everybody has been in politics. Maybe they haven't been in high places. When we were in the Congress, back when Indira Gandhi lost (1977 Lok Sabha polls), eight of us — six brothers and two sisters — used to participate in rallies….," said Mamata.
"Abhishek gets no special priority from me…. I did not make him the deputy chief minister, nor the chief minister," she added, responding to repeated assertions from Union home minister Amit Shah and other BJP leaders that her only goal now was to make him the chief minister.
The chief minister said she had given her nephew the option of working for the people without contesting elections, and the choice of going to the Rajya Sabha directly. But, she said, he had put his foot down, choosing to face elections and go to the Lok Sabha as a duly elected representative of the people.
"Those who don't know these things saying all sorts of things today," she said.Mamata also brought up the 2016 road accident on the Durgapur Expressway near Singur when Abhishek suffered serious injuries and reiterated that it was part of a conspiracy to have him killed.
"He virtually lost an eye in that…. Because it's all in the same household, I know the pain…. The entire eyeball had been uprooted… was there a strong chance of survival? No," she said, before asserting that the Banerjees of Harish Chatterjee Street in Kalighat would never do anything to harm people or bring them disrepute.
She added that every family takes a few generations to prosper and hers took four, over 50 years, and nothing was handed to anybody overnight.
"I feel so bad. Daily, because of me, he has to listen to so much. I really think whatever abuse you want to hurl, hurl them at me. Spare the wives and young ones of the family, at least. Say whatever you want to about the seniors, we will tolerate it," said the chief minister. Abhishek's wife Rujira has been a frequent target of attacks by the BJP.
She threw a challenge at the Union home minister to contest against Abhishek in Bengal.
"Only Didi and bhatija (nephew), all the time. Fight Didi later, fight the bhatija first. I challenge you, Amit Shah. First you contest against Abhishek Banerjee," she said.
Mamata then brought up Shah's son Jay Shah — whose sudden elevation to the key post of BCCI secretary and exponential increase in wealth during the Narendra Modi government's tenure have been the subject of many a controversy — and accused the father of hiding the son.
"Your son, Amit bhaiya (elder brother), is my bhatija too. How did he rise to the top of cricket (the BCCI)? How did he make hundreds and hundreds and hundreds of crores suddenly? What, bhaiya? The mother of a thief has the loudest voice," said Mamata, before challenging Shah to also bring his son to politics and work for the people, the way her family has. "Do not play with fire. Basic courtesy is mutual, give and take…. Remember, an injured tigress is lethal. You will not be able to handle me."
Mamata peppered her 32-minute address with rebuttals against Shah's allegations, levelled earlier in the day, in the same crucial district of South 24-Parganas with 31 Assembly seats, and urged its voters to hand the BJP a 0-31 drubbing.
She discarded Shah's predictions about the election results and vowed to secure a third consecutive term in power, this time with record-shattering margins.