'Mamata's Locket' in BJP neck
Read more below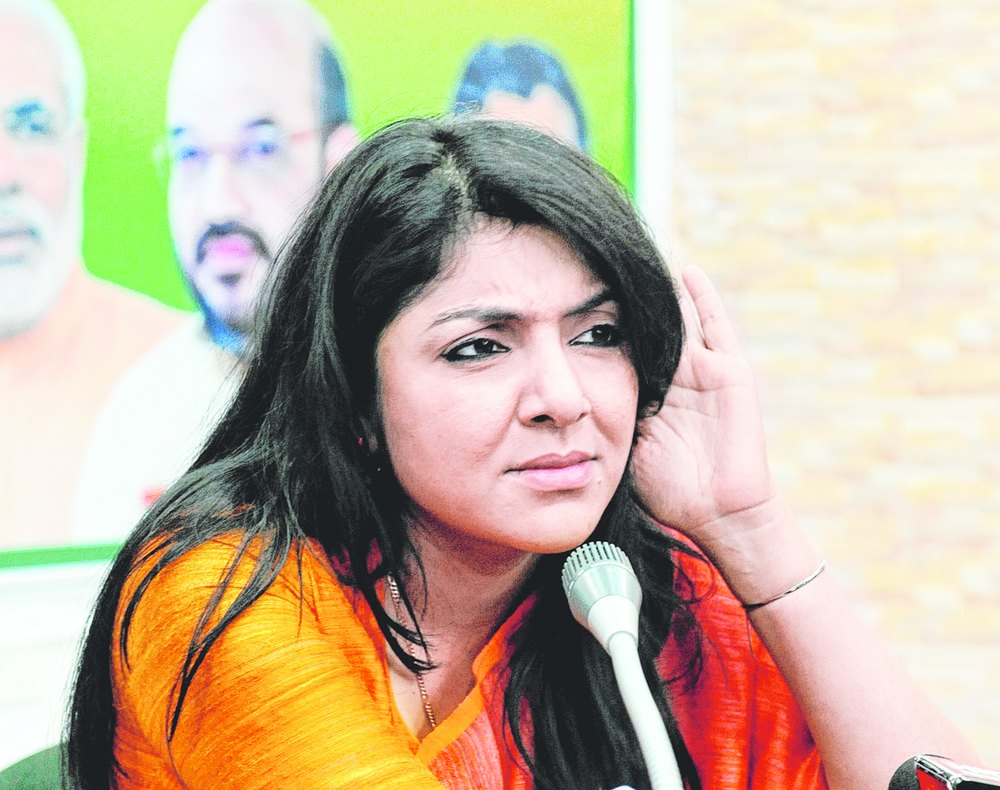 ---
---
Locket Chatterjee is a Bengali actress and classical dancer who started her career in television before moving on to films.
You may have seen her in Bye Bye Bangkok, Necklace, Iti Mrinalini, Khokababu and more recently Byomkesh Phire Elo. Or you must have seen her with Mamata Banerjee and her (once) merry men at Trinamul Congress programmes.
She came into the party fold in February 2013 and was also inducted into the state women's commission.
Be it the Calcutta International Festival, Kanyashree Divas and KKR celebrations or campaigning for the Lok Sabha elections and the panchayat polls, Locket was a constant presence at Mamata's key events.
On Thursday morning, she quit the Trinamul Congress - 'because there is no work, only politics in TMC' and 'because everyone is suspicious of each other in the wake of the Saradha scandal' - and joined the BJP.
'She was known as Mamata's 'Locket'. Now she is with the BJP. All those with a clean image who want to move out of Trinamul can follow her example,' said the party's state president Rahul Sinha, with Locket seated beside him.
Soon after the announcement, the actress took time out to speak to Metro and explain her decision.
I'm a film personality and people are used to seeing people like us on screen but we always have this desire to step out of the screen and do some good work for the people. I wanted to work for the people of Bengal and that is why I joined TMC back in 2013.
I've always been available for the party and gone anywhere they've wanted me to. Be it to campaign or join the women's commission as an active member or attend any of their meetings. In all of this, getting to do some genuine work was most important to me.
Instead, I realised that I was just wasting my time. I'm very honest about my work and cannot compromise on that but in TMC what I see is more of politics and less of work. I could have carried on with my post in the women's commission but I'm not hungry for power.
I had been noticing a change in TMC's attitude for a long time, with one incident after another almost every day. Be it women-related issues or the Saradha scandal that spread across the nation. As a member of the women's commission, I felt responsible.
Things that were happening and the way they were being dealt with were beyond my ethics and integrity. Yet, I was unable to do anything about it. I would personally try to raise these issues and talk about it without any fear of pressure. I never let go of any opportunity and held on to my ideals.
Samajik bhabeo oshubidha hochhilo (it was becoming a problem socially as well). Everyone in TMC seems to be living in fear and no one trusts the other. I feel that these problems of mistrust and fear within TMC are self-created.
I've been in the film industry for 15 years and travelled to the suburbs to do many shows. I, and my colleagues in the film industry, work hard to earn a living and people look up to us. How can I be a part of this? There were big questions that I had no answers to. I felt I wasn't being true to myself. And the only way I could think of protesting this was through constructive work.
There are a lot of people like me in TMC who are quietly enduring but they too will join me soon. They're waiting for the right moment to voice their dissent.
Whatever positive steps or movements I see today is only from the BJP's end and they seem to be doing it in a quick and correct manner. I see promise and potential in them to do more work. I want to work my way into the political arena. In TMC, there's no real development or progress, only politics.
Do I fear a backlash from TMC? I don't, because I have not launched any personal attack on anyone in particular. I still have a lot of respect for Didi and some of the others and they too have loved me.
In fact, I got a call from some of the party members today who told me 'siddhanto ta khub ekta bhul hoye ni (your decision is not really incorrect) '. I can't name them because they're still in the party but I've got a positive response from them. I hope they carry on with their work but I want to work too, which I wasn't getting to do in TMC.
I'm very new in the BJP and know nothing yet about how I'm going to move ahead but I will be travelling to Bongaon and Krishnaganj soon for the bypolls.