Mamata's 'humble' home awes Chandrababu Naidu
Mamata speaks to Rahul, Pawar and Kejriwal on post-poll arrangements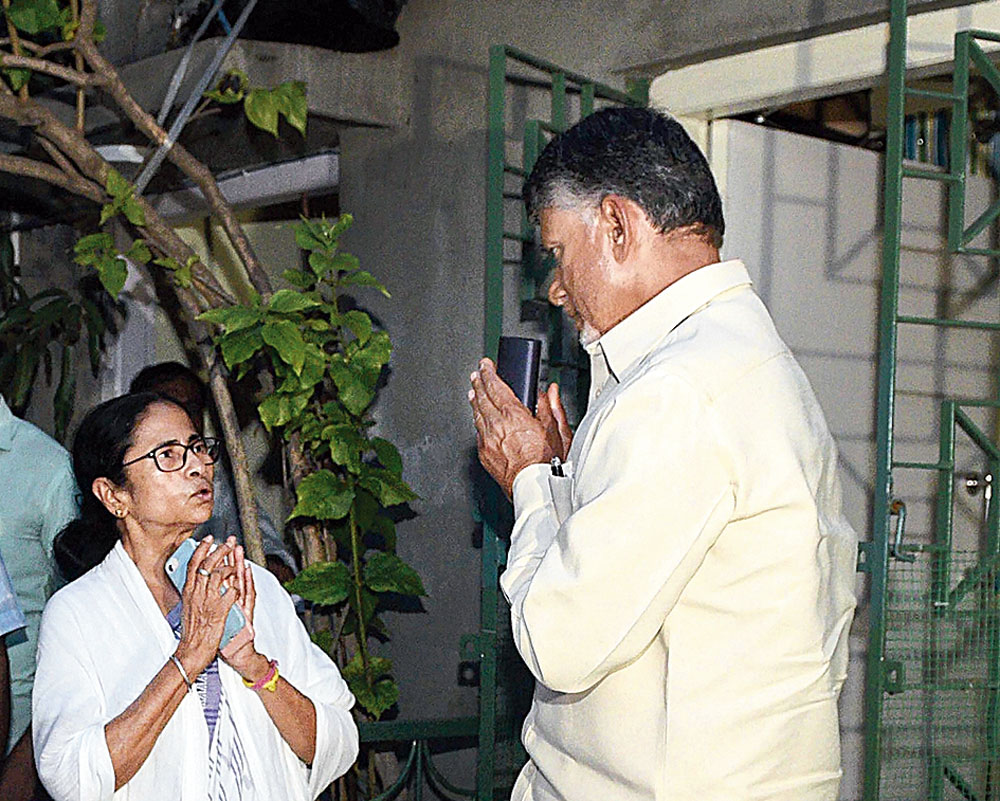 ---
|
Calcutta
|
Published 20.05.19, 08:46 PM
---
A senior politician trying to forge an anti-BJP alliance apparently had the same feeling as a former BJP Prime Minister when he visited Mamata Banerjee's home on Monday evening.
Trinamul sources present during Andhra Pradesh chief minister Chandrababu Naidu's visit said the Telugu Desam leader found it hard to believe that his Bengal counterpart lived in such humble surroundings.
In July 2000, then Prime Minister Atal Bihari Vajpayee had called on Mamata, his railway minister, and her mother Gayatri Devi at their 30B Harish Chatterjee Street home. Vajpayee, who had touched Gayatri Devi's feet, was struck by his cabinet colleague's modest living conditions.
Although Naidu did not speak to the media, Trinamul sources said he had been similarly impressed.
On his way back to the airport, Naidu spoke more about Mamata's home than his own mission of stitching together an Opposition alliance, a source said.
"He (Naidu) was telling his finance minister that no other Indian chief minister had probably lived in a house like this," a Mamata aide who had accompanied Naidu to the airport said. "Naiduji repeatedly expressed his incredulity at Didi living in such a modest house."
Naidu had arrived in Calcutta on Monday evening with his finance minister Yanamala Ramakrishnudu and was driven straight to Mamata's home in Kalighat. Despite having known Mamata for years, Naidu had never before visited her home.
He spent around 40 minutes with Mamata in her room, where he was served tea and idli. The Bengal chief minister later stepped out to see him off.
Sources said the meeting was held at Mamata's home as she didn't want to be seen using her Nabanna office for these political talks. Trinamul sources said that since the publication of the exit polls on Sunday evening, Mamata had been closeted at home with her lieutenants.
"She is tracking all the developments and is in constant touch with key figures in the national non-NDA space," a source said.
Sources revealed that Mamata had spoken to Congress veteran Ahmed Patel and then party chief Rahul Gandhi, Nationalist Congress Party patriarch Sharad Pawar and Aam Aadmi Party convener Arvind Kejriwal on Sunday evening itself.
On Monday morning, while other Trinamul leaders contacted Rashtriya Janata Dal leader Tejashwi Yadav, Loktantrik Janata Dal chief Sharad Yadav and leaders of the Bahujan Samaj Party and the DMK, Samajwadi Party president Akhilesh Yadav had called Mamata to discuss post-poll scenarios.
"They (Naidu and Mamata) discussed the exit polls and agreed that the predictions would be proven wrong when the official results came out," a source said.
"They discussed tomorrow's (Tuesday's) meeting that Opposition leaders would have with the Election Commission. Didi said Trinamul representatives would be at the meeting. They also discussed the need to ensure proper protection of the EVMs."
Naidu apparently briefed Mamata about the meetings he had had with Rahul and other senior Opposition leaders over the past two days. He requested the Bengal chief minister to travel to Delhi after the election process was over.
"Didi said she would draw up her Delhi plans after the results came out," a source said.