Mamata in making on big screen
Five years ago, her husband began to train her rigorously, if at rather odd hours, to walk the walk, talk the talk and raise the finger the right way.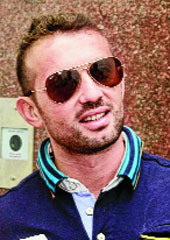 ---
|
Calcutta
|
Published 07.04.16, 12:00 AM
---
Calcutta, April 6: Five years ago, her husband began to train her rigorously, if at rather odd hours, to walk the walk, talk the talk and raise the finger the right way.
Ruma Chakraborty, who had acted as Mamata Banerjee in two jatra productions, is now Indira Banerjee in the forthcoming film Baghini (Tigress). Indira Banerjee and the Bengal chief minister have everything in common, except the first name.
Ruma, who began as a theatre actor, says how her husband, a journalist who was also a theatre actor once, took her through the grind. "He would come back at 1.30am, and we would go out to the streets," says Ruma.
"Walk like a woman who isn't afraid. Walk like someone who feels 'I do whatever I think is right'," Ruma's husband told her as they stepped out of their one-room Beleghata home.
He would follow her from a distance, scrutinising every step she took, even as men on the desolate streets threw lewd remarks at a lone woman.
He told her that when Didi raised her hand, her fingers were splayed, and when she raised her index finger, it often did not point up, but sideways, and how Didi draped the anchal around her shoulders.
"Walk like someone who thinks she is the last word," he said.
As Ruma sits quietly in a corner chair in Baghini director Nehal Dutta's office, she appears to have Didi's body language and posture, but there the similarity seems to end. Ruma's expression is gentle. Her smile, which does not go away, is gentle too. She cannot stop speaking, however, about the role that changed her life.
Five years ago, when Mamata had just come to power, Ruma had got the offer to act as the new chief minister in a jatra. Banglay Khomota Ebar Mamata (Mamata is the power of Bengal) was her first performance as Mamata.
The jatra, a huge success, ran for a year. Standing on the stage without a prop and looking at her vast audience, she felt, even if momentarily and vicariously, the power that one can have over people. "People used to come to me with their problems after a performance," says Ruma. They would cry and touch her feet.
In 2014, the same company produced Didi Tomar Jobab Nei (There's no one like you, Didi), and it was a great hit too. Now, Ruma is pinning her hopes on Baghini, which should be ready for release this month.
Director Dutta allays fears that the movie would get into controversial issues. Jyoti Basu and Buddhadeb Bhattacharjee are both featured in the film, but no controversy, he insists.
The film begins with a seven-year-old Indira/Mamata playing with friends when a car hits one of them. The little girl protests, saying the car owner can leave only over her dead body.
The chief minister will be invited to the premiere, though there is no clarity on the release date.
Ruma has not yet had Mamata attending any of her performances, though she has heard that recordings of her jatras have been given to the chief minister.
Has the role changed her? Standing in front of the film's flex banner, Ruma thinks for a while and says: "I was very soft. Now I can assert myself more."
Real Didi
Age: 61
Sari: Dhanekhali tant, white with green or blue borders
Munch: Puffed rice and tea throughout the day. A bowl of lentils and a fried fish for dinner
Fitness: Walks everyday on the treadmill and goes for long walks during district tours
Footwear: Slippers, brand not known
Decibel: "Amake joto garjabe, ami toto borshabo. Ami bagher bachcha, kauke bhoy paina (the more you shout at me, the more I will retaliate. I am born of a tiger, I am scared of no one)."
Reel Didi
Age: In the 30s
Sari: Dhanekhali and other kinds of tant in the film
Munch: Likes muri-telebhaja (puffed rice and fries), has all kinds of
other food
Fitness: She is a dancer, so gets enough physical exercise. Goes on morning walks too
Footwear: Wore Ajanta Hawaii chappals, blue straps on white base, in Baghini
lDecibel: Soft-spoken
and a complete contrast
to Mamata