Mamata Banerjee visits gurdwara, backs farmers' agitation
The CM went to the Sikh place of worship under the Bhowanipore Assembly segment, where she is a candidate for the Sept 30 bypoll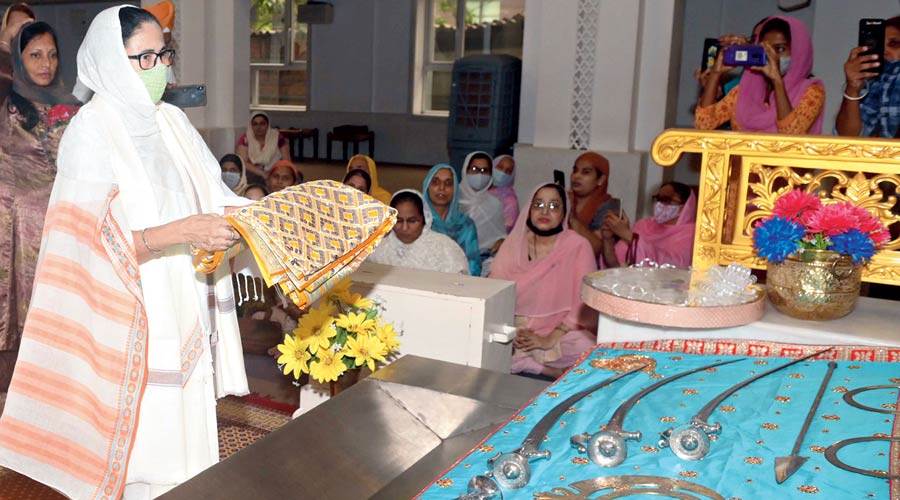 ---
Calcutta
|
Published 16.09.21, 02:18 AM
|
---
Mamata Banerjee on Wednesday went to a gurdwara under the Bhowanipore Assembly segment, where she is a candidate for the September 30 bypoll, and pledged her support to farmers' movement against three agriculture laws of the Centre.
"I completely support the farmers' movement.… The three bills must be repealed. They had come and met me as well. I had spoken to them over the mobile phone a few times as well. I had also sent my team there.… I totally support this movement," the chief minister said during her visit to the Gurdwara Sant Kutiya on Harish Mukherjee Road.
She went on to add: "Whatever cooperation you need from me, just let me know and I shall execute it. I support Punjab's movement."
Sikhs and Punjabis make up a sizeable portion of the 2,06,272 voters of the Bhowanipore constituency. Hence, Mamata's statement was meant to woo this group.
Bhowanipore is a cosmopolitan constituency and apart from the Sikh population, more than 35 per cent of the electorate is constituted by the members of Marwari and Gujarati communities. Hence, the Trinamul leadership has planned to reach out to these communities as well.
Muslims comprise around 22 per cent of the electorate in Bhowanipore. On Monday, Mamata visited the Sola Ana Masjid. She also went to meet the organisers of a local Durga Puja on the same day.
On the other hand, Trinamul Congress leaders are cautious of the Election Commission of India's instruction to avoid large gatherings and meetings in poll campaigns in the wake of the Covid-19 pandemic. As a result, Mamata will not participate in any major rally. Instead, she has decided to carry out smaller visits and meetings such as the one on Wednesday.
According to Trinamul sources, Mamata will meet selected voters from each of the eight wards that come under her constituency over the next few days. To begin with, she will meet selected voters from ward 72 on Thursday. The party will decide on the later dates.
Senior party leaders, including cabinet ministers, have been handpicked by Mamata to conduct door-to-door meetings in the Bhowanipore constituency on behalf of her.
Firhad Hakim, Mamata's trusted ally and state's minister of transport, have hit the streets since the polls were announced. Other senior leaders and cabinet ministers like Partha Chatterjee and Subrata Mukherjee have also been tasked to campaign by the chief minister. Others assigned a similar task include MLAs Madan Mitra and Debasish Kumar and MP Kalyan Banerjee. Mamata's brother Kartik Banerjee is also a key player of the campaign team.
"Since we cannot bring a large crowd to one place because of the Covid-19 protocols, we have decided to reach out to the individual families.… We will leave no stone unturned," a member of the campaign team said.
At the workers' meeting on September 8, Mamata had them not to suffer from complacency. "Don't think that Didi will win anyway and sit back at your homes," Mamata had said.
Senior party leaders have said t her concern stems from the results of the 2019 Lok Sabha polls, where the BJP had managed to secure a lead of 476 votes in her own ward. Although the saffron camp's candidate, a Trinamul turncoat, actor Rudranil Ghosh suffered a defeat at the hand of Trinamul's Sovandeb Chattopadhyay in the 2021 Assembly polls, Mamata and her party are unwilling to take any risk now.
ECI notice
The Election Commission of India on Wednesday issued a showcause notice to the BJP's Bhowanipore candidate Priyanka Tibrewal for violating Covid-19 protocols specified by the poll panel. The showcause was issued on the basis of a complaint lodged by the Trinamul Congress on Monday, where it alleged that Tibrewal had "not only formed a large unlawful gathering in front of Gol Mandir...as well as near Survey Building in Gopalnagar".
The poll panel had asked Tibrewal to reply to the notice by 5pm on Wednesday, explaining "why permissions to hold further political campaigns or meetings must not be stopped with immediate effect..."
Tibrewal, in a voice message shared by the BJP's media cell, said she would reply to the showcause. However, she denied the allegation that there was a large crowd with her.