Mamata Banerjee: State to write to Niti Aayog for shelter funds
Sources said that currently Bengal has a total of about 100 cyclone shelters in three the coastal districts of East Midnapore, South and North 24-Parganas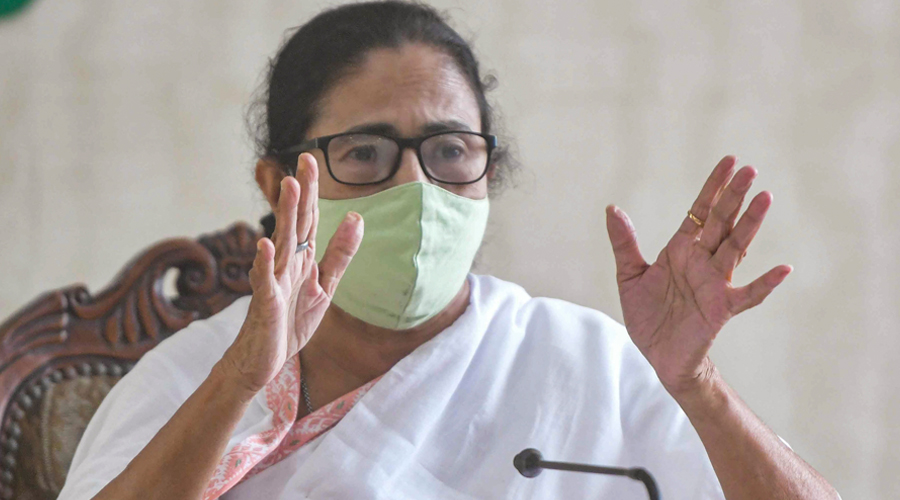 ---
Calcutta
|
Published 01.06.21, 01:49 AM
|
---
Mamata Banerjee on Monday said that her government would write a letter to the Niti Aayog, the Centre's apex think tank, seeking funds to set up 500 cyclone and flood shelters in the state, considering that natural calamities have become a regular feature in this part of the country.
"We will write a letter to the Niti Aayog, seeking funds to set up 500 flood shelters and cyclone shelters in the state. Floods and cyclones are a regular feature now and that's why more such shelters are needed," said the chief minister during a virtual meeting with district magistrates and senior officials at Nabanna on Monday.
Sources said that currently Bengal has a total of about 100 cyclone shelters in three the coastal districts of East Midnapore, South and North 24-Parganas with the corpus of the PM Relief Funds that had started in 2008.
But the state administration believes that those shelters are not adequate as Bengal has started witnessing a cyclone every year since 2019, Fani, Amphan and now Yaas.
"Earlier, the cyclones were not an annual affair. Cyclone Aila had hit the state in 2009 and after that there was  a big gap. Now, as cyclones are hitting the state regularly, the chief minister's plan to set up more cyclone shelters is a timely one," said an official.
Another reason, cited by the officials, for more cyclone shelters in Bengal is that more and more people are being evacuated these days to prevent loss of lives.
"During Amphan more than 16 lakh people were evacuated last year. This year, about 18 lakh people were evacuated. We definitely need more cyclone shelters to accommodate so many people," said an official.
This year, several school and college buildings had to be requisitioned to accommodate so many people during the natural calamity.
"This year, it was easy as all schools and colleges were closed because of the pandemic. But we will face trouble in accommodating people from vulnerable areas in school and college buildings in future as people may stay more than two weeks in the shelters in case of flooding," said an official.
However, even though the chief minister has stated that her government would write to the Niti Aayog for cyclone shelter funds, many state officials were not hopeful of drawing attention of the central body.
"Last year, we had drawn attention of the Niti Aayog for setting up stronger embankments in Sunderbans as relief and rescue related work in the area has become a national problem in the context of cyclones and floods. But we did not get any response yet on the issue," said a source.