Mamata Banerjee prays for peace in country
My heart weeping profusely because of happenings around us: CM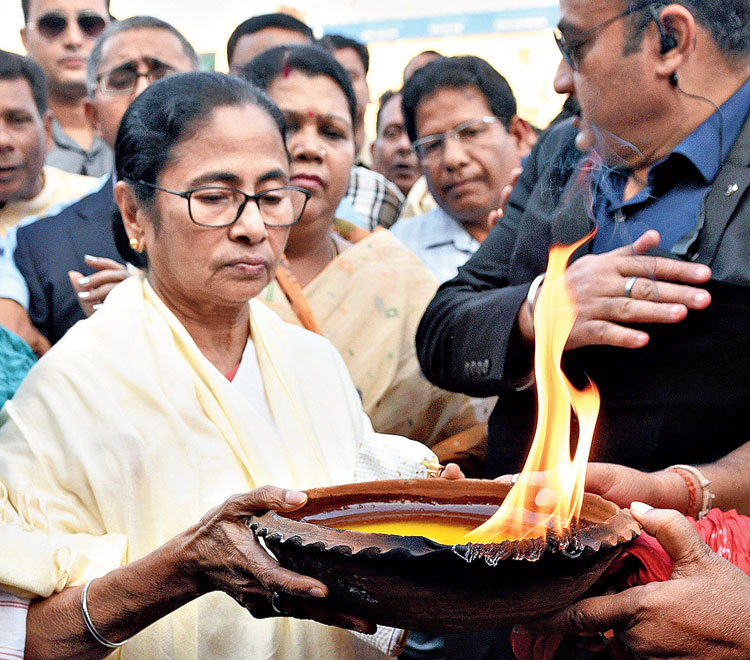 ---
|
Calcutta
|
Published 26.02.20, 08:00 PM
---
Mamata Banerjee prayed at the Jagannath Temple in Puri on Wednesday for peace in the country as her "heart was weeping profusely" because of the situation in Delhi and sought divine blessings for the well-being of everyone.
She is in Odisha to meet Union home minister Amit Shah on Thursday and attend a session chaired by him on Friday with chief ministers of eastern states.
After the prayers at the temple, the Bengal chief minister issued a statement.
"I say Jay Jagannath, and I say… I have come here to pray for peace for the people, peace for the country, for every state…. For every family, for every ma (mother), every mati (soil), every manush (human being). I came here to offer my puja," said Mamata outside the 12th century temple.
Earlier in the day, she posted on social media a poem titled Hell – in Bengali, Hindi and English. Sources in the Trinamul Congress said she had written it herself.
"My country should stay well, there should be no division between people, no differences. Every human being must be able to stay in peace. My heart was weeping profusely today, because of what all has been happening around us. I have come here for peace. All my brothers and sisters should stay well. I have come here to pray for them all," she said at Puri.
When a journalist asked her to specifically react to "the situation in Delhi", she said: "That is exactly what I just talked about, that I came here to pray for peace for all."
"We don't want khoon (blood/murder). We want peace, that's what we sought from Jagannath Dev," added the Trinamul chief.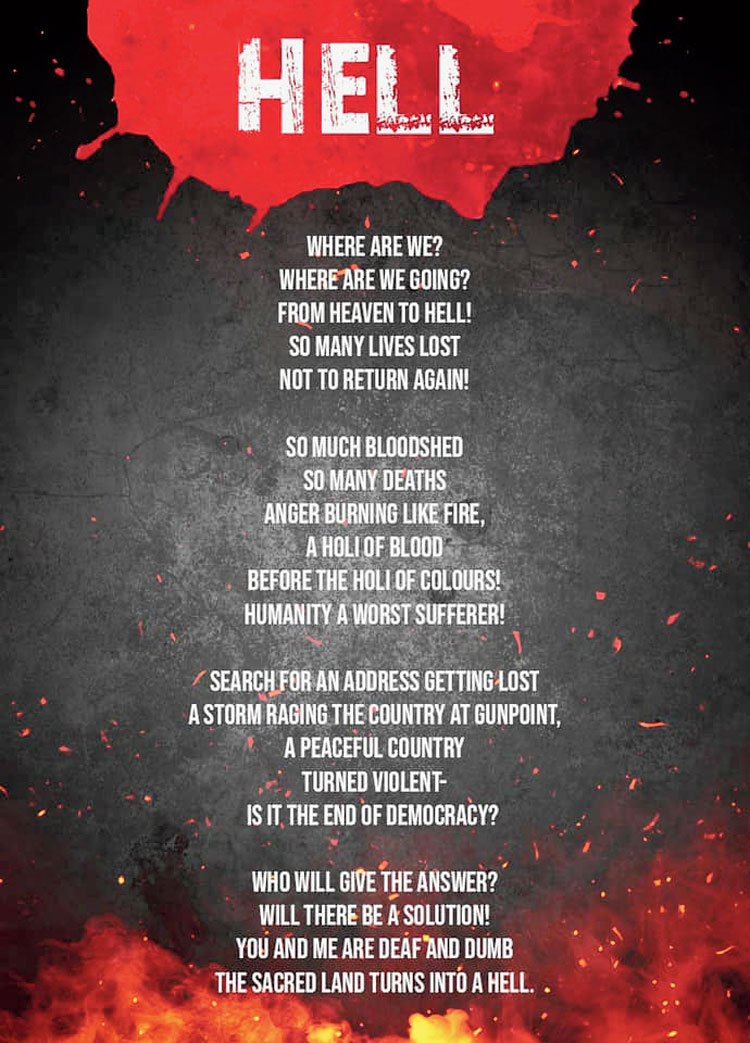 Sources close to Mamata said she had actually planned to call off her Odisha visit in view of the unfolding situation in Delhi.
"But then officers prevailed on her and convinced her to attend the Eastern Zonal Council meeting for the sake of the state," said a source.
The source also said Mamata was likely to flag her concerns about the Delhi situation when she would meet the Union home minister.
Chanting a Sanskrit hymn in praise of Jagannath, Balabhadra and Subhadra, she expressed her delight at being gifted the dhwaja (flag) of the day, which is ritualistically taken off the pinnacle and replaced with a new one.
"What feels really good today is that they (the priests) gifted me, blessed me with the dhwaja, from the pinnacle of the temple today. I will be ever grateful. I will take it to Bengal. On behalf of the people of Bengal, we always wish and pray for peace and well being of everybody," she said, underscoring the importance of Odisha to the people of Bengal.
Mamata also said she had been an ardent devotee of Jagannath and the priests of the temple visited her 30B Harish Chatterjee Street residence in Calcutta at least twice a year and performed special puja for the deity. She said she had paid many visits to the temple in the past, but this was her first since 2017.
She said she had already spoken to her Odisha counterpart Naveen Patnaik over the phone.