Mamata Banerjee government to fix minimum wage of tea workers
A senior Trinamul leader in the Dooars tea belt explained the urgency to fix the minimum wage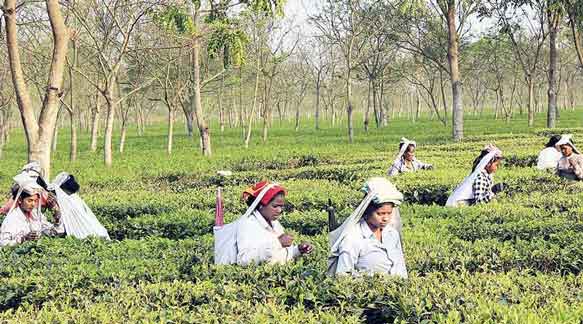 ---
Siliguri
|
Published 06.11.21, 02:03 AM
|
---
The Mamata Banerjee government will fix the minimum wage of tea workers before the start of the next tea season that will begin in February-end or March, sources in the state labour department have said.
Sources said the Bengal government wants to fix the rate before the BJP-ruled Assam government does so in the neighbouring state.
A small committee has been formed which is looking into the matter.
Labour department sources said specific instructions have reached them to resolve the issue and finalise the minimum wage rate based on a consensus between tea planters and tea trade unions which represent the workers.
Every year, plucking of tea commences from February-end or March, after a gap of almost three months in winter.
Back in 2015, the state government had constituted a committee, comprising representatives of planters, workers and senior state government officials, and assigned it the task to hear all the sides and recommend the minimum wage rate to the state government
"However, no rate was been finalised till date even the committee has held a number of meetings. Recently, however, a small committee has been formed that has members of the earlier committee. This committee is now working on the issue as the chief minister wants it to be resolved immediately," said an official of the state labour department.
In Bengal, tea workers receive Rs 202 a day, following an interim hike of Rs 26 announced by the state government in January.
A senior Trinamul leader in the Dooars tea belt explained the urgency to fix the minimum wage.
He said that the ruling Trinamul in Bengal intends to fix the minimum wage immediately as the BJP-led government of the neighbouring Assam has taken up a similar task to fix the minimum wage.
As of now, a tea worker in Assam, other than Barak valley, receives 205 rupees a day while those in Barak, receive 183 rupees.
It may be mentioned that the north Bengal tea belt has been one of the regions where Trinamul had built support earlier but during the past few years, BJP has managed to tide over the party and could develop a stronger support base.
"This is evident as in the Assembly elections held earlier this year, Trinamul could win only one of the Assembly seats from the 10-odd seats which are there in the tea belt. As the party has recast its focus on north Bengal, it feels that the minimum wage fixation can largely help in reviving the support base," said Soumen Nag, a social researcher.
Trade union leaders also mentioned that Trinamul does not want the minimum wage to be fixed in Assam earlier, a move which, they feel, can help the BJP.
"Also, the party is focusing on Tripura, another state that has a tea population. Fixation of minimum wage in Bengal can help Trinamul to garner support from among the tea garden dwellers of Tripura as well," a trade union leader said.