Chief minister Mamata Banerjee on Monday dared the BJP-led Centre to topple her government and imprison her, reasserting that neither the amended citizenship law nor the National Register of Citizens (NRC) would be implemented in Bengal.
"For as long as I am alive, we will never implement the black law and the NRC here…. You, with all your threats of Article 356 (President's rule) and sending central forces, go right ahead and fell our government…. Have me imprisoned, do whatever you think you can. You will not silence me," Mamata thundered outside Rabindranath Tagore's Jorasanko house.
"Over my dead body," the Bengal chief minister said to loud cheers from an audience of thousands at the culmination of her hour-long, 5.7km march through the heart of the city.
In an apparent attempt to seize the reins of a mass movement that has turned violent in some districts and disrupted normal life, Mamata suggested the focus must be on the idea of India.
She attributed the flare-ups to alleged agents of the BJP and accused the Centre of suspending railway services in haste in most parts of Bengal "just because a few trains were set ablaze".
"Those who are the BJP's dalal (agents), they are worse than the party itself…. We know which party from outside has been playing what kind of dirty games," Mamata said.
Within hours, Calcutta police had arrested a member of the Asaduddin Owaisi-led All India Majlis-e-Ittehadul Muslimeen. The police said AIMIM's Jamuril Hassan, who had led the agitation at Park Circus on Friday afternoon, was arrested from Beniapukur. Hassan was one of over 350 people arrested from across the state for provoking violence.
Mamata said the Centre -– sources in her party said she was referring to home minister Amit Shah -– had asked her whether central forces should be sent to Bengal to control the situation but she had refused because she had full faith in the state police.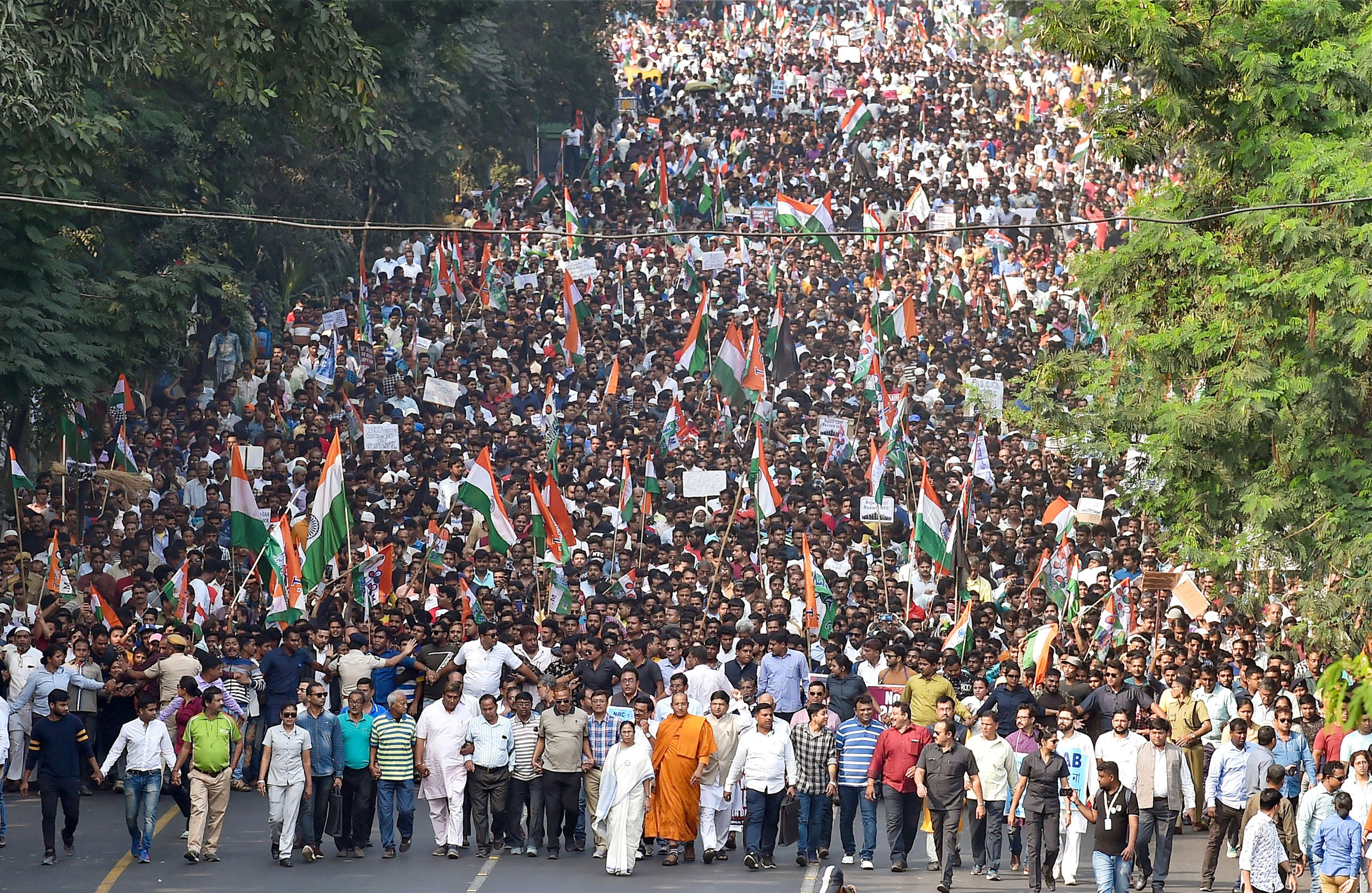 Mamata Banerjee leads a rally in Calcutta on Monday. (PTI)
She said the BJP should first prove itself in states where it is in power and named Assam, Meghalaya and Tripura.
She advised the BJP to introspect before pointing fingers, appearing to allude to governor Jagdeep Dhankhar who had at 6.59am tweeted a statement asking her to "desist from this unconstitutional and inflammatory act" of the march.
Mamata said: "They can pass any law they like using the brute majority they have in Parliament. But we will not accept illegalities that go against the letter and spirit of the Constitution."
In the evening, inaugurating the Christmas festival on Park Street, she said: "I'm ready to surrender my life but I will not bow my head before the politics of hatred."
In her first rally against the amended citizenship law and the NRC, Mamata had planned the route of the march in such a way that respects could be paid to three icons of secularism — starting at the base of B.R. Ambedkar's statue on Red Road, past Mahatma Gandhi's statue on Mayo Road and culminating at the Tagore house.
Promising to sustain the protests democratically till the end, Mamata demanded "total repeal" of the citizenship amendment legislation.
"Sabka saath nahi hoga toh sabka vikas kaisey hoga (If there is no support for all, how can there be development for all)?" Mamata asked in her 30-minute speech after the march, taking a dig at Prime Minister Narendra Modi.
Mamata underscored that the protests had to remain secular and non-violent, lambasting those who had since Friday been trying to foment tension and provoke peaceful demonstrations into vandalising railway stations and blocking national highways.
"The BJP thrives on division, on differences, on hatred…. They would love it and stand to gain from it if we now lose our way amid the pain. They are trying to instigate violence so they can use the excuse to send in their forces," she said.
"There will be no compromise on this. In such matters, there is no difference between party and government…. Do not adopt violent means of protest. All protests must be peaceful," the chief minister added.
"Understand this, if you perpetrate violence you cause a great deal of inconvenience to the common man. Even those who support the cause will get angry and you will stand to lose their support."