'File FIRs, don't disrupt life'
Didi condemns hate speech, seeks arrest of BJP spokespersons
Mamata Banerjee says duo part of 'horrible conspiracy' to divide nation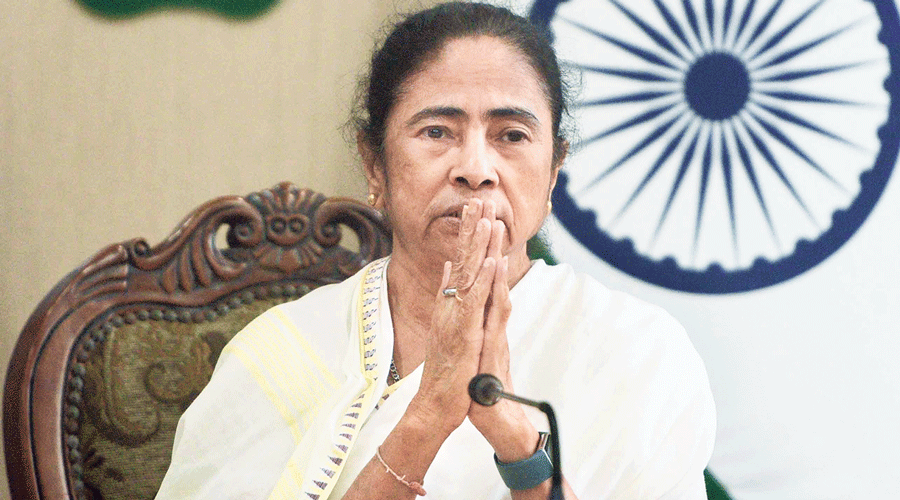 Mamata Banerjee at Nabanna.
The Telegraph
---
Calcutta
|
Published 10.06.22, 01:42 AM
|
---
Chief minister Mamata Banerjee on Thursday demanded the immediate arrest of now-axed BJP spokespersons Nupur Sharma and Navin Jindal for their "heinous and atrocious" hate speech and appealed for peace in Bengal.
The chief minister, referring to hours-long blockades of main roads and a highway by sporadic protests in the state that inconvenienced thousands on Thursday, said that resorting to such methods would alienate the protesters from the rest of the people.
Mamata underscored the appeals from community leaders against disruptive protests in Bengal.
The biggest blockade started at Nibra — the junction of Kona Expressway and NH16 about 12km from the second Hooghly bridge — around 10.30am. It was lifted around 9.30pm.
The snarl that resulted had stretched up to AJC Bose Road in Calcutta. Many, including patients from the districts and train passengers, were stuck in vehicles for over five hours. Hundreds of commuters walked to their destinations.
"Why should Bengal roads be blocked today, by a handful, with no understanding of the socio-political ground realities? Since the morning, in four-five spots of Howrah, the way they have blocked the roads...."
"We held an emergency meeting here, we have been requesting them repeatedly," Mamata said, referring to the protests by an outfit claiming to represent clerics. "Police have not used force at all. They won't. But how long will people tolerate it?"
"The BJP is not in power here. Then why are these protests taking place here? They should go to Delhi and protest, go to states where the BJP is in power," Mamata told a news conference at Nabanna.
Some of the most senior clerics in the state, and several socio-religious organisations, have come forward to appeal against disruption.
"I feel really bad to see thousands of vehicles stranded for hours, thousands of people in them… vast swathes of Bengal cut off, because a national highway is blocked," Mamata said. Her appeal revealed a timely realisation of how the situation could be misused by those seeking to polarise opinion among sections of the majority community.
"Go file FIRs in police stations against those two (Sharma and Jindal). Submit deputations demanding their arrest. Write to the President of India. Conduct rallies demanding the resignation of (Prime Minister) Narendra Modi… peacefully," the Trinamul Congress chief said, pleading against alienating people who have extended unconditional support.
"I keep issuing this advice, let the majority protest an attack on the minorities, let the minorities protest an attack on the majority. See what we do as a party. This has caused turmoil globally," she added.
"Do you want to get more people to support your cause and discard the BJP, or would you rather have the people displeased and discard you? The people are misunderstanding you, because of these disruptive practices…. Kill me, if that pleases you. I am ready. But please don't do this."
Earlier in the day, Mamata tweeted a statement of condemnation against Sharma and Jindal.
"I condemn the recent heinous and atrocious hate speech remarks by a few disastrous BJP leaders, resulting in not only spread of violence, but also division of the fabric of the country, leading to disturbance of peace and amity. I strongly seek that the accused leaders of BJP be arrested immediately so that the unity of the country is not disturbed and people at large do not face mental agony," she posted on the microblogging site, going on to appeal for peace despite the provocation.
I condemn the recent heinous and atrocious hatespeech remarks by a few disastrous BJP leaders, resulting in not only spread of violence, but also division of the fabric of the country, leading to disturbance of peace and amity. (1/3)

— Mamata Banerjee (@MamataOfficial) June 9, 2022
Mamata said the two leaders of the BJP were part of a "horrible conspiracy" to divide the nation, which has brought global shame. She underlined that Sharma had a few years ago shared a communally explicit video of a woman being sexually assaulted by several men, claiming it had taken place in Bengal's Basirhat, while the video was actually from Bangladesh.
"A case was lodged against her then… when Arun Jaitleyji was still alive. He had requested us not to take action, promising she won't do anything like this in future. Well, he is no more. That case has not been closed yet. The law will take its own course," said Mamata, the state's home minister. "The most secure place for them right now is inside the Tihar prison."