Mamata Banerjee blasts Centre's hurry
She demanded the release of Kashmiri leaders like Omar Abdullah and Mehbooba Mufti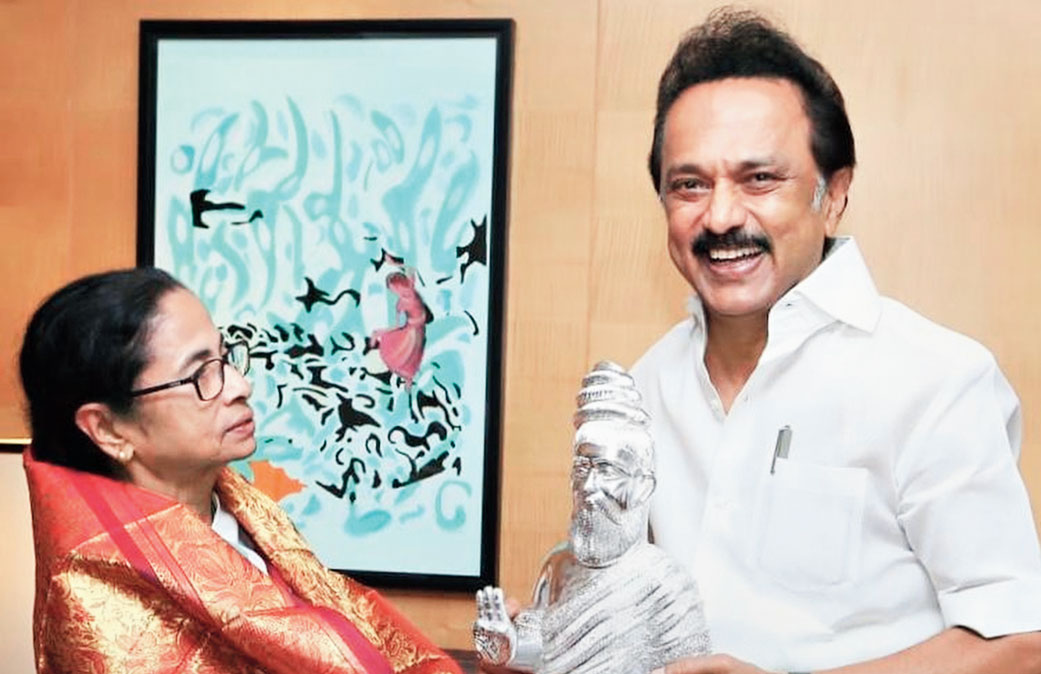 Mamata Banerjee exchanges gift with DMK President MK Stalin in Chennai on Tuesday.
(PTI)
---
Calcutta
|
Published 06.08.19, 09:34 PM
|
---
Mamata Banerjee on Tuesday questioned the process the Centre followed in abolishing the special status for Jammu and Kashmir and asserted that her party would continue to oppose the move.
The Bengal chief minister also demanded the release of Kashmiri leaders like Omar Abdullah and Mehbooba Mufti.
Ending her conspicuous silence on the Jammu and Kashmir issue, the Trinamul Congress chief issued a statement to journalists at the Calcutta airport on Tuesday targeting the Narendra Modi government.
"The Centre could have taken a decision after consulting all political parties and the Kashmiris themselves. There was no vote, no discussion, nothing on the Kashmir issue. This is not democratic. We are going to oppose it tooth and nail," said Mamata.
"We were all willing to go there and we could have talked directly to the people there. Nothing is permanent, but, sometimes, if a permanent decision is to be made, we have to take everybody into confidence," she added.
On Monday, her party had staged a walkout in the Rajya Sabha, opposing the move to abrogate Article 370 in Jammu and Kashmir and the bill to split it into two union territories — Jammu and Kashmir with a legislature and Ladakh without one.
On Tuesday, Mamata apparently sought to clarify that the walkout did not mean support for the legislation.
"Staging the walkout from the Rajya Sabha when it (the Jammu and Kashmir Reorganisation Bill, 2019) was being put to vote does not mean we are supporting the bill. We cannot participate in the voting for the bill because it would be recorded that we, ultimately, accepted it directly or indirectly. Constitutionally, legally, technically, it is just not democratic," she added, before leaving for Chennai, where she has been invited by DMK chief M.K. Stalin to attend the unveiling of M. Karunanidhi's statue on Wednesday.
Mamata said she didn't agree with "procedural methods" being followed in the legislative process to abolish the special status. "I am not talking about its (the bill's) merits. Our party has taken a stern decision. We cannot and we will not support this bill," she said.
The Bengal chief minister said she was worried about veteran National Conference leader Farooq Abdullah — who was not heard from yet, when she addressed the media — and appealed to the Centre to release the mainstream political leaders arrested in Jammu and Kashmir.
"Mehbooba Mufti, Omar Abdullah…. They are not terrorists. They should be released immediately in the interests of democracy," she said.
Mamata said the people of Jammu and Kashmir should not be made to feel isolated.
"Nobody can, nobody should isolate a community or a leader on the basis of caste or creed or religion. We have to build confidence. They are our brothers and sisters," she said.
"Restoration of peace is the foremost priority. We want a peaceful negotiation. We want a peaceful solution."