CM attacks 'crisis' politics by BJP
'This attitude of some political party is exceeding all bounds'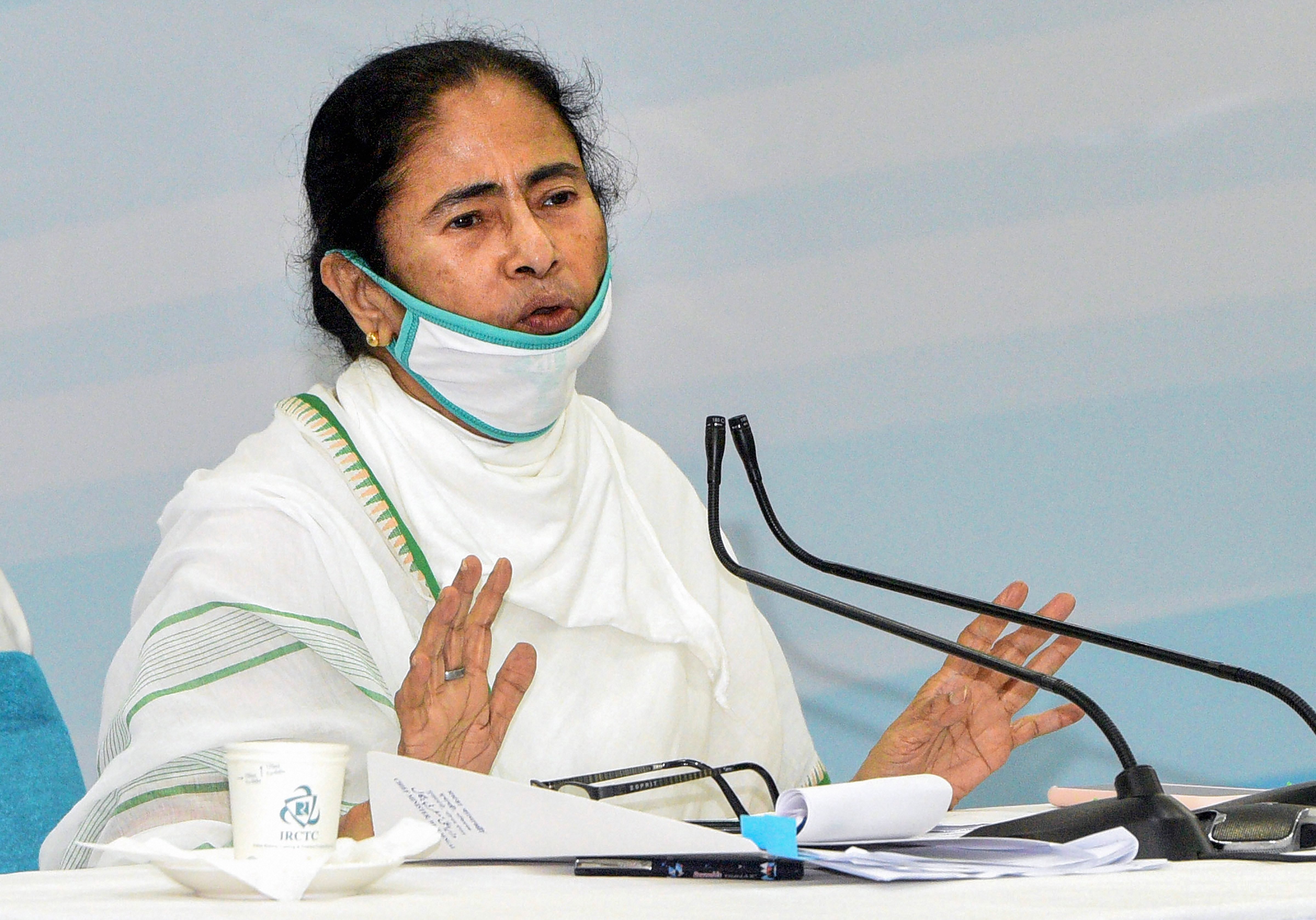 ---
|
Calcutta
|
Published 27.06.20, 04:14 AM
---
Mamata Banerjee on Friday criticised the BJP, though without naming it, for the recent surge in on-the-ground activities by the party during crises like Covid-19 and Cyclone Amphan in Bengal.
"Going and vandalising, here and there. Fomenting trouble, wherever. This attitude of some political party is exceeding all bounds. We, too, had spent decades in the Opposition. We have been in politics for a lifetime… there are some basic courtesies expected of political parties," said the Trinamul Congress chief.
The chief minister said she did not feel the need to name the party, but "they understand who they are anyway".
"Covid-19, Amphan… crisis after crisis. But your behaviour in the name of Opposition has not shown any sign of taking the backseat even at such a time. Ransacking of police stations, BDO offices? Why damage public property?"
"Why provoke others to do so?" Mamata asked, referring to inflammatory statements and activities by several senior leaders of the state BJP in recent weeks.
Realising the Assembly elections next year would be won or lost over issues related to the pandemic, the crisis of migrant workers and the cyclone, the BJP veered off the course of amicable cooperation amid the crises and mounted a fierce political campaign against Mamata, her government and her party.
Initially on the backfoot and caught off guard, Mamata, too, recovered to launch several political counter-measures.
"I held an all-party meeting… come, let's all work together. There will be such a lot of time later for meetings and rallies. There is no need for them right now. Even the most important religious events are not being held properly, why will your small events take place now?" she asked.
Mamata hinted that her party might not hold its biggest annual event on July 21 this year, at least not in its conventional form.
"During the lockdown, we are not carrying out any political assembly. The Centre's Disaster Management Act, in place now. Such assemblies are not taking place. Even our July 21 programme, it's massive, just once a year. But even there, this time, we will not do it like that."
"We will decide at a meeting on July 3 how we can do it by ensuring social distancing and all other norms…. But some party, I have been noticing, by sheer use of force, without any permission from police, without listening to them, without obeying their own central disaster management law, are going and conducting meetings and rallies as they please," she added.
She then questioned the barrage of allegations against being implicated "falsely" in cases that the BJP's state leaders have recently been going to town with.
"The law is the same for all and its violation will invite action for anybody, me or you. You will break the law, ransack, vandalise and then question FIRs," she said.
"Toying with the laws of the land…. Terrorism of language being unleashed. Democracy gives the freedom of speech, but the language they use is terrorism…. The people are not taking kindly to this," she added.
The chief minister then questioned the Centre over letting trains and planes operate, allegedly without adequate checks and balances, while expecting the state to ensure the outbreak remains restricted.
Mamata also accused the Centre of denying Bengal its legitimate dues. "We got nothing (from the Centre), at least let us try to restrict the outbreak and its spread," she added. "When will they give us our Rs 53,000 crore in dues? On top of that, their leaders here will only say big things."