Mamata assails Tripura govt over Durga Puja prohibitory order
The Bengal chief minister touched on the topic in her three public speeches during the campaign for the Bhowanipore bypoll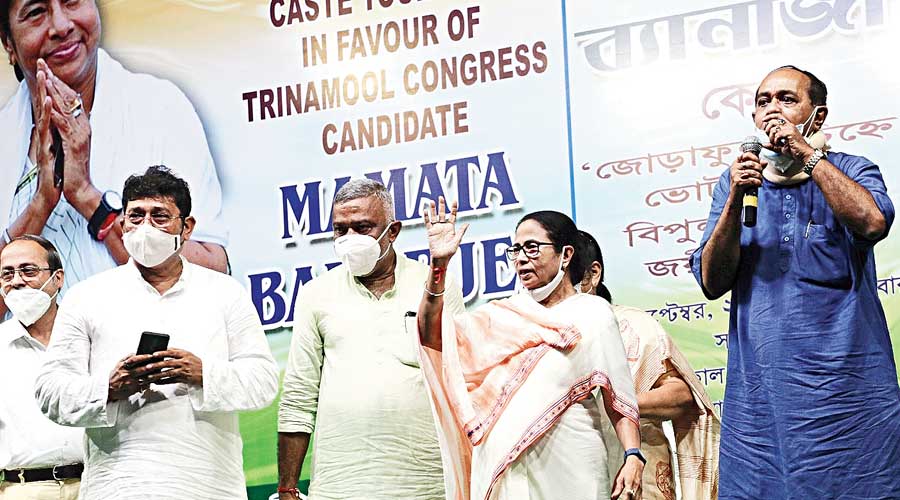 Chief minister Mamata Banerjee waves at people at Padmapukur in Calcutta on Thursday during her campaign for the Bhowanipore bypoll
Telegraph Picture
---
Calcutta
|
Published 24.09.21, 02:03 AM
|
---
Mamata Banerjee has brought up the imposition of prohibitory orders in West Tripura through Durga Puja till Diwali this year to lambast the BJP over its divisive and "false" campaign against her that she was not allowing people to celebrate Hindu festivals in Bengal.
The Bengal chief minister touched on the topic in her three public speeches since Wednesday during the campaign for the Bhowanipore bypoll.
The Trinamul Congress has alleged the BJP government in Tripura enforced Section 144 of the Code of Criminal Procedure (CrPC) in Agartala and other parts of West Tripura district to prevent political activities by Mamata's party. The prohibitory orders came in the wake of Trinamul's plan to take out a road show in Agartala with MP Abhishek Banerjee at the forefront.
"Before they (the BJP) come here to seek votes in Bhowanipore, first let's talk about this…. In Tripura, till Diwali (November 4), you imposed Section 144. So, you imposed Section 144 on Ma Durga? Section 144 on Lakshmi Puja, on Deepavali, on Navratri, on Kali Puja? We will never do this," Mamata said in Hindi at the Ajanta Restaurant crossing on Thursday evening.
The Biplab Deb government had told Tripura High Court earlier this week that the prohibitory orders had been clamped because of apprehensions of a surge in Covid-19 cases and political violence.
"We never, ever do these things. How many Pujas do we have here, in Bhowanipore alone? I visit hundreds of Pujas, personally, every year," she added.
In her speeches at Ekbalpore and Chetla too, on Wednesday evening, Mamata had broached the subject.
"During elections, they falsely say I don't allow Durga Puja, Lakshmi Puja, Saraswati Puja and what not…. Countless Pujas take place everywhere in Bengal, every year. It is a global spectacle, a wonder of the world. We don't impose restrictions, unlike in BJP-ruled states… instead, we help out thousands of organisers," the chief minister said on Wednesday, referring to the state government's disbursal of Rs 50,000 each to 36,000 puja committees.
Sources in Trinamul said Mamata had been making use of those opportunities to call out the BJP on its "hypocrisy", with an eye on the 2024 general election.
They pointed out how she had repeatedly been underscoring that the Bhowanipore bypoll was much bigger than just a bypoll in a single Assembly constituency.
"B for Bhowanipore, B for Bharatvarsh, B for Bharat Mata," said the chief minister on Thursday.
"The khyala (game) from here, will begin in Tripura, in Assam, in Goa, in Uttar Pradesh…. The BJP ought to know by now, that the player who will defeat them has finally arrived," she had said on Wednesday.