Mamata appeals for unity
Bengal chief minister directly addressed a charge levelled at her by the BJP: that she follows a Muslim-appeasement policy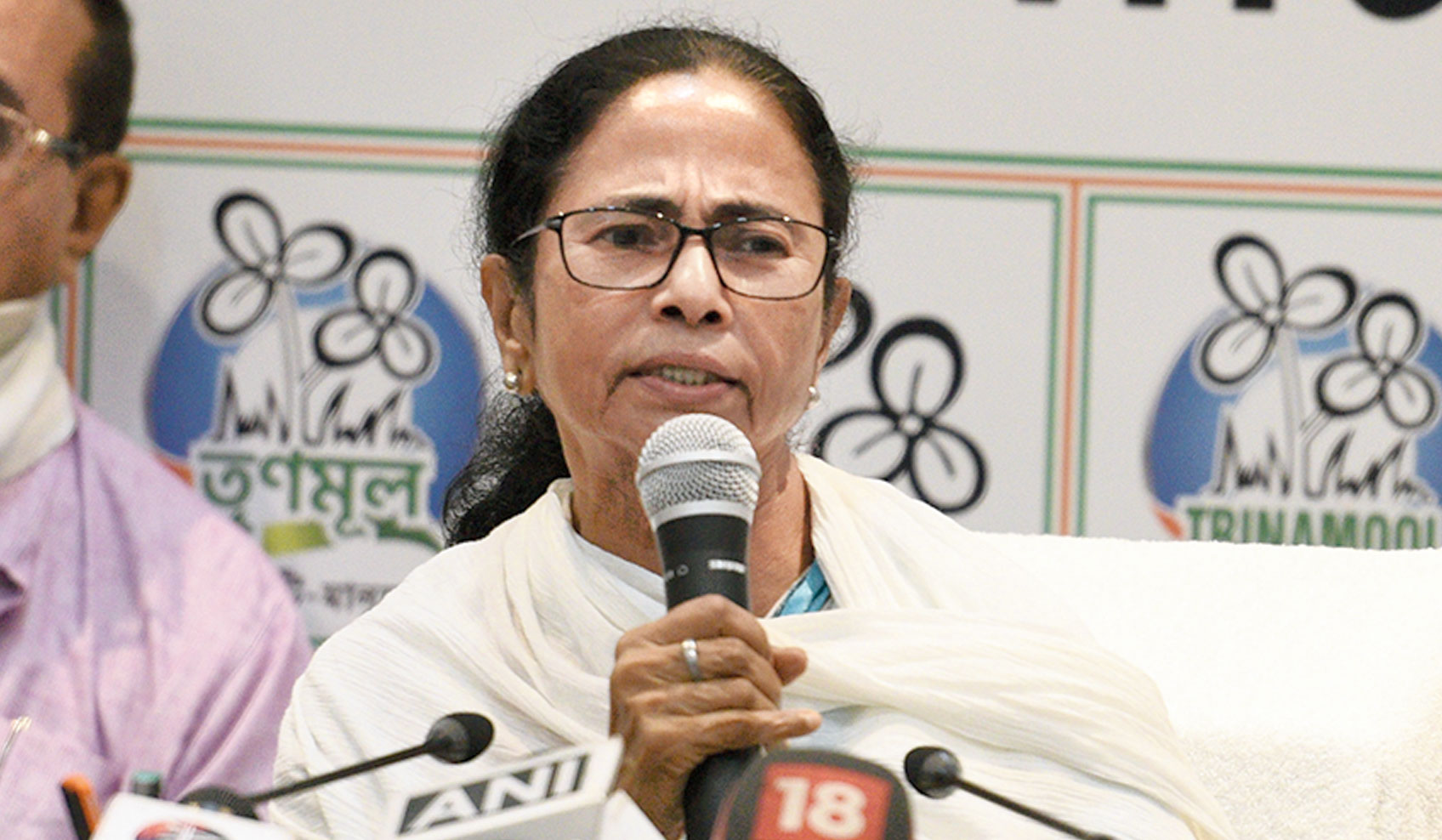 Mamata Banerjee
File picture by Gautam Bose
---
Calcutta
|
Published 12.06.19, 12:04 AM
|
---
Chief minister Mamata Banerjee on Tuesday issued an impassioned appeal for unity against a conspiracy to turn Bengal into a hate factory and ruled out discrimination on the basis of religion even if her throat was slit.
The chief minister used an event to replace a vandalised bust of Ishwarchandra Vidyasagar, the revered Bengal Renaissance figure, to dwell at length on the forces threatening to rip Bengal apart. The bust was destroyed on May 14 towards the fag end of a rally by BJP president Amit Shah in Calcutta.
"Those responsible must remember — Bangla phyalna noy, Bangla khyalna noy, Bangla chheleyr haateyr mowa noy (Bengal is not a discard, Bengal is not a toy, Bengal is not a boy's sweetmeat that you can snatch)," Mamata said.
"By breaking Vidyasagar's statue, you cannot break his legacy, nor abuse Raja Rammohun Roy to eliminate his place in history. About those doing these things, I think of what Jesus Christ had said: 'O Father, forgive them, for they know not what they do'," she added.
"This is an assault on our krishti (creativity), sanskriti (culture), jagoron (awakening), nabajagoron (renaissance), monon (intellect), darshan (philosophy), chintan (thought), sahitya (literature), sabhyata (civilisation)…. This is a conspiracy to make people forget Bengal."
At one point, Mamata directly addressed a charge levelled at her by the BJP: that she follows a Muslim-appeasement policy.
Mamata asked if it was expected of her to ask someone like author Abul Bashar, one of the dignitaries present on the dais — to leave only because he is a Muslim. "What should I do? Ask him to leave only because he is Muslim? Slit my throat if you will, but I will never be able to do this. I don't care. I am not BJP."
The chief minister rolled out a long list of development initiatives her government has undertaken for Hindu places of worship and reaffirmed her commitment to secularism.
"Despite all that, we have to hear that we are not '(pro-) Bengal, not (pro-) Bengali, we are not Hindu, we appease Muslims'…. In my state, everyone stays, it is my job to love everyone," she said.
Referring to the May 14 vandalism, for which Trinamul has blamed BJP supporters, Mamata said: "The next day, they said Trinamul broke it. Had Trinamul broken it, I would have given two tight slaps — thash thash — first. My party, I can control."
"The (Union) home minister now, it was his rally. Why did you break it? Why the vandalism? Then the rush to say you did not. We have every document showing they did it, wearing saffron. Saffron is the colour of ascetics and saints…. It should be worn only by those who can respect it," she added.
She said the attack on Vidyasagar's legacy had stirred a question. "Are they trying to break everything we stand for and turn Bengal into Gujarat? I love the people of Gujarat, not the riot-mongers. Send me to prison if you will, it does not matter to me," she said.
She then appealed to the people: "I beg you, with folded hands, standing humbly at the feet of Vidyasagar and all our icons. If you love Bengal, all sections of the civil society, the people, unite. Discard me if you will. Kill me if you like. I don't want anything. I have fought my way here and have no fascination for anything, I only work for the people and need no more than a second to let go of everything."
Mamata added: "Defeat the conspiracy to turn Bengal into Gujarat, let us all stand together to save our culture…. Come, let's all form a jot (alliance), to dream about Bengal, love Bengal, keep Bengal well."