Malda-Jharkhand boat service hit by sailor brawl
The sudden suspension of services left thousands of people who commute between Manikchak Ghat and Rajmahal inconvenienced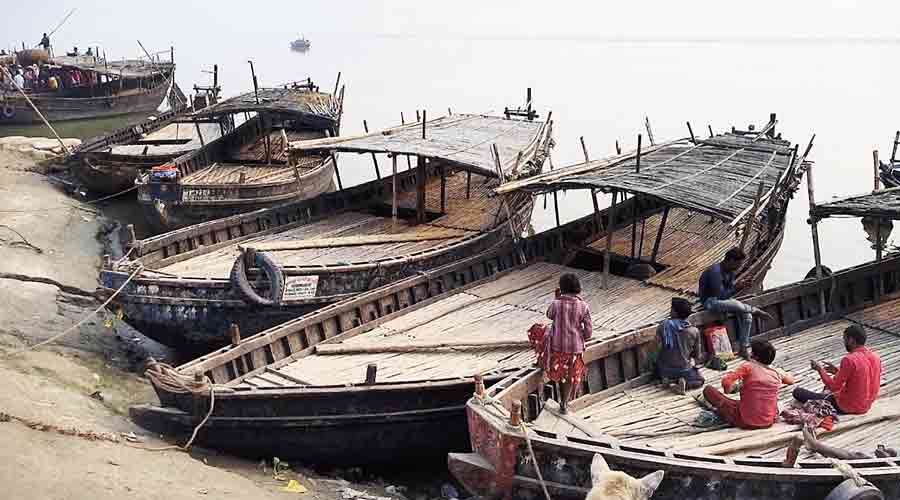 Empty boats anchored on the bank of the Ganga at Manikchak Ghat in Malda on Sunday.
Soumya De Sarkar
---
Malda
|
Published 24.01.22, 01:41 AM
|
---
Boat services between Malda in Bengal and Rajmahal in Jharkhand across the Ganga came to halt for over 48 hours as sailors of both the states got entangled in a brawl over inclusion of new boats.
The sudden suspension of the boat services left thousands of people who commute between Manikchak Ghat in Malda and Rajmahal in Jharkhand inconvenienced. There is no indication of the resumption of the services till Sunday evening.
Police of both the states have tried to resolve the issue but the meeting between Manikchak and Rajmahal police officers was not held on Sunday as the venue could not be finalised.
Notably, 20 odd-boats ply between Manikchak in Bengal and Rajmahal in Jharkhand in all seven days a week. Each large sized boat carries nearly 60 passengers in a trip and Rs 25 is the per head fare.
Additional charges are levied if bicycles or motorcycles are carried in the boats. Each boat makes at least four trips in a day. Altogether, over 4,000 people use the boat service every day.
 According to sources, recently, a new association of boatmen has been formed in Jharkhand. Members of this association want to add at least five more boats to the existing fleet, a decision that has not been accepted by the boatmen's association of Bengal.
On Saturday, a sailor from Jharkhand who came to Manikchak with passengers was detained by the local sailors here. The locals alleged that he had violated the rules by coming with the boat here.
They have also filed a complaint with the police and the person was released after some hours.
As the news spread on the other bank, the boatmen of Jharkhand reacted. They allegedly roughed up a sailor from Bengal and confined him. He was released on Sunday.
With such being the situation, not a single boat has run between the banks.
On Sunday, hundreds of people who came from Rajmahal to Mathurapur in Malda to attend a weekly village market had no way to return to their state.
A section of them stayed back while others took a turnaround route via road to reach their homes.
 As the situation deteriorated, police officials spoke to the leaders of the sailors' association in Manikchak but the talk was of no avail.