Malda Didi Ke Bolo drive
Malda TMC leaders had been summoned to Calcutta and asked why the campaign was not taken up in the district in a concerted manner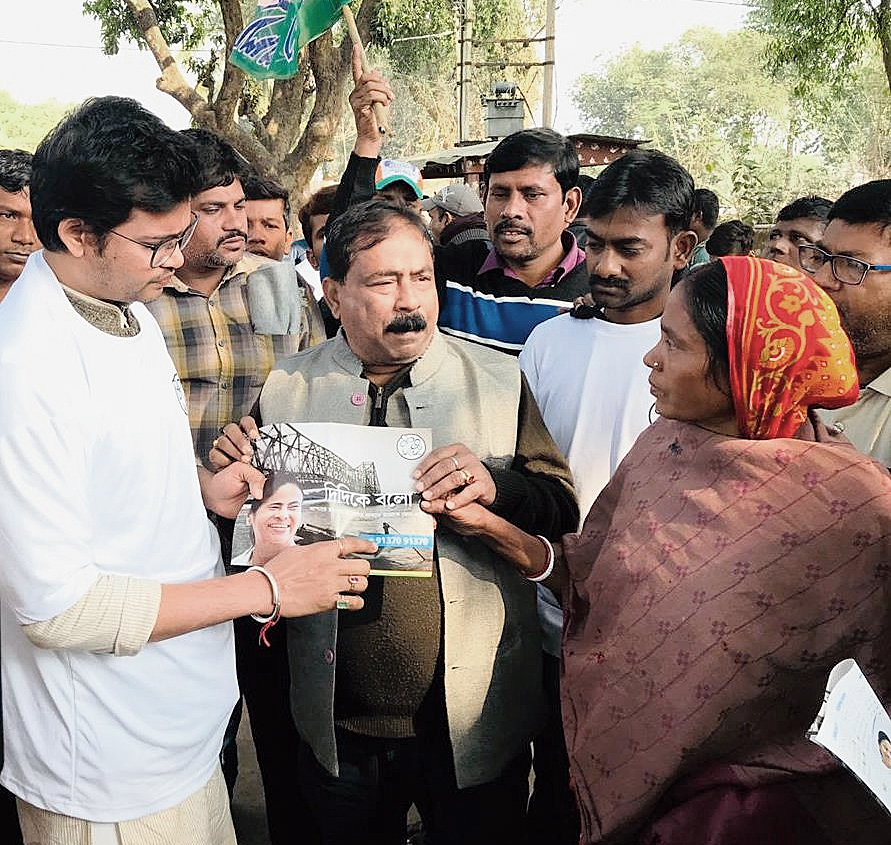 ---
|
Malda
|
Published 09.01.20, 09:45 PM
---
The Malda district unit of the Trinamul Congress has launched a campaign to publicise Didi Ke Bolo (Tell Didi), a public outreach initiative of the Bengal government under which administrative efforts are made to address the grievances aired by people.
The ruling party had already taken up such a campaign elsewhere in the state. Following strict instructions from MP Abhishek Banerjee and Trinamul's strategy consultant Prashant Kishor, party leaders at different levels in Malda have swung into action and started the door-to-door campaign.
The Didi Ke Bolo platform was devised apparently at the instruction of Prashant who was brought in by Trinamul to turn around the party's fortunes following its dull performance in the recent Lok Sabha polls.
Recently, Trinamul leaders from Malda had been summoned to Calcutta where Prashant and Abhishek asked them why the campaign to promote Didi Ke Bolo was not taken up in the district in a concerted manner.
"In total, 70 Trinamul leaders of Malda were asked to attend the meeting at Camac Street (in Calcutta), where state Trinamul president Subrata Bakshi was also present along with PK and Banerjee," said a source in Trinamul.
Amlan Bhaduri, the Malda district president of the Trinamul Youth Congress, is the coordinator of Didi Ke Bolo in the district.
Englishbazar municipality vice-chairman Dulal Sarkar, member, chairman-in-council Sumala Agarwala, district general secretary of youth Trinamul Biswajit Mondal and many others Trinamul leaders now brave cold and visit homes to make people aware of the grievance cell. The people are told about the phone number to register the complaints.
"Feel free to call this number and speak if you have any complaint against the government or any party leader. If you are offended by any of us, call up the number and narrate the details," Dulal Sarkar told a person.
Two BJP MPs, Raju Bista of Darjeeling and Nisith Pramanik of Cooch Behar, on Thursday launched a campaign in favour of the Citizenship (Amendment) ACT. Accompanied by BJP leaders, Bista visited many homes in some rural areas of Siliguri subdivision.
Pramanik held a rally in support of the CAA in Dinhata.