Mahatma Gandhi and the land that cradled his last breath
Gopalkrishna Gandhi and Ramachandra Guha discuss facets of Bengal's relationship with Gandhi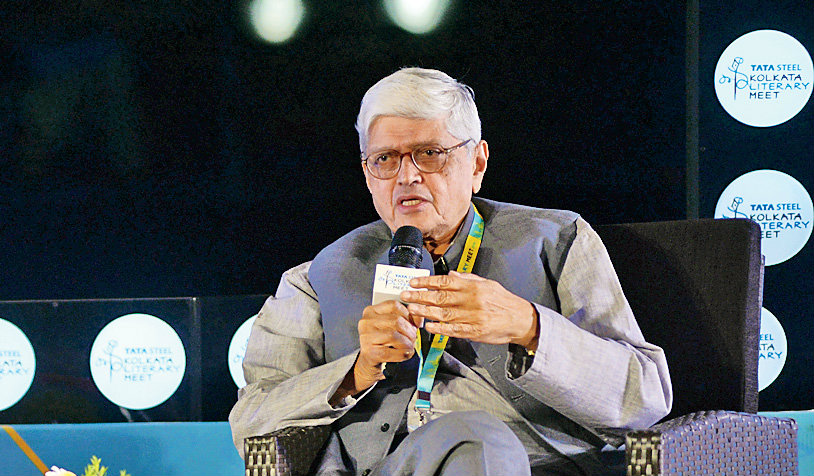 ---
|
Calcutta
|
Published 22.01.19, 09:25 PM
---
Bengal gave him his two most important epithets — Mahatma (by Rabindranath Tagore) and Father of the Nation (by Subhas Chandra Bose).
But Mohandas Karamchand Gandhi — all through his life and beyond — had a complicated, ambivalent, and often antagonistic, relationship, with Bengal.
Historian and Gandhi's biographer Ramachandra Guha and former Bengal governor and Gandhi's grandson Gopalkrishna discussed various facets of Bengal's relationship with the Father of the Nation in front of a select gathering at the Tata Steel Kolkata Literary Meet in association with The Telegraph and the Victoria Memorial Hall on Tuesday.
Starting the dialogue, Guha, who hosted the session, put it in a provocative manner: — "Gandhi gave Bengal sleepless nights and Bengal gave Gandhi sleepless nights" — before tossing up the hypothesis to Gopalkrishna.
The former Bengal governor replied: "I think it is very good that they were together awake to fight the British and take the country forward into freedom."
Over the next hour or so, the two men — both regarded as reservoirs on Mahatma — discussed various known and unknown tales of Gandhi's tryst with Bengal before concluding that he was constantly at Bengal's doorstep, both physically and metaphorically.
Excerpts from the conversation:
Marxists' assessment of Mahatma
Guha's narration: Revolutionary communist M.N. Ropy had called Gandhi a "bourgeois" and a "backward looking reactionary". Roy had even debated with Vladimir Lenin, who thought of supporting India's freedom struggle as a step towards socialist emancipation. Then, Marxists historian R.P. Dutt accused him of failing the revolution at every step. The Naxalites carried on with the dislike, expressed by Roy and Dutt, and decapitated a Gandhi statue during his centenary celebration in 1969.
One aspect of the hostility is, non-violence is a sham and you need violent revolution to bring about real political independence. The other side of the hostility is, Gandhi glorified spinning wheels and that's why, he was anti-science, anti modern and anti-industrialism.
Gopalkrishna added: Not just Bengal Marxists, Marxists across the country had that scepticism with Gandhi. Jyoti Basu was a student then in London. R.P. Dutt had said to him that Gandhi was a bourgeois leader, but Basu had contested Dutt's assessment. "I disagree. We may not see the political world, the British Raj and the workers' struggle as Gandhi sees them, but Gandhi is a mass leader and he has a direct understanding of the masses of India," Basu had said.
Gandhi's last visit (in August 1947) to Calcutta was also significant. Jyoti Basu and Bhupesh Gupta both went and met Gandhi in Hyderi Manzil (on 150B Beliaghata Main Road), where he was staying. The area had seen terrible riots and Muslims were living in great fear. Gandhi told them, "Please go around the city." They said: "It is dangerous, but we will try". Then Gandhi said: "Please try and go and tell the people of Calcutta that violence begets violence. You have to stop this."
Then he said: "I have come to Bengal without any invitation. I will go when I feel I have done my work here."
Basu and Gupta heard him in silent admiration. There are Marxists and Marxists and Gandhi appeared to them not quite stereotypically, but in the fullness of his personality.
Mahatma and Tagore
Guha's narration: Gandhi and Rabindranath Tagore had a very moving relationship. They were friends, but also intellectual antagonists. Tagore had scolded Gandhi in the most searing terms when he felt that Gandhi was becoming xenophobic and excessively anti-British. But when Santiniketan was in financial stress, Gandhi tried to save the institution. In a sense, it could be that Tagore was the only Indian, whom he regarded as an intellectual and moral equal?
Gopalkrishna added: He saw Tagore as a complete human being. He considered Tagore as a master of spoken and written word and an artist in the fullest sense of the term. He saw in Tagore many things that he didn't see in himself. He also saw in Tagore, a universalist, which Gandhi was trying to be, which he didn't quite succeed in becoming as he was busy in his nationalistic task. There was an independent light and energy that he saw in him. There was awe, there was deference and also some distance.
Mahatma and Netaji
Guha's narration: Many Bengalis remember that Gandhi intrigued to get Bose removed as the president of the Indian National Congress. That's not inaccurate. He did intrigue or people around him like Patel (Sardar Ballav Bhai Patel) intrigued to get a lawfully elected president removed.
Gopalkrishna added: It is important to know that Gandhi saw Subhas Bose as he himself would have liked him to see, that is a person with extraordinary energy and fervour, but a person, who is not to be trifled with. Subhas Bose did not belong to the flock (in the Congress) that followed Gandhi, the shepherd. His was not the fleece that followed Gandhi. His was a different texture of leadership and Gandhi saw that and respected that.
Reaching out to Bengal
Gopalkrishna's narration: Gandhi's tryst with Bengal has remarkable but little- known facets. When he was in South Africa, he tried to invite Swami Vivekananda to South Africa. In a letter to one of his associates, he wrote if Swamiji could visit South Africa. "Can he not come and give us in South Africa a new vision, new life and energy?"
Swamiji couldn't make it. Then on one of his visits to Calcutta, he trudged all the way from the city to Belur to see Swamiji. On reaching there, he found out that Swamiji was ill and so he couldn't meet him as he was in Calcutta. He was trying to reach out to the highest minds of Bengal.
Gandhi had also asked Devdas (Gopalkrishna's father) to go and see the Sage (Sri Aurobindo) and wanted him to come back (to Indian National Congress that he had left in 1910 to embrace spirituality).
First and last brushes with Bengal
Guha's narration: He first came to Bengal in 1896. This was his fist visit to India after three years in South Africa. He was travelling across cities telling the nationalist leaders how badly the Indians were treated in South Africa and asking for moral and financial help. He first met Surendranath Banerjee, who passed him on to Raja Peary Mohan Mukerji and Maharshi Devendranath Tagore. Both these gentleman gave Gandhi a cold reception. He then tried his luck with the press. So, Gandhi called the office of Amrita Bazar Patrika, but the editor took him to be a wandering Jew. He next got an appointment with the editor of the Bangabashi newspaper, who made him wait for an hour. When he was finally allowed in and made his presentation, he was told: "Don't you see our hands are full? There is no end to the number of visitors like you. You had better go. I am not disposed to listen to you."
Gopalkrishna added: The last words of Gandhi were, Hey Ram. That is kind of an exclamation. But the last sentence that he spoke was to his Bengali grand niece, Abha. He said (in Gujarati), "Abha, I hate being late." Then, as he fell (after three shots), it was Abha, who held his reclining head and she sat and the head rested in Abha's hands as he said, goodbye to life. That is the simple sequence of his link with Bengal. It cradled his last breath.