Madhyamik schools snip vacation
The schools will have to complete the entire syllabus before Durga Puja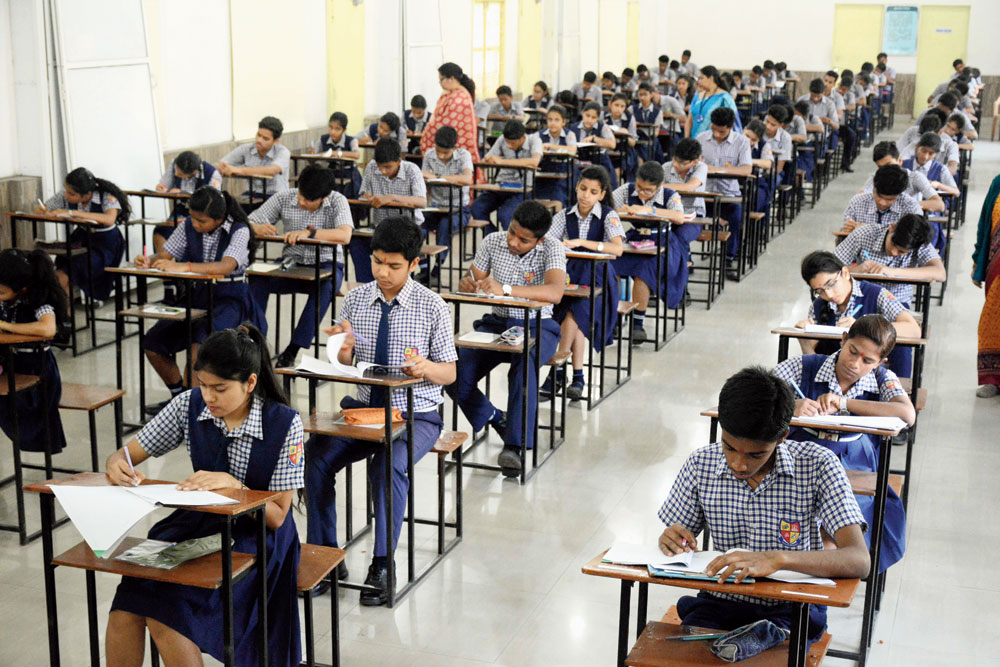 ---
---
Madhyamik schools will have a shorter summer vacation next year to ensure that the syllabus is completed before the Puja holidays, an education department official said on Tuesday.
The schools will have to complete the entire syllabus before Durga Puja, which will be held later than usual next year, so that the annual examinations can be conducted immediately after the schools reopen post-Puja.
Annual examinations in Madhyamik schools are usually held between the third and fourth weeks of November and the selection tests by the first week of December.
Durga Puja will be celebrated from October 22 to 26 next year and most schools will close on October 21 and reopen on November 17, a day after Bhai Phota.
The schools will have to schedule the annual examinations barely three to five days after the Puja vacation ends, an official of the West Bengal Board of Secondary Education said.
"We have shortened the summer vacation next year. The schools can use the extra days to ensure that the full syllabus is taught in every subject before the Puja holidays," he said.
Unlike other years, the schools won't get any time to teach new topics after the Puja vacation. "So the schools cannot leave any topic to be taught after the Puja holidays. Students will have to be ready to write the annual examinations immediately after the schools reopen post-Puja," the board official said.
The schools will be closed for 13 days for the summer break next year, according to the 2020 academic calendar for Madhyamik schools released by the board on Tuesday.
Till 2019, the summer vacation in schools affiliated to the board usually lasted for 19 to 21 days. The schools were closed for 21 days for the summer vacation this year.
The Madhyamik board released the holiday list and academic calendar for 2020 on Tuesday. The list shows several new holidays, for which many teaching days will be lost and these, too, will have to be compensated. The total number of holidays — 65 — is, however, same as this year.
For example, the schools will remain closed for two days for Chhat Puja in 2020. The schools were closed for a day this year.
The schools usually close for Puja on Sashthi but in 2020 the Puja vacation will begin two days earlier, on Chaturthi.
"Changes such as a shorter summer vacation are aimed at ensuring that students do not suffer," Partha Karmakar, deputy secretary (academic) of the board, said.
The holiday calendar is likely to revert to the usual in 2021, the official said.