Love letter, liquor and land deeds
'Precious' items found in unclaimed lockers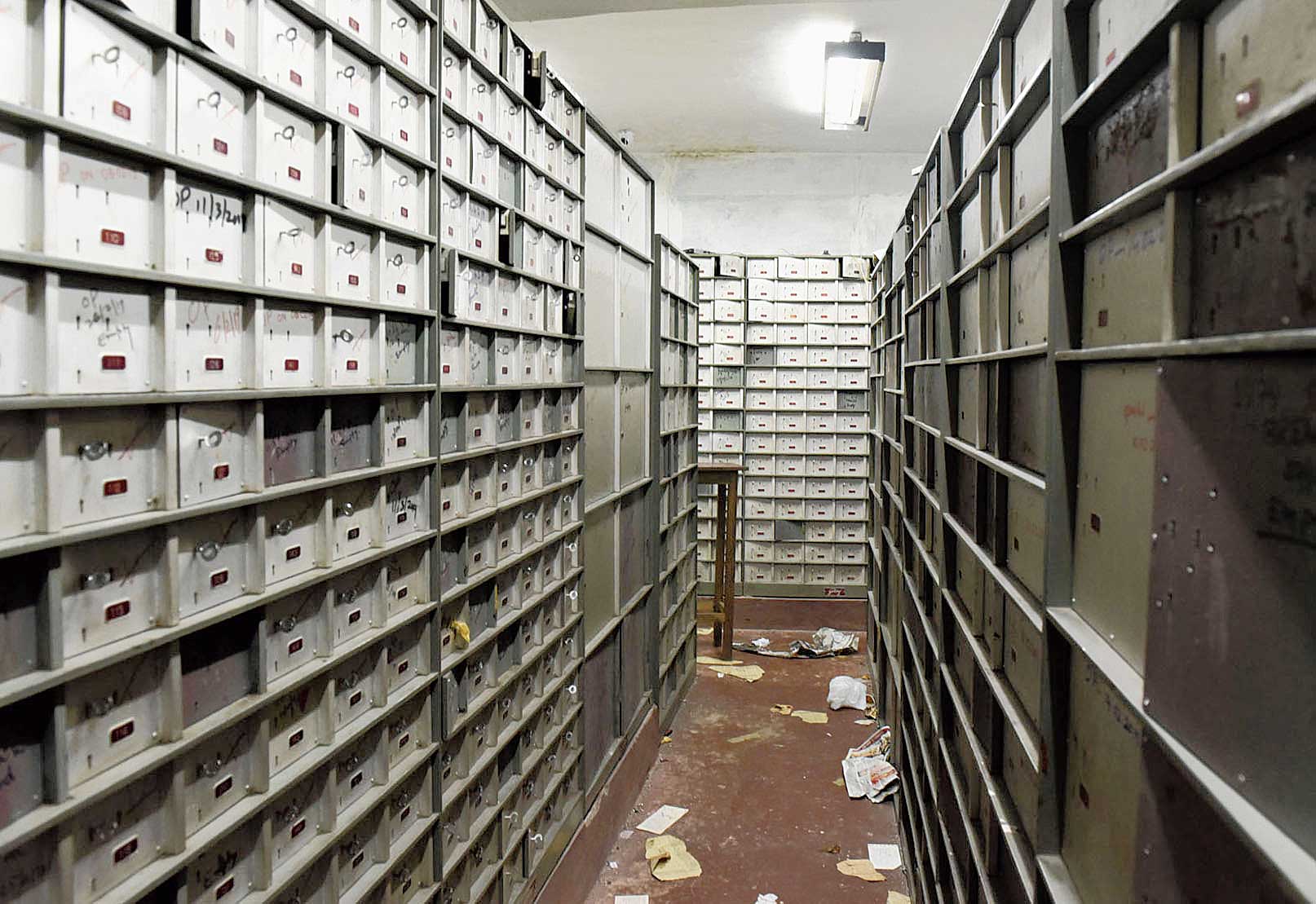 The lockers in the basement of Vardaan market on Camac Street
Telegraph picture
---
Calcutta
|
Published 30.03.19, 08:38 PM
|
---
Property deeds worth over Rs 100 crore, a sealed bottle of Red Label Johnnie Walker whisky and a love letter written in blood were among the items found in the 200 unclaimed lockers in the basement of Vardaan Market on Camac Street that have been raided by the income tax department.
Income tax (IT) officials, acting on a tip-off, had raided the basement of the busy shopping complex and found a private vault comprising 649 lockers.
Advertisements were published in six dailies asking people who had rented the lockers to claim their valuables. Around 200 lockers remained unclaimed and the IT officials broke them open.
"There were bunches of documents, mostly sales deeds of land and buildings in and around Calcutta, in several of the lockers," a source in the IT department said. The deeds were for properties in the Park Street, Lake Town and New Town areas, sources said.
The lockers in the vault, registered in the name of Shree Vardaan Safe Deposit Vaults Pvt Limited — a company formed in 1984, two years before the market had been unveiled — carried an annual maintenance fee of Rs 5,000.
Each locker could be opened with a set of two keys. "The people running the vault have a common master key for each of the rows while the owners of the lockers had a separate key for accessing their safes. To open a locker, both the master key of that particular row and its unique key would be needed," an official said.
Several "unusual" things were also found stashed in the lockers — a sealed whisky bottle in one, two jacketless audio cassettes in another and a love letter written with blood in a third.
"It could be anything that someone wanted to keep secret and safe. Otherwise why would he or she keep them in a vault?" a source wondered about the cassettes.
One of the unclaimed lockers contained a lone paper — folded into four. It turned out to be a love letter, written in blood.
"The letter looked quite old. But for someone it must have been precious enough to be kept locked in an exclusive safe. Some of these lockers were bought by the fathers and forefathers of the current owner. Who knows if the people in the letter are alive today," an officer said.
Diamond-encrusted jewellery, heavy kundan sets, gold bars and silver bricks worth over Rs 13 crore were found in the lockers besides Rs 5 crore cash. "The jewellery that was either unclaimed or could not be justified have been seized," said a source.
There is no bar in renting lockers if the Know Your Customer guidelines issued by the Reserve Bank of India are followed, IT officials said.