Losses at Rs 8000cr, likely to increase
Mamata Banerjee held a meeting to supervise post-cyclone relief measures in North 24-Parganas' Basirhat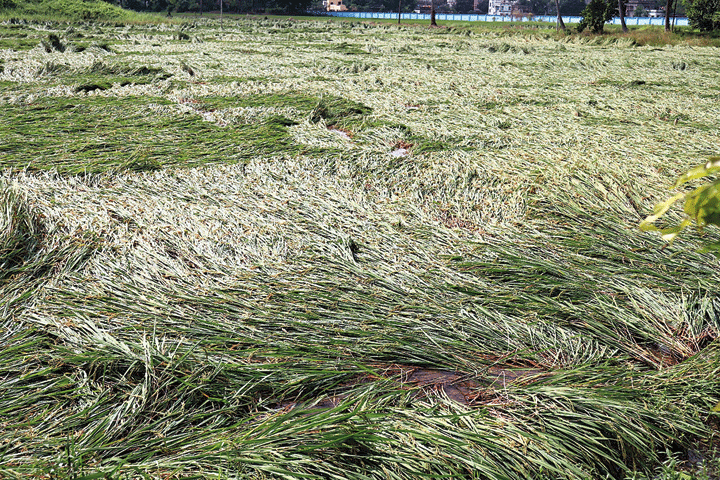 ---
---
Several Bulbul-hit districts on Wednesday started sending reports to state secretariat Nabanna, pegging initial losses at nearly Rs 8,000 crore and warning the figure was likely to climb further.
Sources said the Mamata Banerjee government had asked field officials from 14 departments to send comprehensive reports on the losses which would help the state claim financial aid from the Centre more effectively.
Sources said the initial reports from the districts pegged the losses at nearly Rs 8,000 crore, a number likely to rise further. " So far, our district has faced losses of over Rs 2,000 crore," a senior official in North 24-Parganas said.
The sources said the five worst-hit districts were North and South 24-Parganas, West Midnapore, Hooghly and East Midnapore. South 24-Parganas faces tentative losses of Rs 3,000 crore, West Midnapore Rs 2,000 crore, Hooghly Rs 750 crore and East Midnapore Rs 585 crore.
On Wednesday, chief minister Mamata Banerjee held a meeting to supervise post-cyclone relief measures in North 24-Parganas' Basirhat, one of the worst-hit pockets.
"The cyclone has destroyed paddy on 15 lakh hectares. Vegetable and mustard cultivations were also ruined. Arrangements have to be made quickly to properly store rice. Alternative farming should be encouraged," Mamata said.
"The mangroves of the Sunderbans blunted the effect of the cyclone to a large extent. More efforts must be made to conserve the mangroves. Grass must be planted on riverbanks to prevent soil erosion," the chief minister added.
The sources said the initial reports suggested that agricultural losses were the highest in South 24-Parganas. "We cannot reveal the exact amount but it is likely to cross Rs 3,000 crore," said an official in the district.