Lifeline at 30, how the wheels turned
Read more below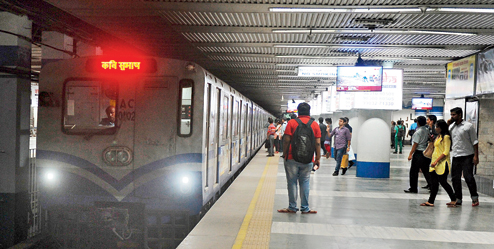 ---
Published 25.10.14, 12:00 AM
|
---
Commuters at Park Street station as a Metro train pulls in on Friday, the 30th birthday of Calcutta's lifeline. Picture by Amit Datta
Calcutta Metro turned 30 on Friday. On October 24, 1984, when the first train rolled out of Esplanade station, it had travelled only 3.4km to Bhowanipore. It covers more than 27km now. The country's first Metro, and the fifth in Asia, has grown. But has it grown old? It still remains the most reliable and cleanest transport option. But has it progressed as much as the city would like? Then Prime Minister Indira Gandhi (below) had laid the foundation for the project in 1972. That was 23 years after a French team conducted a study on the feasibility of an underground transport system. The scourge that had led to the hunt for space underground is still Calcutta's biggest problem: the scarcity of roads. Metro rail undergone major changes over the past three decades — air-conditioned coaches and chip-fitted tokens, for example. But it has been saddled with breakdowns, unable to cope with the rising rush.
Metro takes a look at some of the changes that the city's transport lifeline has undergone over the years.
Distance covered
Inauguration. October 24, 1984
1984: 3.4km. Trains ran between Esplanade and Bhowanipore (now Netaji Bhavan). Services between Dum Dum and Tollygunge started on September 27, 1995.
2014: 27.83 km. Metro now runs from New Garia to Noapara. The expansion happened slowly and in phases.
Trains
1984: Two, both non-AC. The Integral Coach Factory, Perambur, manufactured them.
2014: Metro's old and ailing fleet has 27 rakes — 14 non-AC, 13 AC. The rakes are still made by the Perambur factory. At least six rakes have outlived their codal lives and need to be withdrawn. Snags are frequent.
On duty
1984: 24 times the trains travelled each day.
2014: 274 (on working days).
Frequency
1984: 10 minutes.
2014: Frequencies vary from 5 minutes to 15 minutes during different parts of the day (working days).
Timings
1984: Trains ran in two phases — 8am to noon; 3pm to 9pm.
2014: 6.45am to 10.40pm (working days).
Bhowanipore station. First-day queue
Passenger count
1984: The monthly count was 2.9lakh, which means 9,600 passengers a day.
2014: More than six lakh every day. The count went up after the Tollygunge-New Garia stretch was opened. After last year's fare hike, the crowd reduced marginally.
Tickets
First-day ride. October 24, 1984
1984: Paper cards like those in suburban trains. These were replaced by a paper ticket that bore a magnetic strip.
2014: Metro introduced radio-frequency identification (RFID) tokens in 2011. Smart cards were issued the same year.
What hasn't changed: The magnetic paper tickets haven't completely gone out of circulation. They are used to meet the shortfall of tokens during festival rush.
Gates
1984: Turnstile gates. Metro personnel were deployed at the gates and passengers had to hand over the tickets.
2014: Gates with flaps.
1984. A guard mans a turnstile