Lesson for India, advice to schools
Speakers at ICSE conference set diversity and plurality as main goals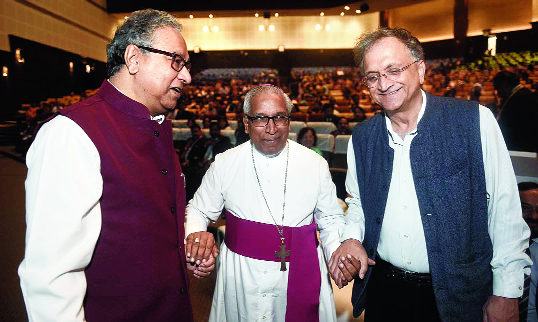 (From left) Former Union culture secretary Jawhar Sircar, Archbishop of Calcutta Thomas D'Souza and historian and author Ramachandra Guha at the 61st annual conference of the Association of Schools for the Indian School Certificate at Biswa Bangla Convention Centre in New Town on Wednesday.
Sanjoy Chattopadhyaya
---
Calcutta
|
Published 29.11.18, 08:42 AM
|
---
Historian Ramachandra Guha told an assembly of school heads on Wednesday that educational institutions must take the lead in spreading the message of plurality and diversity, citing the happenings in Pakistan and Sri Lanka as a warning to those in India who think a single language or religion can unite the country.
"What is happening in Pakistan and in Sri Lanka is a warning to those in India — hopefully a minority in India — who still think that to unite the country we need a single religion and a single language," Guha said while addressing a gathering of 2,200 heads, owners, teachers and officials of ICSE schools at the Biswa Bangla Convention Centre.
He said that in 1947, India was partitioned on the basis of religion and Pakistan was conceived as a homeland of Muslims and, later, an Islamic state. However, those who had built the Indian republic were "absolutely determined that India will not be defined by a single religion".
The need to recognise the importance of diversity and plurality has become the narrative of civil society against the backdrop of polarisation.
At the same venue earlier this month, former President Pranab Mukherjee had reminded a gathering of school principals about the importance of recognising diversity. There is "huge diversity" in India, and this is the "reality that has to be recognised", he had said at the diamond jubilee celebration of the Council for Indian School Certificate Examinations on November 2.
On Wednesday, Guha was addressing the 61st annual conference of heads and owners of schools affiliated to the council. "Today, India has as many Muslims as Pakistan. Australia is considered to be a Christian country, but we have more Christians than Australia. We have more Sikhs and Parsis than any other country in the world," he said, highlighting the fact that what makes India unique is its religious and linguistic diversity.
According to Guha, he chose diversity and pluralism as the topic of the discussion because he believed schools should take the responsibility of promoting the country's diversity. The schools need to foster five kinds of pluralism, he said. "Pluralism in the student body, in the teaching faculty, in disciplines, in approaches within a discipline and of funding sources."
Elaborating on diversity in the functioning of a student body, Guha said: "Suppose your school is in Maniktala. Don't insist on admitting students only from the locality."
Similarly, pluralism has to be promoted in the faculty by recruiting teachers from various communities and even from outside the state, he said.
Former Union culture secretary Jawhar Sircar, who was the guest of honour at the event, concurred with Guha that every school had an important role to play in spreading the message of plurality. "Each school is a centre where plurality can be practised and each principal is the ambassador of the principle of pluralism. Please explain and propagate the message of plurality. You have a lot of autonomy. You can inculcate these values no matter what curriculum you follow or whatever instruction you get from a body," he said.
Like Guha, he said the nation was going through a crisis and schools must respond to that.
"They can respond through very small measures. The schools have holidays to observe Eid ul-Fitr and Easter. I would suggest they explain the students the previous day about the significance of these occasions."
Several principals said what Guha and Sircar spoke about was relevant to schools that have children from various castes, religions and communities.
Thomas D'Souza, archbishop of the Archdiocese of Calcutta, inaugurated the conference with a prayer service.