Leopard skin sale bid lands two in net in Calcutta
Wildlife conservationist and part-time actor Joydip Kundu got an offer he did not refuse...but he called the cops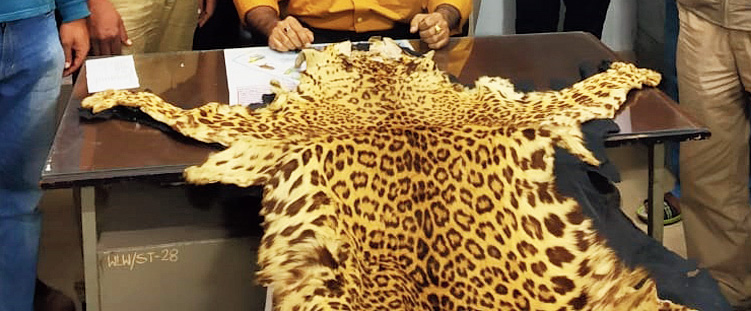 The seized leopard skin.
The Telegraph picture
---
Calcutta
|
Published 12.01.19, 11:10 PM
|
---
A wildlife conservationist approached with an offer to buy a leopard skin played along with the proposal and got two men arrested on Saturday.
A team from the forest department first arrested Saurav Das, who allegedly approached conservationist Joydip Kundu. Next to be picked up was Tapabrata Majumdar, who allegedly owned the skin and on whose behalf Das is said to have acted.
"Majumdar and Das both have been booked for trading in wildlife under the wildlife protection act. If convicted, they will be imprisoned for up to 10 years," an official in the forest department said.
The 230cm-long and 62cm-wide skin has been seized.
Joydip was taken aback when Das landed up at his home in Hatibagan, north Calcutta, around 11am on Saturday and asked him to find a buyer for a leopard skin.
Joydip, also a part-time actor who has appeared in films such as Aschhe Aabar Shabar, Eagle-er Chokh and Byomkesh Gotro, and his wife Suchandra are known for their wildlife conservation work.
The couple decided to string Das along.
"The man asked me to arrange a buyer for a leopard skin. After hearing him out, I asked him to come back in the afternoon with the skin. I told him a prospective buyer would only make a commitment after seeing the product," said Joydip, who runs SHER, an NGO that works for nature and wildlife.
Joydip and Suchandra, who is honorary wildlife warden of Calcutta, alerted the chief wildlife warden of Bengal. A team from the forest department arrived at the couple's house before Das turned up around 1.30pm.
The forest department team and the Kundus started negotiating with Das. The man asked for Rs 20 lakh but the officials refused to pay more than Rs 2 lakh.
"Das said he would not sell the skin at such low price. At this point the forest department team arrested him," said Joydip.
Das, a resident of Hatibagan, is said to have told the officials during interrogation that he was acting at the behest of the man who owned the skin, Tapabrata Majumdar.
Majumdar was picked up from his home in Shyambazar.
"Majumdar told us a family member had gifted him the skin and he wants to sell it because he needs money. It seems the skin is about a decade old," a forest department official said.
Majumdar allegedly failed to produce any licence for the skin. Possessing a wildlife item even as part of the family heirloom without a licence is a crime.
"The department had in 2002-03 announced that anyone possessing any wildlife item should apply to the department for a licence. There was a window during which such licences were issued," the official said.
"Anyone possessing a wildlife item or a body part of any wild animal without a licence should hand it over to the forest department. The individual should write to the chief wildlife warden for surrendering the item," said Somnath Chatterjee, an assistant wildlife warden.